Conference Catchup: Big 12 benefits greatly from spring decisions
The Big 12 saw many of its NBA draft prospects return to school, while some key transfers and one particular freshman also made decisions that should greatly benefit the league.
• 7 min read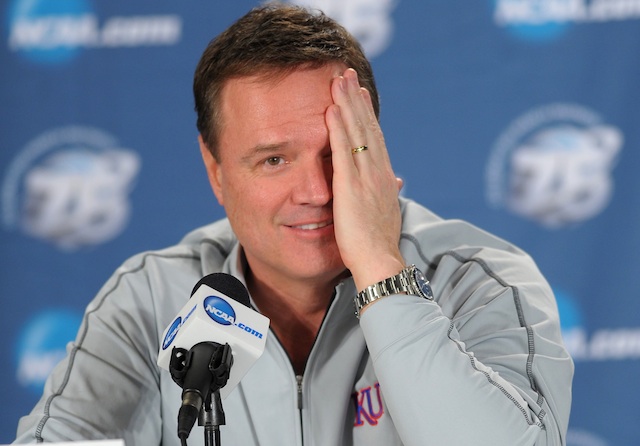 Things are now mostly settled in college basketball. We basically know who will be coaching where. We basically know who will be playing where. So this seems like as good of a time as any to reset everything and get caught up on all of the notable leagues.
That's the idea behind the CBSSports.com Conference Catchups.
We'll post one every other day over a four-week span. We're posting them in alphabetical order.
Up next is the Big 12.
FOUR OFFSEASON HEADLINES
1. Andrew Wiggins picks Kansas (so does Tarik Black): For most of Wiggins' recruitment, it was thought to be a battle between Florida State and Kentucky. Then North Carolina made a run. Yet, when it came time to make a decision, Wiggins went with the one that hit many of the spots on his checklist: Kansas. He has a chance to win a title, will be the go-to-guy, is closer to his brother at Wichita State, and has plenty of talent around him. Shortly after, Memphis transfer Black announced he was heading to Lawrence as well. With these two in the fold, Kansas went from a borderline top-25 team with too much unproven talent to a legitimate Final Four – and national title – threat.
2. Marcus Smart forgoes NBA for another year at Oklahoma State: In this year's weak draft class, Smart could have been a top-five pick and enjoyed quite the NBA contract. Instead, he decided he wanted another go-round in Stillwater – and as a result, the Cowboys are poised to be better than they were a year ago. In case you forgot, Oklahoma State – behind Smart's outstanding freshman campaign – went 24-8 and received a 5-seed in the NCAA tournament. Smart is a sure-fire All-American this season, and can make a case as the best point guard in the country. Another great year from Smart could mean a deep run for Oklahoma State – and Smart could be a top-five pick come 2014, too.
3. Tubby Smith is the new head coach at Texas Tech : After getting fired from Minnesota in late March, it was unclear what was the next move for Smith. Yet, not too much passed before Smith signed a contract to replace interim head coach Chris Walker – and Billy Gillispie – in Lubbock. The match is an interesting one, to say the least. On the positive side, Smith is a proven winner and a national name, and that's something most of the other candidates probably didn't have going for them. However, it's a difficult job for Smith. The Red Raiders haven't been a consistent winner the past several seasons, and it's going to be difficult to get top-notch talent to Texas Tech.
4. Texas enters make-or-break year for Rick Barnes: The Longhorns have been going backward the past few seasons, finishing better than fourth in the Big 12 just once since 2008. Last season was a struggle, as Barnes led them to a 16-18 campaign. And it didn't get better in the offseason. Myck Kabongo decided to go pro, while Sheldon McClellan, Julian Lewis and Jaylen Bond all transferred. That means Barnes will enter this season without his top three scorers – and the incoming recruiting class isn't to the caliber that people have come to expect in Austin. Barnes isn't getting the talent he used to, and he's had trouble locking down prospects from the state of Texas. The 2013-14 season – and recruiting calendar – is key for Barnes.
BIG QUESTION THAT REMAINS
How many teams can potentially make the NCAA tournament? While the league as a whole will be a lot better than originally expected in 2013-14 (more on that later), the depth of the Big 12 is still a major question. Kansas and Oklahoma State are at the top, then you've got Baylor and Iowa State, and . . . well, I'm not sure what else. Kansas State lost its two best players, and is relying heavily on unproven newcomers, while Oklahoma has next-to-nothing coming back in the frontcourt. Texas and West Virginia badly need bounce-back years, and then there's TCU and Texas Tech. Last season saw the league have six different 20-win teams, and five reach the NCAA tournament (with a sixth winning the NIT). This season, there's a severe drop-off after No. 4. Which team will surprise and fill the void? 
NBA DRAFT REPORT
Could've gone and did: Myck Kabongo (Texas), Amath M'Baye (Oklahoma), Ben McLemore (Kansas)
Could've gone but stayed: Isaiah Austin (Baylor), Cory Jefferson (Baylor), Le'Bryan Nash (Oklahoma State), Marcus Smart (Oklahoma State)
TRANSFERS
Coming: Brandon Bolden (Georgetown to Kansas State),

Justin Edwards

(Maine to Kansas State), DeAndre Kane (Marshall to Iowa State), Hunter Mickelson (Arkansas to Kansas), Abdel Nader (Northern Illinois to Iowa State), Royce O'Neale (Denver to Baylor), Trey Zeigler (Pittsburgh to TCU)
Going: Anrio Adams (Kansas to TBD), Deuce Bello (Baylor to Missouri), Jaylen Bond (Texas to Temple), Aaron Brown (West Virginia to Saint Joseph's), Adrian Diaz (Kansas State to TBD), Volo Gerun (West Virginia to Portland), Josh Gray (Texas Tech to Odessa JC), Jabarie Hinds (West Virginia to Massachusetts), Julien Lewis (Texas to TBD), Sheldon McClellan (Texas to TBD), Keaton Miles (West Virginia to TBD),

Zach Peters

(Kansas to Arizona), Angel Rodriguez (Kansas State to Miami), L.J. Rose (Baylor to TBD)
TEAM COMMENTARY IN 140 CHARACTERS OR LESS
Baylor: Lost some transfers, but Isaiah Austin and Cory Jefferson are back inside, and Brady Heslip is still shooting. Can Kerry Cherry be the PG?
Iowa State: Four of the top six are gone, but Melvin Ejim and Georges Niang form a tough duo. Getting DeAndre Kane recently was a huge boost. 
Kansas: The recent additions of Andrew Wiggins and Tarik Black make the Jayhawks a Final Four threat. Perry Ellis is poised for a breakout year.
Kansas State: For a team that struggled to score, losing top two offensive players is not good news. Bruce Weber needs newcomers to produce immediately.
Oklahoma: There are plenty of options on the perimeter, but the frontcourt is a question. Two 6-foot-10 JC transfers need to step in and play.
Oklahoma State: Cowboys were favorites until Kansas got Wiggins. Marcus Smart, Markel Brown and Le'Bryan Nash are all back. Could be ready for deeper run.
TCU: After a 2-16 conference record, the Horned Frogs need improvement. Top-50 freshman Karviar Shepherd and junior Kyan Anderson will lead.
Texas: This is an important season for the Longhorns. They lost their top three guys, and don't bring in a great class. Which sophomores step up?
Texas Tech: It's a new era in Lubbock, as Tubby Smith is taking over the Red Raiders. Four of the top five scorers are back, led by Jaye Crockett.
West Virginia: Bob Huggins' troops lost their final seven games last season, but a deep recruiting class is coming in, and Eron Harris could break out.
EARLY GUESS AT THE TOP FIVE IN THE LEAGUE
Kansas
Oklahoma State
Baylor
Iowa State
Oklahoma
EARLY GUESS AT THE ALL-CONFERENCE TEAM
G: Marcus Smart, Oklahoma State
G: Markel Brown, Oklahoma State
F: Andrew Wiggins, Kansas
F: Perry Ellis, Kansas
F: Isaiah Austin, Baylor
Final thought: The CBSSports.com college basketball staff was sitting in the lobby of an Atlanta hotel back during the Final Four, discussing the Big 12's prospects for 2013-14. In short, it didn't look very good. We saw a Kansas team that was losing everyone, an Oklahoma State that was likely to be without Marcus Smart, and a Baylor team probably losing either Isaiah Austin or Cory Jefferson. Then there was Iowa State losing four of its top six players, and not much else. A preseason top 25 (and one) with just one lock (Oklahoma State) wasn't too far out of the question.
Then Smart decided to come back, Jefferson decided to come back, and Austin decided to come back. Kansas nabbed Andrew Wiggins, then got Tarik Black. Iowa State picked up DeAndre Kane.
I'm not sure any conference benefitted from the personnel moves of the offseason more than the Big 12, at least at the top of the conference. Instead of a league with a lot to prove, there are two legitimate Final Four contenders (Kansas and Oklahoma State), and two other teams with plenty of talent (Baylor and Iowa State).
It's all on paper right now, but there's no questioning the Big 12's outlook looks much better now than it did when the season ended.
Kentucky losing this game probably cost it a shot at earning a high NCAA Tournament seed

Freshman had 12 turnovers and 20 points; the Wildcats rattled him and kept OU on its heels

Kentucky and UNC are just behind the Blue Devils and Jayhawks
Cal's form wasn't pretty, but when it works, it works

Josh Nagel has his finger on the pulse of Purdue basketball and locked in a play for Tuesd...

Gary Parrish and Matt Norlander discuss the latest in college basketball