Conference Catchup: Kansas and Texas battle atop the Big 12
The Big 12 might not be as deep as it was last season, but there are still five teams worthy of top-25 inclusion.
• 7 min read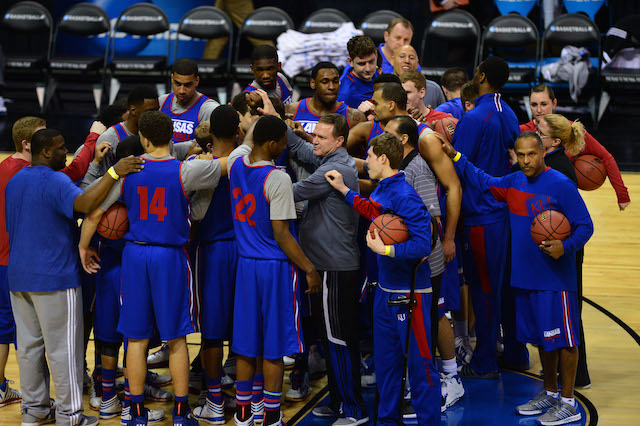 More Big 12: Kansas lands European | Five in 2014-15 Top 25 (and 1)
Things are now mostly settled in college basketball. We basically know who will be coaching where. We basically know who will play where. So this seems like as good of a time as any to reset everything and get caught up on the notable leagues.
That's the idea behind the CBSSports.com Conference Catchups.
We'll post one every other day over a four-week span. We've covered ACC, the American Athletic Conference, the Atlantic 10, the Big East and the Big Ten. This is a look at the Big 12.
FOUR OFFSEASON HEADLINES
1. Andrew Wiggins and Joel Embiid leave Kansas after one season, and Marcus Smart departs early, too: All this was expected but still noteworthy. Wiggins and Embiid helped lead Kansas to yet another Big 12 title during their season in Lawrence, but a Round of 32 loss in the NCAA Tournament was disappointing. Wiggins was terrific, but lacked some of the assertiveness that could take him to the elite level. Embiid missed the postseason with a back injury. Both are expected to be among the top three picks in the NBA Draft later this month. As for Smart, the Oklahoma State point guard had his ups and down during the regular season (as well as a three-game suspension for pushing a fan) -- but still figures to be a top-10 pick.
2. Top-five recruit Myles Turner chooses Texas: The last elite player on the board heading into late April was Turner, a 7-foot inside-outside big man from Texas. The Longhorns were the favorites heading down the stretch, although Kansas, SMU, Duke and Ohio State were all in the mix. Oklahoma State and Texas A&M also made his final list. In the end, Turner decided stayed home and could be the missing piece in Texas' Big 12 title quest. Turner can create matchup problems with his ability to score at the rim and from the perimeter, and he's already a game-changer on the defensive end. How will he co-exist with Jonathan Holmes and Cameron Ridley on the inside? That's the question for Rick Barnes.
3. West Virginia takes a major hit with the transfers of Eron Harris and Terry Henderson: Bob Huggins and the Mountaineers didn't make the NCAA Tournament after losing six of their final nine games before Selection Sunday. However, they had wins over Kansas, Iowa State, Baylor, Oklahoma and Kansas State -- and the entire roster was expected to return for the 2014-15 season. However, all-conference guard Eron Harris suddenly transferred in late March, and then fellow double-figure scorer Terry Henderson followed. Instead of a team that could make a big step forward in the league, Player of the Year candidate Juwan Staten simply doesn't have enough help on the offensive end.
4. No head coaching movement: The coaching carousel barely touched the Big 12. Iowa State assistant coach Doc Sadler left for the head coaching vacancy at Southern Miss, but that's about it. Iowa State head coach Fred Hoiberg was mentioned in connection with some NBA jobs, but he's back in Ames for another season with a new contract -- although we probably will revisit this every offseason. Oklahoma State's Travis Ford was feeling a little bit of pressure, but his buyout is so big he's not going anywhere yet. Rick Barnes was on the hot seat heading into the 2013-14 season, but a 24-11 season coupled with an NCAA Tournament appearance and signing Turner keeps him in Austin for the foreseeable future.
BIG QUESTION THAT REMAINS
How will the league follow up its seven-bid 2013-14 campaign? Along with the Big Ten, the Big 12 was in the discussion for the nation's best conference last season. The league sent seven teams to the NCAA Tournament, with all seven earning a single-digit seed. Moreover, the league had some of the best individual talent in the country, with Wiggins, Embiid, Smart, DeAndre Kane, Staten, Melvin Ejim among Big 12 players receiving national attention. But most of the players are gone -- and the league also isn't as deep as it was last season. Kansas and Texas are solid at the top, with Iowa State, Oklahoma and Kansas State looking likely for an NCAA Tournament and a top-25 ranking. After that, though, there are questions. Oklahoma State and Baylor are taking steps back, while West Virginia probably won't rise in the standings. Texas Tech and TCU will struggle once again too. The league won't suddenly be terrible, but it definitely won't be on the same level as last season.
NBA DRAFT REPORT
Could've gone and did: Isaiah Austin (Baylor), Joel Embiid (Kansas), Marcus Smart (Oklahoma State), Andrew Wiggins (Kansas)
Could've gone but stayed: Wayne Selden (Kansas), Juwan Staten (West Virginia)
TRANSFERS
Coming: Shaq Cleare (Maryland to Texas), Hallice Cooke (Oregon State to Iowa State), Bryce Dejean-Jones (UNLV to Iowa State), Jameel McKay (Marquette to Iowa State), TaShawn Thomas (Houston to Oklahoma)
Going: K.J. Bluford (Iowa State to Northern Arizona), Stevie Clark (Oklahoma State to TBD), Percy Gibson (Iowa State to TBD), Keshaun Hamilton (Oklahoma to Flagler), Dusty Hannahs (Texas Tech to Arkansas), Eron Harris (West Virginia to Michigan State), Terry Henderson (West Virginia to TBD), Je'lon Hornbeak (Oklahoma to Monmouth), Kamari Murphy (Oklahoma State to TBD), Bubu Palo (Iowa State to TBD), Naadir Tharpe (Kansas to TBD), Jordan Tolbert (Texas Tech to SMU), Andrew White (Kansas to TBD), Brian Williams (Oklahoma State to Louisiana-Lafayette)
TEAM COMMENTARY IN 140 CHARACTERS OR LESS
Baylor: Scott Drew jokes may never end, but Baylor has won 79 games during the past three seasons. With Austin/Jefferson gone, Bears take a step back.
Iowa State: Iowa State is reloading with transfers again, led by Bryce Dejean-Jones. However, it's returnee Georges Niang who could be an All-American.
Kansas: Andrew Wiggins and Joel Embiid gone, Kelly Oubre and Cliff Alexander arrive. The key will be point guard play; is Devonte Graham the answer?
Kansas State: Bruce Weber will continue to get the most out of his roster. Marcus Foster is the main man, but Maine transfer Justin Edwards will be key.
Oklahoma: With Jordan Woodard and Buddy Hield back, plus the addition of Houston transfer Tashawn Thomas, Sooners have a chance to make some noise.
Oklahoma State: The Cowboys will take a step back. Smart and Markel Brown are gone, so it will come down to Phil Forte and Le'Bryan Nash to carry the load.
Texas: Everyone is back from last season, plus the Longhorns welcome top-five recruit Myles Turner. Isaiah Taylor is poised for a breakout year.
Texas Tech: Tubby Smith made Red Raiders a tough out at home in his first season, but they lose several rotation guys. Robert Turner needs consistency.
TCU: Trent Johnson is 2-34 in the Big 12 through two seasons with the Horned Frogs, but Trey Zeigler highlights three now-eligible transfers.
West Virginia: Had Harris and Henderson returned, the Mountaineers would be a threat for the top-half of the league. Now, it's Staten and ... not much else.
EARLY GUESS AT THE TOP FIVE IN THE LEAGUE
1. Kansas
2. Texas
3. Iowa State
4. Oklahoma
5. Kansas State
EARLY GUESS AT THE ALL-CONFERENCE TEAM
F: Georges Niang, Iowa State
F: Cliff Alexander, Kansas
G/F: Buddy Hield, Oklahoma
G: Marcus Foster, Kansas State
G: Juwan Staten, West Virginia
Final Thought: Will Kansas' reign atop the Big 12 ever end? Last season was the Jayhawks' 10th consecutive season with at least a share of the regular-season title, and it doesn't look likely to end this season. While Andrew Wiggins and Joel Embiid gone to the NBA, Bill Self brings in two of the top 10 best recruits in the country in Cliff Alexander and Kelly Oubre. Texas should be a top 10 team, but I still think the Longhorns are still a step behind the Jayhawks. There have been openings in the past where it looked like a team could sneak up and overtake Kansas in the Big 12 standings -- including last season, when Oklahoma State was expected to compete with the Jayhawks. We all know what happened: Kansas won the league by two games over Oklahoma, and Oklahoma State finished in eighth.
At this point, it's almost impossible to pick against Self and the Jayhawks, regardless of the roster. Since Self arrived in Lawrence, Kansas has been a No. 4 seed or better in the NCAA Tournament each season, including five No. 1 seeds in the past eight seasons. Self never has lost more than four Big 12 games in a single season, and he continues to stockpile talent on the roster. John Calipari has a bigger reputation on the recruiting trail, but Self has landed five five-star prospects in the last two recruiting classes.
Until a team steps up and proves us wrong (or Self leaves for the NBA), the Big 12 will be owned by Kansas.
Gary Parrish and Matt Norlander spend some time on the SEC, too

Having shocked Kansas at Allen Fieldhouse, Duke legend Bobby Hurley is coaching the Sun Devils...

Jay Wright's undefeated Wildcats are now No. 1 in the Top 25 (and one)
Coach K's Blue Devils are the fourth preseason top-10 team to lose to a sub-75 KenPom team

TCU, which downed Nevada late Friday, continues to flourish under second-year coach Jamie...

The fans rushed the floor and celebrated after Taylor University scored its 10th point of the...