Conference Catchup: MWC takes step back, but still has talent
Don't expect the Mountain West to be No. 1 in the RPI again this season, but expect another competitive race at the top of the standings.
• 6 min read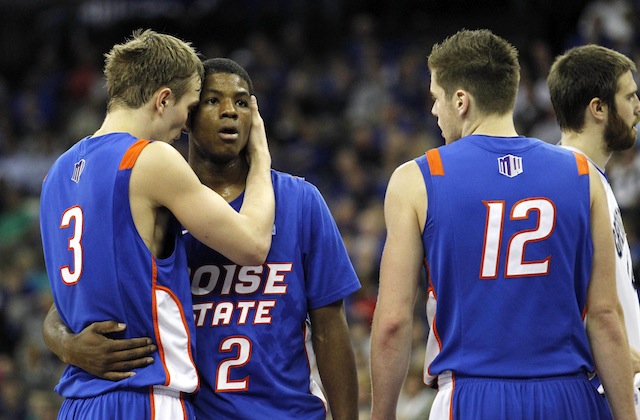 Things are now mostly settled in college basketball. We basically know who will be coaching where. We basically know who will be playing where. So this seems like as good of a time as any to reset everything and get caught up on all of the notable leagues.
That's the idea behind the CBSSports.com Conference Catchups.
We'll post every other day over a four-week span. We're posting them in alphabetical order.
Up next is the Mountain West.
FOUR OFFSEASON HEADLINES
1. New Mexico sees Steve Alford go to UCLA, replaces him with Craig Neal: The coaching carousel really took off in late March, when Steve Alford was tabbed to replace Ben Howland at UCLA. It came less than two weeks after Alford agreed to a 10-year contract to stay as the Lobos' coach. With Alford gone, New Mexico moved to make "Noodles" Neal – Alford's right-hand man – his successor. Neal had been the associate head coach with the Lobos, and keeping him on ensured that several key players from last season would return. He should be able to continuing the winning ways in Albuquerque.
2. San Jose State and Utah State enter the league: The bigger news came earlier than this spring, when San Diego State and Boise State decided they weren't leaving for the Big East. With those back in tow, the Mountain West is expanding to 11 schools with the additions of the Spartans and Aggies. Utah State has won at least 20 games in 14 straight seasons, and should be a nice addition for the league. San Jose State hasn't had the same sort of basketball success, and just fired George Nessman. Dave Wojcik will replace him.  
3. Anthony Bennett, Jamaal Franklin and Tony Snell go pro: The Mountain West isn't exactly used to seeing its players go pro early (it had zero early-entrants after the 2011-12 season), but it was hit fairly hard in the spring. Bennett leaving UNLV was a no-brainer. He will be a top-10 pick, and is getting hyped as the most NBA-ready player in the draft. Franklin didn't have much more to prove in college, as he will have to transition to the two-guard no matter when he left. Snell is the biggest question mark. He has a world of talent, but has to bring it consistently. He's hoping to crack the latter part of the first round.
4. Katin Reinhardt leaves UNLV for USC: This story occupied most of the college basketball world for the better part of Memorial Day Weekend and the days that followed. Most of it stemmed from the assertion that Reinhardt left UNLV because he wanted to play the point guard position and head coach Dave Rice wasn't planning on that. In reality, Reinhardt envisions himself as more of a combo guard as opposed to a strictly off-the-ball player. As soon as he announced his departure, USC seemed like his next destination -- after a couple of days of rumors, Reinhardt made it official.
BIG QUESTION THAT REMAINS
Can the Mountain West be as good as it was last season? In one word, no. There is simply too much talent gone with the players going to the NBA, and too much experience gone with all the graduating players. The Mountain West was No. 1 in the RPI for most of last season, and received five bids to the NCAA tournament -- with four of them nabbing No. 8 seeds or better. None of the five teams made it out of the first weekend, though, seemingly proving the Mountain West doubters correct. This year won't see the same hype for the league. Boise State is probably the only postseason team that won't take a step back, and the usual suspects – New Mexico, UNLV, San Diego State – all have some reloading to do (New Mexico to a lesser extent). It will be competitive again, though.
NBA DRAFT REPORT
TRANSFERS
Coming:

Angelo Chol

(San Diego State from Arizona),

Josh Davis

(San Diego State from Tulane), Jerry Granberry (Wyoming from North Florida),

Kevin Olekaibe

(UNLV from Fresno State)
Going:

Kory Alford

(New Mexico to UCLA),

Aaron Anderson

(Fresno State to Central Oklahoma),

David Andoh

(San Jose State to Wagner),

Alex Brown

(San Jose State to TBD),

Jerry Brown

(Fresno State to Santa Clara),

Jordan Burris

(Nevada to TBD),

Devonte Elliott

(Nevada to TBD),

LaBradford Franklin

(San Diego State to TBD),

Louis Garrett

(San Jose State to Dixie State),

Marvin Jean

(Utah State to TBD),

Xavier Jones

(San Jose State to TBD),

Matt Lopez

(Utah State to TBD), Mike Moser (UNLV to Oregon), Kevin Olekaibe (Fresno State to UNLV),

Kevin Panzer

(Nevada to TBD), Katin Reinhardt (UNLV to USC),

Stephon Smith

(San Jose State to TBD),

Demetrius Walker

(New Mexico to TBD)
TEAM COMMENTARY IN 140 CHARACTERS OR LESS
Air Force: The Falcons were briefly on the NCAA tourney bubble last season, but the departure of their top five scorers will mean a step back.
Boise State: Are the Broncos the favorite in the league? With the return of Derrick Marks, Anthony Drmic and others, it's not out of the question.
Colorado State: After losing five starters from a 26-win team, the Rams are relying on a new set of players. Daniel Bejarano could be poised to break out. 
Fresno State: Fresno could be ready to move up. Robert Upshaw and Braeden Anderson are more experienced, Tyler Johnson is back, and Cezar Guerrero can play.
Nevada: Deonte Burton has one more go-round in Reno, but he loses his backcourt partner, Malik Story. David Carter needs to turn it around.
New Mexico: Steve Alford and Tony Snell are gone, but Kendall Williams and Alex Kirk are back. Throw in a cast of role players, and the Lobos are fine.
San Diego State: With Jamaal Franklin and Chase Tapley gone, the offense has to come from somewhere. Josh Davis and Winston Shepard need to be major factors.
San Jose State: The Spartans will struggle in their first MWC season. Head coach George Nessman is gone, and only a handful of players return.
UNLV: The Rebs lose a ton of talent, but there's no shortage of players/prospects in Vegas. The question is at PG; is DeVille Smith the answer? 
Utah State: With only one senior on last year's team, the Aggies are poised to make an impact in their debut season. Preston Medlin's return is key.
Wyoming: The Cowboys weren't as good as their 13-0 start, and they weren't as bad as their 7-14 finish. Larry Shyatt's troops will finish in-between.
EARLY GUESS AT THE TOP FIVE IN THE LEAGUE
Boise State
New Mexico
UNLV
San Diego State
Utah State
EARLY GUESS AT THE ALL-CONFERENCE TEAM 
G: Kendall Williams, New Mexico
G: Anthony Drmic, Boise State
G: Derrick Marks, Boise State
G: Deonte Burton, Nevada
C: Alex Kirk, New Mexico
Final thought: All the experience that helped seven of the league's nine teams win at least 18 games -- including five NCAA tournament bids -- is mostly gone. Air Force and Colorado State both lose their top five scorers, and will face rebuilding efforts. Nevada lost three transfers plus its leading scorer, while Wyoming's top three scorers were seniors. UNLV and San Diego State will both be reloading as well, with the Runnin' Rebels losing four starters and San Diego State bidding farewell to four of its top six minute-getters.
Does that mean the Mountain West will suddenly go from a top-tier league to one behind the usual suspects?
Not at all. 
The league is at the point where having only one or two top-25 teams and four potential NCAA tournament teams is suddenly a down season. UNLV and San Diego State are perennial contenders through transfers and newcomers, New Mexico fields a very tough team no matter what, and the addition of Utah State means another consistently successful team. And that doesn't even count Boise State this season. 
Moreover, the league has stability going forward. Boise State and San Diego State turned down the Big East, and Utah State can only help (San Jose State helps for football). No one is going anywhere anytime soon.
And neither is the Mountain West.
It's difficult to figure out how these teams will perform this season

The reigning Final Four Most Outstanding Player will miss the start of the season

These teams went to The Big Dance in March, but could take a step back this season
The success of Chris Chiozza and KeVaughn Allen have the Gators ready to compete for SEC t...

FBI investigation suggests Quinerly received improper benefits from a Wildcats assistant c...