Conference Catchup: Top of the WCC primed for step back
With so much talent leaving the league, the West Coast Conference likely won't produce a No. 1 seed next season. But can Gonzaga and Saint Mary's stay at the top?
• 5 min read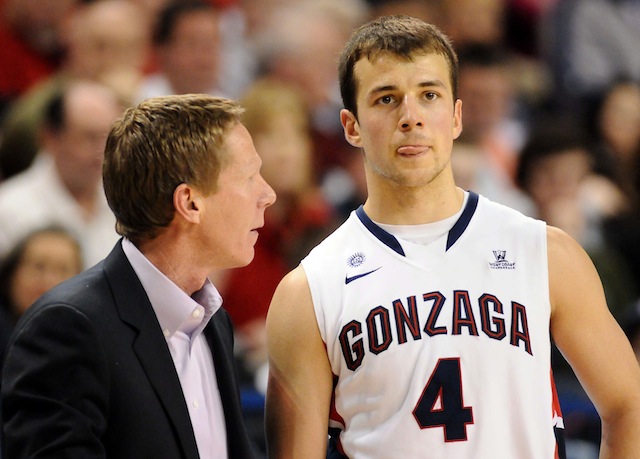 Things are now mostly settled in college basketball. We basically know who will be coaching where. We basically know who will be playing where. So this seems like as good of a time as any to reset everything and get caught up on all of the notable leagues.
That's the idea behind the CBSSports.com Conference Catchups.
We've posted them every other day over a four-week span, in alphabetical order.
Our final entry is the West Coast Conference. And here is an easy way to check out all the other leagues that we've done: Conference Catchups.
FOUR OFFSEASON HEADLINES
1. Olynyk leaves Gonzaga for the NBA: After last season's breakout campaign from Kelly Olynyk, the 7-footer decided to forgo his final season in Spokane and head to the NBA. He emerged as one of the best big men in the country and was named to the All-America team by multiple outlets. Most mock drafts have him as a late lottery pick next week. What will Mark Few do without him? The Bulldogs will turn to Sam Dower and Przemek Karnowski.
2. BYU's Emery will take Mormon mission before college: Nick Emery, the younger brother of former BYU guard Jackson Emery, was a top-50 prospect in the class of 2013. He would undoubtedly make an immediate impact for the Cougars next season. However, Emery decided he would take his two-year Mormon mission before heading to Provo. Classmate Eric Mika pondered the same thing but decided to play at BYU for one season before taking his mission.
3. Pacific joins league as the 10th team, replaces coach: Realignment didn't skip the WCC for the 2013-14 season. Pacific is joining the conference after 42 seasons in the Big West. The Tigers will enter next season without Bob Thomason, who had been the coach for the past 25 seasons. Ron Verlin will replace him after being Thomason's right-hand man for the past 19 seasons. Verlin will keep some stability in the program.
4. Star seniors bid farewell: The league had plenty of talent at the top of the conference last season, with Olynyk, Matthew Dellavedova, Brandon Davies, Elias Harris, Kevin Foster and others. All five are gone, with the latter four graduating and Olynyk heading to the NBA early. The WCC still has good players, but the star-studded senior group will be missed.
BIG QUESTION THAT REMAINS
Can Gonzaga and Saint Mary's continue their stranglehold on the league?
Gonzaga vs. Saint Mary's is always the marquee game on the WCC schedule. The teams have consistently battled at the top of the league standings, with the two finishing 1 and 2 in nine of the last 10 seasons. Of course, Gonzaga has won the majority of those, but it's been a two-team race in the league for the most part. Will that continue this season? Gonzaga is still the favorite, but the Bulldogs will have to replace their entire frontcourt. Saint Mary's brings back three of its top options, but Matthew Dellavedova is gone. Can anyone threaten those two this year? BYU has Tyler Haws, Matt Carlino and stud freshman Eric Mika, while San Francisco brings back basically everyone. Santa Clara won 26 games last season, too.
NBA DRAFT REPORT
Could've gone and did: Kelly Olynyk (Gonzaga)
Could've gone but stayed: None
TRANSFERS
Coming:

Jerry Brown

(Santa Clara from Fresno State), Chase Fischer (BYU from Wake Forest), Volo Gerun (Portland from West Virginia), Brandon Perry (San Diego from CS Northridge)
Going: Jordan Baker (Pepperdine to TBD), 

Raul Delgado

(BYU to Metro State),

Joe Edmonds

(San Francisco to TBD),

Jake Ehlers

(Portland to TBD),

Bruce English

(Loyola Marymount to TBD),

Jan Maehlen

(Pepperdine to TBD), Marin Mornar (Loyola Marymount to Western NE CC),

Manny Ochenje

(Pepperdine to TBD), Frank Rogers (San Francisco to TBD)
TEAM COMMENTARY IN 140 CHARACTERS OR LESS
BYU: No more Brandon Davies, but Tyler Haws is back, as is Matt Carlino. Keep an eye on frosh Eric Mika, one of the top incoming bigs in America.
Gonzaga: Mark Few will turn to the backcourt of Kevin Pangos and Gary Bell to lead the way. The Zags should continue their rule of the WCC.
Loyola Marymount: The Lions only won one WCC game in '12-13, but they bring back Anthony Ireland and also welcome a vastly underrated recruiting class. Sleeper.
Pacific: The league's newcomers, the Tigers have a new coach and backcourt. Will rely on the inside trio of Ross Rivera, Tony Gill and Khalil Kelley.
Pepperdine: Waves haven't had a winning season since 2005. Stacy Davis was a pleasant surprise as a frosh, could break out. UCLA transfer Brendan Lane should impact.
Portland: Eric Reveno's club had its moments last season, and the Pilots bring back their top three scorers, led by forward Ryan Nicholas. 
Saint Mary's: How will the Gaels replace Matthew Dellavedova? Three double-figure scorers are back, but finding someone for Delly's spot will be the key.
San Diego: The backcourt of Johnny Dee and Christopher Anderson is underrated and will have to carry the load. Bill Grier needs his troops to improve.
San Francisco: This could be the team to make a jump. The Dons bring back eight of their top nine players, including all-conference forward Cole Dickerson. 
Santa Clara: Star guard Kevin Foster is gone, as is forward Marc Trasolini. An all-conference guard returns in Evan Roquemore, though. Coming off a 26-win season. 
EARLY GUESS AT THE TOP FIVE IN THE LEAGUE
Gonzaga
BYU
Saint Mary's
San Francisco
Loyola Marymount
EARLY GUESS AT THE ALL-CONFERENCE TEAM
G: Tyler Haws, BYU
G: Anthony Ireland, Loyola Marymount
G: Kevin Pangos, Gonzaga
F: Cole Dickerson, San Francisco
F: Brad Waldow, Saint Mary's
Final thought: Gonzaga was the big story of the West Coast Conference last season, garnering a No. 1 seed and winning 32 games before being bounced early in the NCAA tournament. Saint Mary's always seems to be a national factor, getting a few wins early on and then staying in the mix for an at-large bid. There were three NCAA tournament teams in 2012-13. This season, though, I wouldn't expect any truly national threats to emerge from the league.
As mentioned above, the top talent in the league is gone. There is no more Kelly Olynyk and Elias Harris at Gonzaga, there is no more Matthew Dellavedova, and there is no more Brandon Davies. That's a lot of talent to replace. Gonzaga is almost guaranteed to take a step back with all its personnel losses, while Saint Mary's was only a bubble team with Dellavedova -- what will it be without him?
The league will still have multiple NCAA tournament teams, but it could be more like 2011-12, when no team received higher than a 7-seed. No 1-seed from the WCC in 2013-14. 
Creighton AD Bruce Rasmussen answers questions about some of the committee's grouping metr...

Guy, the leading scorer for the No. 1 Cavaliers, had a big weekend even though UVA didn't...

The stigma of being the first men's Division I team to vacate a title will be difficult to...
The Quicken Loans Confidence Builder focuses on Syracuse, Butler and Florida

Rhode Island can clinch a share of the A-10 regular season title with a win on Tuesday

20 programs have had their national championships taken away by the NCAA