Conference Catchup: UK is loaded again and the favorite in the SEC
Florida will be really good again, just like always. But the SEC is Kentucky's to lose.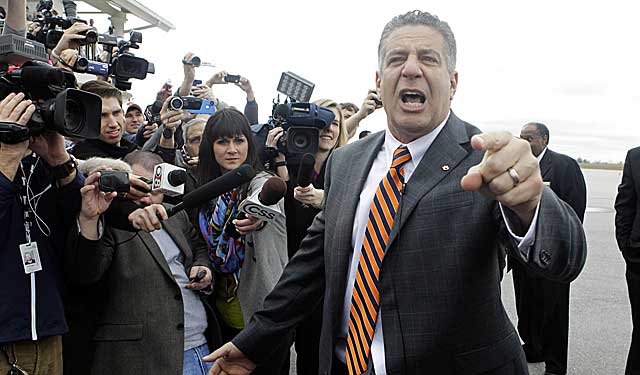 More: Draft coverage | Coaching changes | Early Top 25 (And One)
Things are now mostly settled in college basketball. We basically know who will be coaching where. We basically know who will be playing where. So this seems like as good of a time as any to reset everything and get caught up on all of the notable leagues.
That's the idea behind the CBSSports.com Conference Catchups.
Previously we touched on:
• The ACC
• The American Athletic Conference
• The Atlantic 10
• The Big East
• The Big Ten
• The Big 12
• Mountain West
• The Pac-12

Today, we look at the SEC.
FOUR OFFSEASON HEADLINES
1. John Calipari and Billy Donovan both stuck around: Multiple franchises have gauged Donovan's interest in leaving Florida, and the Cleveland Cavaliers reportedly offered Calipari more than $60 million to leave Kentucky. Still, both coaches rejected all overtures, and the new $52.9 million contract Calipari signed earlier this month with UK has probably priced him out of the market for the overwhelming majority of professional franchises. Simply put, almost no NBA team would ever pay for Calipari what Kentucky is paying for Calipari, and that means the smart money now has the 55-year-old retiring in Lexington. As for Donovan, honestly, I still think he'll jump someday. But he remains in Gainesville for now, and that's a great thing for Florida, the SEC and college basketball in general.
2. So did most of Kentucky's players: Calipari has earned the nickname "Coach One-and-Done" over the years, in some circles, for the frequency with which he's enrolled elite prospects and watched them enter the NBA Draft after one season. And he could've theoretically had six more freshmen apply for early entry to this month's draft -- plus sophomores Willie Cauley-Stein and Alex Poythress -- if everything would've broken a certain way. But it didn't break that way, and now Calipari might have his deepest team ever. Yes, Julius Randle and James Young both decided to forgo their sophomore, junior and senior seasons. But everybody else returned to campus, which is why UK is projected to make another Final Four.
3. Bruce Pearl is back in the league: An impromptu mosh pit at the airport is what immediately preceded Bruce Pearl's introductory press conference at Auburn because of course an impromptu mosh pit is what immediately preceded Bruce Pearl's introductory press conference at Auburn. (What else would you expect?) The larger-than-life personality missed the past three seasons after being fired from Tennessee -- essentially for lying to the NCAA about improper contact with prospects. But now he's back, this time as Tony Barbee's replacement, and with the way Pearl is already recruiting -- even though he isn't allowed to communicate with prospects until late August -- it seems way more likely than not that he'll have the Tigers competing in the top half of the SEC within a year or three.
4. Kim Anderson finally got his shot: Missouri took a run at Wichita State's Gregg Marshall but missed like everybody else. That was too bad for Mizzou. But it was a good thing for Anderson, the former Missouri player and assistant who has undeniable coaching chops but hasn't recruited at the Division I level since 1999, and whether he can adjust at the age of 59 will ultimately to determine whether this works. Again, we know Anderson can coach. But can he recruit after being out of Division I for so long? We'll see.
BIG QUESTION THAT REMAINS
Will Willie Cauley-Stein be 100 percent and ready for the opener? The reigning national runners-up and preseason No. 1 team will take a preseason trip to the Bahamas in August during which they'll play reasonable competition but do so without Cauley-Stein, the shot-blocking big who suffered an ankle injury during the NCAA Tournament and is still recovering from his April surgery.
According to Calipari, this is mostly precautionary.
(In other words, why risk it?)
But the fact remains that Cauley-Stein will enter his junior season coming off of an injury that was much more serious than anybody acknowledged during the Final Four, and how Cauley-Stein's body responds to the recovery and forced time away could be a factor in whether the Wildcats spend November and December overwhelming opponents or underwhelming their own fan base.
NBA DRAFT REPORT
Could've gone and did: Jabari Brown (Missouri), Jordan Clarkson (Missouri), Johnny O'Bryant (LSU), Julius Randle (Kentucky), Jarnell Stokes (Tennessee), James Young (Kentucky)
Could've gone but stayed: Willie Cauley-Stein (Kentucky), Aaron Harrison (Kentucky), Andrew Harrison (Kentucky), Dakari Johnson (Kentucky), Marcus Lee (Kentucky), Jarell Martin (LSU), Jordan Mickey (LSU), Bobby Portis (Arkansas), Alex Poythress (Kentucky), Chris Walker (Florida)
TRANSFER LIST
Coming: Kareem Canty (Marshall to Auburn), Ian Chiles (IUPUI to Tennessee), Nolan Cressler (Cornell to Vanderbilt), John Egbunu (South Florida to Florida), Dusty Hannahs (Texas Tech to Arkansas), Jon Horford (Michigan to Florida), Danuel House (Houston to Texas A&M), Jalen Jones (SMU to Texas A&M), Antoine Mason (Niagara to Auburn), Eric McKnight (Florida Gulf Coast to Tennessee), M.J. Rhett (Tennessee State to Ole Miss), K.C. Ross-Miller (New Mexico State to Auburn), Keith Shamburger (Hawaii to Missouri), Terence Smith (Tennessee-Martin to Ole Miss), Christophe Varidel (Chaminade to Alabama)
Going: John Cannon (Georgia to UNC Asheville), Quinton Chievous (Tennessee to TBA), A.J. Davis (Tennessee to Central Florida), Jacoby Davis (Mississippi State to TBA), Tim Dixon (Georgia to Columbus State), Shane Hammink (LSU to TBA), Damonte Harris (Florida to TBA), Anthony Hickey (LSU to Oklahoma State), Nick Jacobs (Alabama to Georgia Tech), Jamal Jones (Texas A&M to TBA), Algie Key (Alabama to TBA), Eric McClellan (Vanderbilt to TBA), Derrick Millinghaus (Ole Miss to Southeastern Louisiana), Malik Morgan (LSU to Tulane), Zach Price (Missouri to TBA), Shane Rector (Missouri to TBA), J-Mychal Reese (Texas A&M to TBA), Desmond Ringer (South Carolina to Mercer), Jaylen Shaw (South Carolina to Coastal Carolina), Shawn Smith (Texas A&M to Northwest Florida State), Darius Thompson (Tennessee to Virginia), DeQuavious Wagner (Arkansas to TBA)
TEAM COMMENTARY IN 140 CHARACTERS OR LESS
Alabama: Anthony Grant has made just one NCAA Tournament in five years at Alabama, which is why he'll enter this season under pressure.
Arkansas: Mike Anderson has the pieces to make his first NCAA Tournament at Arkansas thanks, in part, to the return of in-state big Bobby Portis.
Auburn: The arrival of Bruce Pearl has energized Auburn's program and will almost certainly make the Tigers relevant on and off of the court.
Florida: Billy Donovan has turned into one of the sport's most consistent coaches, and he'll probably make a fifth straight Elite Eight this season.
Georgia: The majority of the team that finished tied with Kentucky in the SEC last season is back, meaning Mark Fox should make the NCAA Tournament.
Kentucky: Kentucky won't go undefeated, probably. But the Wildcats will have a better shot to do it this season than they ever did last season.
LSU: The return of Jordan Mickey and Jarell Martin should give Johnny Jones a great chance to make his first NCAA Tournament at LSU.
Ole Miss: The post-Marshall-Henderson era at Ole Miss is now officially underway. Who knows how it'll go? But it'll surely be quieter.
Mississippi State: Rick Ray knew he had a tough job when he took it, and he's still in a total rebuilding mode that's going to take time.
Missouri: Losing Frank Haith to Tulsa probably won't hurt Mizzou as much as losing Jabari Brown and Jordan Clarkson to the NBA Draft will hurt Mizzou.
South Carolina: Frank Martin enters his third season at South Carolina still looking for his first postseason appearance since leaving Kansas State.
Tennessee: I'm not saying Donnie Tyndall is Bruce Pearl, but he's the closest thing to BP that UT could've possibly hired when Cuonzo Martin left.
Texas A&M: Things haven't been going well at Texas A&M under Billy Kennedy, and the loss of Jamal Jones certainly won't help reverse the trend.
Vanderbilt: Kevin Stallings lost two assistants this offseason, but that's nothing compared to all of the players he lost before last season.
EARLY GUESS AT THE TOP FIVE IN THE LEAGUE
Kentucky
Florida
Arkansas
Georgia
LSU
EARLY GUESS AT THE ALL-CONFERENCE TEAM
G: Andrew Harrison (Kentucky)
G: Aaron Harrison (Kentucky)
F: Charles Mann (Georgia)
F: Jordan Mickey (LSU)
F: Bobby Portis (Arkansas)
Final Thought: There is no doubt that Kentucky will be No. 1 in every reasonable poll, and so the expectations will be huge again. But these Wildcats will be better equipped to handle everything because there's a veteran presence that simply didn't exist last season.
Two juniors will be in the rotation.
The backcourt features two returning starters.
The freshmen are great but won't be required to show it early.
Consequently, it's not hard to understand why Calipari turned down all that money from Cleveland, because how do you walk away from a roster that's experienced and talented enough to make a run at another national title? Answer: You don't. So Calipari didn't. And now Lexington will be the center of the college basketball world again, like it or not.
After a close game against Michigan, Air Force is playing San Diego State with some moment...

Quickley played for John Calipari this summer with USA Basketball

A revamped Erwin Center is part of a $4.25 million upgrade to the Longhorns' hoops facilit...
Nov. 10 will be here before you know it so here's what you need to know

The league would be wise to treat that series like the ACC treats Duke-North Carolina

Pacific is penalized after the NCAA found academic rules were broken