Conference Catchup: Wichita State leads the way among mid-majors
We've hit on every major conference, but what about the mid-major teams? How was their spring?
• 7 min read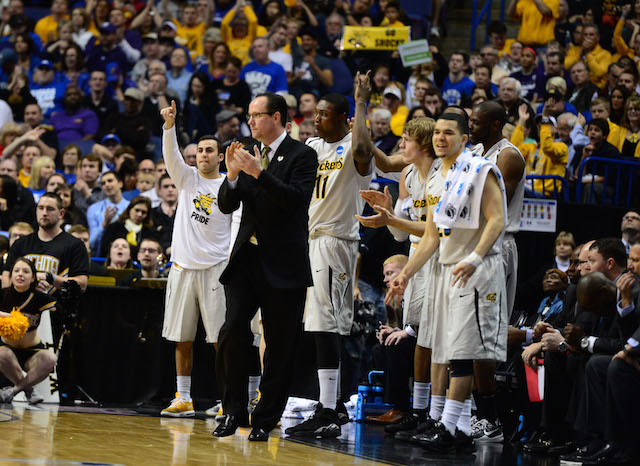 More: Draft coverage | Coaching changes | Early Top 25 (And One)
Things are now mostly settled in college basketball. We basically know who will be coaching where. We basically know who will be playing where. So this seems like as good of a time as any to reset everything and get caught up on all of the notable leagues.
That's the idea behind the CBSSports.com Conference Catchups.
Previously we touched on:
This will be the final entry of the series.
FIVE OFFSEASON HEADLINES
1. Gregg Marshall is still at Wichita State, Mike White is still at Louisiana Tech: These two guys were mentioned with pretty much every available job this offseason. Marshall was reportedly an initial contender at Missouri, but he didn't want to leave the Shockers for the Tigers. Everyone is under the assumption that Marshall will leave Wichita for a better job at some point, but this offseason offered some chances -- and he didn't take it. As for White, it was an interesting offseason. At first, it didn't look he would really entertain any options -- but then Tennessee opened and Missouri opened. White was named as a candidate with both jobs, but he decided to stay at Louisiana Tech and didn't take either of the openings. With a great core returning, expect White to be one of the primary names on the carousel yet again.
2. Steve Masiello left Manhattan for South Florida, but ... : This was one of the most interesting stories of the offseason. Masiello initially appeared to be heading down to South Florida, even agreeing to a contract -- but a background check revealed Masiello had not actually graduated from Kentucky as his resume stated. Suddenly, the deal was off, South Florida's head coaching search was back on, and Masiello had to go back to Manhattan if the Jaspers would take him. It was apparent immediately that Manhattan would welcome back Masiello once he finished his course work, which was completed a few weeks ago. Manhattan responded by reinstating Masiello as the head coach of the Jaspers. Masiello will be another popular name for high-major openings next spring. 
3. Wayne Tinkle and Donnie Tyndall are moving on up: There weren't a ton of high-major jobs available this spring, and guys like Kelvin Sampson and Bruce Pearl took a couple of them. With that said, two notable mid-major coaches are making the step up. After Oregon State opened late in the process, Tinkle emerged as a prime candidate -- along with bigger names like Ben Howland, Damon Stoudamire and Mike Hopkins. However, he landed the job, and already hired Stephen Thompson as an assistant coach. Tinkle and Thompson both have sons in the class of 2015 top 100. Tyndall had been mentioned with several jobs over the past few years, but he finally jumped from Southern Miss to Knoxville. Cuonzo Martin made the move to California, and Tyndall's ability to win at every stop and recruit a little bit more creatively should endear himself to Vols' fans.
4. Whatever happened at Marshall: After the Thundering Herd parted ways with Tom Herrion, it looked like they would simply join the gaggle of schools looking to find an inside-the-box replacement. Then came the reports that Los Angeles Lakers head coach Mike D'Antoni was legitimately interested, but he couldn't take the job because the Lakers weren't planning on firing him. As a result, Marshall interviewed several notable mid-major coaches -- but they turned to D'Antoni's brother, Dan D'Antoni. That hire in itself ignited question marks and curiousness from the media, but it heated up even further when D'Antoni was indeed fired by the Lakers. Would Mike D'Antoni really have taken the Marshall job had he known he was going to be fired?
BIG QUESTION THAT REMAINS
Can Wichita State replicate its run?
Wichita State was one of the biggest stories in college basketball last season, going unbeaten during the regular season, winning the Missouri Valley conference tournament -- and then losing to Kentucky in the Round of 32 of the NCAA Tournament. Despite the earlier-than-expected tourney defeat, Wichita State still finished 35-1 and was one of the best teams in the country throughout the season. But what does ths 2014-15 season hold for the Shockers? No one expects them to win their first 35 games again this season, but the dropoff shouldn't be as dramatic as some people expect. Cleanthony Early is gone, but Ron Baker and Fred Van Vleet return to form one of the best backcourts in the country. Throw in Tekele Cotton, and Gregg Marshall has another terrific core around which to build. 
NBA DRAFT REPORT
Could've gone and did: Mychal Ammons (South Alabama), Sim Bhullar (New Mexico State), Eldrid Payton (UL-Lafayette), 
Could've gone but stayed: Ron Baker (Wichita State), R.J. Hunter (Georgia State) 
TRANSFER LIST
Key ones coming: Arnaud-William Adala Moto (Wake Forest to Towson), Keron DeShields (Montana to Tennessee State), Nick Faust (Maryland to Long Beach State), Jarvis Haywood (Jacksonville to UNC-Wilmington), Nimrod Hilliard (Lamar to North Carolina Central), Jeremy Hollowell (Indiana to Georgia State), Je'lon Hornbeak (Oklahoma to Monmouth), Jermaine Lawrence (Cincinnati to Manhattan), Derrick Millinghaus (Ole Miss to Southeastern Louisiana), Kevin Ware (Louisville to Georgia State), Brian Williams (Oklahoma State to UL-Lafayette), Isaiah Williams (Samford to Georgia State), Lucas Woodhouse (Longwood to Stony Brook), Royce Woolridge (Washington State to Grand Canyon)
Key ones going: Dimitri Batten (Old Dominion to Boston College), Hakeem Baxter (Maryland-Eastern Shore to UAB), Jay Canty (Appalachian State to TBD), Kareem Canty (Marshall to Auburn), Ian Chiles (IUPUI to Tennessee), Charles Cooke (James Madison to Dayton), Nolan Cressler (Cornell to Vanderbilt), Keron DeShields (Montana to Tennessee State), Bryn Forbes (Cleveland State to Michigan State), Jarvis Haywood (Jacksonville to UNC-Wilmington), Nimrod Hilliard (Lamar to North Carolina Central), Chris Jones (North Texas to TBD), Gabe Levin (Loyola Marymount to Marquette), Antoine Mason (Niagara to Auburn), Eric McKnight (Florida Gulf Coast to Tennessee), Sean Obi (Rice to Duke), Richaud Pack (North Carolina A&T to Maryland), K.C. Ross-Miller (New Mexico State to Auburn), Keith Shamburger (Hawaii to Missouri), Chris Thomas (Marshall to TBD), Jarvis Threatt (Delaware to TBD), Maurice Watson (Boston University to Creighton), Isaiah Williams (Samford to Georgia State), Tim Williams (Samford to TBD), Lucas Woodhouse (Longwood to Stony Brook)
POWER RANKINGS IN 140 CHARACTERS OR LESS
1. Wichita State: Cleanthony Early is gone, but Fred Van Vleet and Ron Baker form a terrific backcourt. Shockers are capable of winning multiple NCAA games.
2. Harvard: The Crimson do lose some key pieces, but Siyani Chambers, Wesley Saunders and a host of veterans return. Upgraded non-con schedule too.
3. Georgia State: The Panthers have stockpiled talent lately. Kevin Ware is the only transfer eligible right away, but Ryan Harrow and R.J. Hunter are back.
4. Louisiana Tech: There aren't many perimeter groups better than Speedy Smith, Alex Hamilton and Raheem Appleby. Is this the year they take that next step?
5. Murray State: Time for Steve Prohm to get back to the dance. Four double-figure scorers, including playmaking soph Cameron Payne, return to lead the way.
6. Toledo: The Rockets fell short of the tournament last year, but backcourt of Julius Brown and Justin Drummond will look to change that this year.
7. Wofford: The SoCon champions no longer have to deal with Davidson. They also bring back nearly everyone and will be the league favorites in '13-14.
8. UC Santa Barbara: Most of the attention in the Big West will fall on Alan Williams, one of the most productive players in America. He can carry the Gauchos.
9. Stephen F. Austin: What's the encore for Brad Underwood after winning 29 games in a row? Lose three of their top six, but not Nathan Walkup and Jacob Parker.
10. Northern Iowa: Will the Valley have another contender? The Panthers bring back their top six, including Seth Tuttle, and add UVA transfer Paul Jesperson.
FIVE OTHERS
Hofstra: This is a team many have pegged to make a jump. Transfers Juan'ya Green, Ameen Tanksley and Brian Bernardi are all now eligible.
UC-Irvine: The Anteaters did it last year with defense and a balanced scoring attack. Two double-figure scorers and Mamadou Ndiaye lead the way.
UTEP: Julian Washburn and Vincent Hunter are terrific up front, and a couple of talented freshmen arrive in Chris Sandifer and Omega Harris.
UAB: There is plenty of hype about Va Tech transfer Robert Brown and frosh William Lee, but Chad Frazier and C.J. Washington also return.
Old Dominion: This could be a sleeper. Nearly everyone returns, including Aaron Bacote, plus they add transfers Trey Freeman and Jonathan Arledge.
The BC fan has a ton of apparel and gear headed his way after this putt

Durant's made a habit of making sure his alma mater is set with the latest customized gear

Ball says UCLA told him to thank Trump for getting him back to the states after shoplifting...
SportsLine's advanced computer model simulated Wednesday's Villanova vs. Temple game 10,000...

Will any of these six teams make it to 2018 without their first loss?

Temple could be a big problem for undefeated Villanova, the No. 1 team in the Top 25 (and...