Conference Reset: Atlantic 10 is competitive across the board
UMass, VCU and Saint Louis will fight for the A-10 championship, while several other teams will push to finish in the upper half of the league.
• 7 min read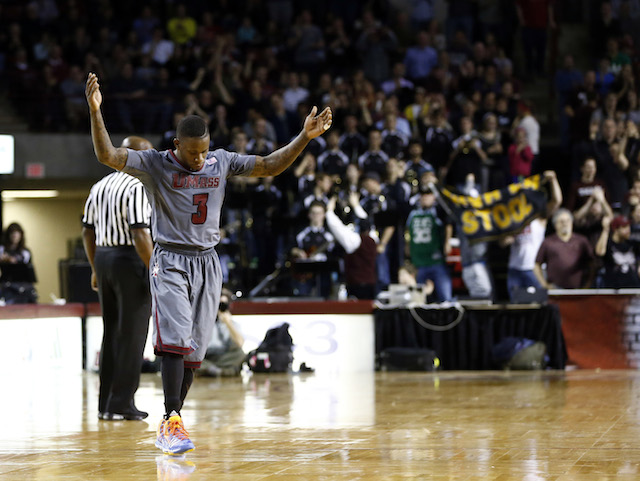 We once again are doing our midseason catchup on the 11 biggest leagues in college basketball. We're going to run these on the day leagues start conference play – or at least as close to them as possible. The Atlantic 10 has a slew of surprising teams, and it should be competitive at the top and middle.
Here's the Atlantic 10 reset:
Teams on track to make the Field of 68: Massachusetts, Saint Louis, VCU
Teams with work to do: George Washington, Dayton, Richmond, Saint Joseph's
Teams already out, barring a miracle: St. Bonaventure, La Salle, Rhode Island, George Mason, Fordham, Duquesne
Most memorable moment to date: Chaz Williams throws his name into the All-America discussion with one of the best single-game performances of the season: 32 points, 15 assists and five 3-pointers sin a 105-96 win over BYU. It pushed the Minutemen to 8-0 on the season, and vaulted Williams into the conversation as one of the top five guards in the country.
Storyline you were too busy to notice: Only one season removed from reaching the Sweet 16, La Salle is only 7-6 heading into Atlantic 10 play. The Explorers haven't been able to adequately replace Ramon Galloway, and the offense has taken a huge hit as a result. None of the losses are all that bad, but La Salle is clearly a disappointment after two months of the season.
Coach feeling the heat: Tom Pecora, Fordham. After several successful years at Hofstra, Pecora made the move to Fordham – but has struggled in his four seasons with the Rams. They have improved this season, sitting with a 7-6 record entering league play, but Pecora's record the past three seasons was just 24-64. It's not an easy job, but Fordham is struggling under Pecora.
Player who needs to step up: VCU came into the season as the Atlantic 10 favorite, bringing back most of its key pieces from last season. The loss of Darius Theus has hurt, but the inconsistency of Juvonte Reddic has been even more worrisome. His scoring and rebounding numbers are down from last season, and he hasn't been the dominant inside player he showed toward the end of last season. In the Rams' three losses, Reddic is averaging just 6.7 points and 3.3 rebounds, while shooting 30 percent from the field.
Team better than its record: La Salle is probably better than 7-6, but in terms of legitimate contenders, let's look at 9-4 Saint Joseph's. The Hawks' best win is over Drexel, and they have a 30-point home loss to Villanova on the ledger as well. But they have won five in a row heading into conference play – which kicks off with a road trip to Massachusetts on Wednesday. Langston Galloway and Ronald Roberts are two of the better players in the league, and there are enough role players to make noise.
Team not as good as its record: Out of the teams with double-digit wins, there is one team that I expect to take a dip in conference play: Saint Bonaventure. The Bonnies are 10-4 heading into the Atlantic 10, but an upper-half finish in the league probably isn't in the cards. They have lost to Buffalo and Siena, and the best wins are over Delaware and Iona.
Three must-see games:
VCU at Massachusetts (Feb. 21)
Saint Louis at VCU (March 1)
Saint Louis at Massachusetts (March 9)
Player of the Year favorite: Chaz Williams, Massachusetts. His scoring has been a bit up and down lately, but Williams is flat-out one of the most exciting and dangerous players in the country. His speed and ability to get by defenders make him an elite playmaker with the ball in his hands. He is averaging 15.5 points and 7.7 assists, while also knocking down 42.6 percent of his 3-point shots.
Freshman of the Year favorite: Jon Severe, Fordham. The nation's leading freshman scorer, Severe is putting up 20.5 points while shooting 38.4 percent from 3-point range. Severe has scored at least 20 points on seven separate occasions, hitting the 30-point mark twice. Severe is capable of lighting up the scoreboard on any given night, and while his shooting numbers are sometimes poor (example: his 1-for-21 effort against St. John's), but he's going to keep scoring.
Probable all-league team:
Chaz Williams (Massachusetts); Maurice Creek (George Washington); Cedrick Lindsay (Richmond); Treveon Graham (VCU); Dwayne Evans (Saint Louis)
Ranking the teams from first to worst:
1. Massachusetts: The Minutemen have just one loss on the season, a five-point defeat to Florida State before Christmas. Aside from Chaz Williams, they are getting better inside play from Cady Lalanne, who has been a double-double threat every night. Big edge for UMass could be it gets to face both VCU and Saint Louis at home.
2. VCU: The Rams have had some trouble adjusting to the loss of Darius Theus in a half-court setting, but Briante Weber is continuing to improve. Treveon Graham and Melvin Johnson provide good perimeter weapons, but the key will be the ability to get points in a half-court game. Juvonte Reddic is a major factor in that sense.
3. Saint Louis: The Billikens only have two negative marks on their resume: losses to undefeated teams Wisconsin and Wichita State by a total of 11 points. The defense is as stingy as ever, and Dwayne Evans is still around to anchor the offense. A tough season-ending stretch against VCU, Dayton and Massachusetts could be their key stretch.
4. Dayton: The non-conference portion of the season had plenty of ups and downs for the Flyers. There were wins over Gonzaga, California and Ole Miss – and losses to Illinois State and USC. They can make a statement on Saturday against Saint Louis. Jordan Sibert and Devin Oliver lead the way.
5. George Washington: One of the more surprising teams in the country, the Colonials are off to a 12-2 start, with the lone losses to Marquette and Kansas State. The win over Creighton back on December 1 put them on the map, and the feel-good comeback of former Indiana transfer Maurice Creek has been one of the better stories of the first couple months.
6. Saint Joseph's: The Hawks were a disappointment last season, but the talent is still there for Phil Martelli's crew. They are riding a five-game winning streak heading into conference play, and the 30-point loss to Villanova seems like ages ago. Ronald Roberts and Langston Galloway are great offensively, but the Hawks need to shore up the defense, especially in the paint.
7. Richmond: The Spiders will be competitive in pretty much every game – you can almost guarantee that. Their five losses have come to Minnesota, North Carolina, Florida, Ohio and Wake Forest – with only one coming by more than 10 points. Their defense keeps them in games, and Cedrick Lindsay can fill it up.
8. La Salle: Maybe the biggest disappointment in the league so far, the Explorers are likely not repeating their Sweet 16 run from last season. Ramon Galloway has been sorely missed, as Tyrone Garland hasn't moved seamlessly into a bigger role and the team simply isn't making shots like it was a season ago. Can Dr. John Giannini turn it around?
9. Rhode Island: There was a pessimism around the Rams' program heading into last week, as they were just 7-6 heading into a tough stretch. However, they beat Brown and then went to LSU and knocked off the Tigers. An A-10-opening stretch against Saint Louis, George Washington and La Salle will be telling, but the Rams have some talent in Xavier Munford and E.C. Matthews.
10. George Mason: The first year in the Atlantic 10 for the Patriots hasn't been kind to Paul Hewitt and co. – and conference play hasn't even started yet. They have lost five of their last seven and seven of their last 10 games – and a road trip to VCU on Thursday awaits. Bryon Allen and Sherrod Wright need some complementary help.
11. St. Bonaventure: The Bonnies are 10-4 heading into conference play, although the best wins are over Delaware and Iona. They face Richmond, Massachusetts, Saint Louis and George Washington to open the A-10, which could bring St. Bonaventure back to Earth fairly quickly. Matthew Wright and a turnover-forcing defense have been effective.
12. Fordham: The Rams have one of the most prolific backcourts in the country in freshman scoring sensation Jon Severe and senior Branden Frazier. The two combine to average nearly 40 points per game, and could be enough to get Tom Pecora some surprising wins in league play.
13. Duquesne: The Dukes have won four in a row to end non-conference play, although the best win in that stretch was over an Appalachian State that hasn't beaten a D-1 team this season. Ovie Soko is one of the best players in the league, but Jim Ferry has his work cut out for him. 
Here's how the top teams are trying to stay elite as recruiting heats up

There's never been anything like Wednesday night's LaMelo Ball-Zion Williamson showdown

The best basketball player in the world showed up too late to the biggest game in Las Vega...
Thousands of fans were turned away (even LeBron!) from the LaMelo Ball-Zion Williamson sho...

"Four Sides of the Story" also takes a look at Tiger Woods' first PGA tournament and the role...

Indiana's Archie Miller and Mizzou's Cuonzo Martin have been killing it on the recruiting...