Conference Reset: Atlantic 10 looks wide open at the top
The Atlantic 10 picked up a big boost when VCU and Butler joined the league immediately -- and it's paying off already. They are the two favorites heading into conference play.
• 10 min read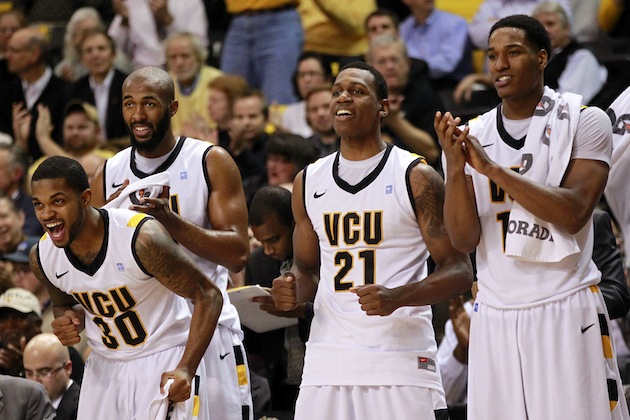 VCU and its "Havoc" defense have the Rams looking strong heading into Atlantic 10 play. (US Presswire)
There might not be a more exciting conference race this season than the Atlantic 10. It's conceivable to think that a handful of teams can win the league, as nine teams won double-figure games in the non-conference season and every squad has at least two losses. The league is loaded with talented individual players, especially in the backcourt. A conference tournament in Brooklyn will be a must-see event. 
Here's our Atlantic 10 reset:
Teams on track to make the Field of 68: Butler, VCU
Teams with work to do: Temple, Saint Louis, Saint Joseph's, La Salle, Massachusetts, Dayton
Teams already out, barring a miracle: Richmond, Xavier, Charlotte, St. Bonaventure, George Washington, Rhode Island, Duquesne, Fordham
Most memorable moment to date: You can pretty much take either of Butler's buzzer-beating wins and call it the most memorable moment of the entire season -- nationally -- so far. Against Marquette in Maui, Rotnei Clarke hit a falling-down, one-handed 3-pointer at the buzzer to pull out a 72-71 win. Just a few weeks later, it was Alex Barlow's turn to be a hero. He hit a leaner with 2.4 seconds left to give Butler a win over No. 1 Indiana. Clarke's shot was better, Barlow's shot was bigger. Take your pick.
Storyline you were too busy to notice: The Atlantic 10 might have the best championship race in the country. There are up to five or six teams with the pieces capable of making a run. VCU and Butler are probably the favorites right now, but it's difficult to count out a Saint Louis team that is rolling with Kwamain Mitchell back and a Temple team that took Kansas to the wire and beat Syracuse. Saint Joseph's and Massachusetts are balanced and talented, as well. And what about the guards at La Salle and Dayton? This is going to be a fun league to track over the next eight weeks.
Coach feeling the heat: There might not be anyone in danger of being fired after the season, but Charlotte's Alan Major needs a solid performance during league play. The 49ers went 12-2 in the non-conference portion of the schedule, but there wasn't much to get excited about besides a win over Davidson. Major is a combined 7-25 in the Atlantic 10 during his first two years on the job; that has to improve. Charlotte was 19-12 the season before he took over -- even six or seven wins in league play this year would be enough for optimism.
Player who needs to step up: Massachusetts had plenty of hype before the season. After all, the Minutemen finished on a high note last season, and they returned most of their key players. They have been up and down this season, and a main reason has been the play of junior forward Raphiael Putney. Last season, he was an inside-outside option that could rebound and make plays. This year, his numbers are down across the board, and he's scored in double-figures just once in the past 10 games. He is the sort of player who can give UMass an added dimension in league play.
Team better than its record: Considering nine of the 16 teams have double-figure wins, there weren't too many options. But Saint Joseph's has too much talent to be 8-4. The Hawks have shown flashes of how good they can be, beating Notre Dame back in November and also blowing out Harvard. But their defense has been too inconsistent, especially on the glass. Suspensions to Carl Jones and Halil Kanacevic have also not helped get everyone on the same page. Can this team put it all together in league play?
Team not as good as its record: We picked on Charlotte above, so we'll go with Richmond and its 10-5 record. The Spiders do have some solid pieces, led by Darien Brothers on the perimeter and Derrick Williams inside. With that said, they have lost to every remotely good team on the schedule -- the best win is either over Air Force or over Wake Forest. Not much to get excited about there. The Spiders need to shore up their defense if they want to finish in the upper half.
Three must-see games:
Butler at VCU (March 2)
Saint Louis at Temple (Jan. 12)
Saint Joseph's at Massachusetts (Feb. 9)
Player of the Year favorite: The buzz surrounding Rotnei Clarke only grew as he sat out after transferring to Butler from Arkansas. The lights-out 3-point shooter has lived up to the expectations, shooting 43 percent from behind the arc and averaging a career-high 16.2 points. He's scored in double-figures in all but three games this season and has come up big in the biggest games. He had 20 points and hit a buzzer-beating 3-pointer against Marquette, had 17 against North Carolina, 27 against Illinois and 19 against Indiana.
Freshman of the Year favorite: Semaj Christon cracked the national top five in our Freshman of the Year rankings earlier this season, and although he's slowed down since then, Christon is still the best frosh in the league. There was a six-game stretch in late November and early December where he averaged 18.7 points, while continuing to dish out assists. His ability to get into the lane and create is impressive.
Probable all-league team: Rotnei Clarke (Butler); Khalif Wyatt (Temple); Treveon Graham (VCU); Chaz Williams (Massachusetts); Ramon Galloway (La Salle)
Ranking the teams from first to worst:
1. VCU: The Rams dropped a few games early on, and don't own any truly great wins, but they've been playing some of the best defense in the country. They're turning teams over at a tremendously high rate and converting those turnovers into easy points. Treveon Graham is a legitimate Player of the Year candidate, and Troy Daniels has been on fire from behind the arc. Darius Theus is a dogged defender. Shaka Smart has a deep, talented, underrated team at his disposal.
2. Butler: Another team in its first season in the Atlantic 10, Butler has had some of the best moments of the season. The Bulldogs have a nice cache of good wins, including last-second victories over Marquette and Indiana. They have won nine in a row heading into conference play, and the tandem of Rotnei Clarke and Kellen Dunham form one of the most dangerous shooting duos in the country. Rose Jones is vastly underrated. Is another deep run in the offing for the Bulldogs?
3. Temple: This is a difficult team to figure out. The Owls somehow lost to Canisius and were also blown out by Duke, but they beat Syracuse and took Kansas to the wire on the road. Will they find consistency in league play? Khalif Wyatt is a big-game player, but he can also go cold. Scottie Randall was a great sidekick early on, but he's been struggling the past couple of weeks. Wyatt can't do it all himself.
4. Saint Joseph's: The Hawks have enough talent at the top of the roster to win the league, but they have also been inconsistent enough to miss the NCAA tournament. The win over Notre Dame has some staying power, but they obviously need some more. Carl Jones and Langston Galloway can score, and C.J. Aiken blocks shots. Halil Kanacevic has to be the X-factor.
5. Saint Louis: The Billikens had a tragic couple of months, with Rick Majerus taking a leave of absence and dying Dec. 1. The team started off just 3-3 but has reeled off eight wins in a row, including a New Year's Eve victory over New Mexico. Kwamain Mitchell returned from injury three games ago, and he will be a major factor going forward. The Billikens lock down defensively, and will be a nuisance to play every night.
6. Massachusetts: Really fun to watch, the Minutemen will be entertaining -- but will they be successful in league play? They get up and down, they're deep, and they have plenty of options. But they don't do anything that well, and they can go cold from behind the arc. There are a couple of solid wins on the docket, but they're still tough to predict. Chaz Williams is one of the most entertaining players around.
7. La Salle: Despite sitting at 10-3, John Giannini's crew isn't getting much attention. The Explorers did lose to Central Connecticut back in mid-November, but they've played relatively well since then (aside from a blowout loss at Miami). Ramon Galloway and Tyreek Duren are a tough backcourt duo to guard, and Virginia Tech transfer Tyrone Garland has been solid. Jerrell Wright anchors the interior. They need to be more aggressive, though.
8. Dayton: Seems like it every year -- Dayton could be destined for the bubble yet again. The Flyers have some OK wins over Alabama and Murray State, and a litany of close losses. One or two games over .500 is the likely result. Kevin Dillard continues to be one of the more underrated point guards in the country, and several newcomers have been solid in a supporting role. 
9. Richmond: It seems longer, but Chris Mooney and the Spiders are only two years removed from a Sweet 16 appearance. While this year's team won't get back there, it's a better group than a season ago. Richmond is solid offensively, capable of scoring inside and out, and they force turnovers on defense. There are just zero remotely impressive wins on the resume, and they've been blown out a few times.
10. Xavier: Coming into the season, the Musketeers didn't have much hype. They had lost nearly everyone from last year. However, they started 3-0, including a dominant win over Butler and also later beat Purdue on the road. The Bulldogs have now lost five of six, though, and are trending downward. Semaj Christon is a stud at the point, but he needs a more consistent supporting cast. There's just not enough on the roster right now.
11. Charlotte: The 49ers are one of the more surprising teams in the league, starting off 12-2 with a win over Davidson. They're playing excellent defense, especially inside the arc. Keeping that up in conference play is going to be a problem, though. Chris Braswell is a very solid interior player, but the 49ers really struggle from the perimeter. The opening schedule isn't terrible, though -- Charlotte could get off to a good start.
12. George Washington: The Colonials have had their moments this season, suffering close losses to Kansas State and Rutgers in back-to-back games in early December. But they've struggled to close out wins, which could be an issue in the ultra-competitive A-10. They really defend, which is a plus, and Isaiah Armwood is a double-double threat every night.
13. St. Bonaventure: Andrew Nicholson would certainly come in handy right about now. The Bonnies made a Cinderella run to the NCAA tournament last season, but that certainly isn't happening this season. They have lost three games in a row heading into league play, and the best non-conference win was over Niagara. Demetrius Conger is tough to guard, though.
14. Rhode Island: Dan Hurley will have this team turned around in a couple of years, but it will take some time. The Rams have shown some signs of life this season, but they're not ready for consistency in the A-10 just yet. A road win over Auburn is reason for optimism, though. Four double-figure scorers and freshman Jordan Hare form a nice core, as well.
15. Duquesne: It's been an inconsistent couple of months for the Dukes, as Jim Ferry gets acclimated to the Atlantic 10 in his first year on the job. They had a win over West Virginia -- but also lost to Albany, Robert Morris, Louisiana-Lafayette, Penn State and others. The defense has been terrible, but Sean Johnson has had his moments offensively. After Fordham in the opener, the A-10 schedule gets tough.
16. Fordham: Tom Pecora has Fordham on the upswing -- although they won two games back in 2009-10, that's probably not saying much. The Rams did beat Princeton, but they're 4-11 heading into conference play. Branden Frazier and Chris Gaston actually form a pretty solid inside-outside duo, and the Rams might be able to pull off an upset or two at Rose Hill this year.
For more college basketball news, rumors and analysis, follow @EyeOnCBB on Twitter, subscribe to our RSS Feed and subscribe to our College Basketball Newsletter. You can follow Jeff Borzello on Twitter here: @jeffborzello.
It's early, but the Vols appear to finally be heading in the right direction

Shittu is the highest rated Vandy commitment since .. Darius Garland, who committed last w...

Gary Parrish and Matt Norlander also preview the PK80-Phil Knight Invitational
Either the Shockers or the Irish will lose for the first time in Wednesday's Maui Invitational...

Five-star recruit Brian Bowen won't play for the Cardinals, but is free to transfer

No. 12 Cincinnati will face Wyoming in the championship game