Conference Reset: Big Ten loaded and nation's best league
Here's our Big Ten Reset: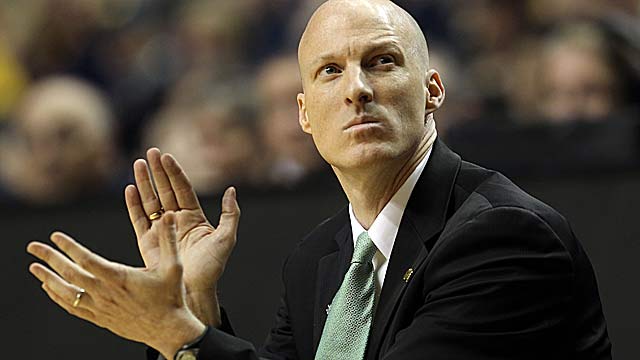 Illinois coach John Groce enters his first season in the Big Ten with one of the country's most surprising teams. (Getty Images)
It is what we thought it was. The Big Ten is the best league in America with a half-dozen teams in our latest Top 25 (and one) and four among the first 10 teams in the rankings. Michigan and Indiana are clear national title contenders, and Illinois has shocked the nation as much as anyone as we are set to open league play. The sad part of the league is two of the teams hoping to make progress, Northwestern and Penn State, both lost their top players for the season due to injury. That'll likely create even more separation between the contenders and pretenders in the Big Ten -- and could result in six or even seven teams heading to the NCAA tourney come March.
Here's our Big Ten Reset ...
Teams on track to make the Field of 68: Michigan, Indiana, Michigan State, Minnesota, Ohio State, Illinois
Teams with work to do: Wisconsin, Iowa
Teams already out barring a miracle: Penn State, Northwestern, Purdue, Nebraska
Most memorable moment to date: Indiana delivered the shocking blow to Kentucky a year ago, when Christian Watford buried a 3-pointer as time expired to knock off the 'Cats. This time, the Hoosiers were on the other end of arguably the most exciting game of the season thus far. Butler took down IU in Indianapolis in overtime -- as Bulldogs walk-on Alex Barlow provided the heroics in the final seconds. 
Storyline you were too busy to notice: Wisconsin has made the NCAA tournament in each of Bo Ryan's 11 seasons thus far in Madison, but the Badgers are in serious danger of seeing that streak end this season. Ryan lost all-everything point guard Jordan Taylor to graduation, and then Josh Gasser -- who earned the starting floor-leader duties in the preseason -- went down with a season-ending knee injury in the preseason. Wisconsin has lost four games thus far -- to Florida, Creighton, Marquette and Virginia -- and will need to finish in the top five of the league to have any chance of going dancing again. 
Coach feeling the heat: It's sad that Bill Carmody and the Wildcats have lost their best player, Drew Crawford, for the season with a shoulder injury. This is a program that has never been to the NCAA tournament -- and Carmody has led Northwestern to four consecutive NIT appearances. However, a fifth straight NIT might be unlikely with Crawford out of the lineup. 
Player who needs to step-up: Indiana has plenty of talent and can win against mid-tier teams in the league without Christian Watford, but Tom Crean needs his senior forward to produce against the elite teams in the league.
Team better than its record: Purdue is just 6-6, but Matt Painter's team is still adjusting to life without Robbie Hummel and Lewis Jackson. Painter can still coach -- and he's got enough talent in West Lafayette to finish near the middle of the league this season. 
Team not as good as its record: Illinois has gotten off to a torrid start by winning the Maui Invitational and also coming back from Spokane with a huge road win against Gonzaga. However, don't be shocked if John Groce's team finishes in the bottom half of the Big Ten standings. Brandon Paul is a stud, but he doesn't have enough help. 
Three must-see games: 
Michigan at Indiana on February 2nd
Indiana at Michigan State on February 19th
Michigan State at Michigan on March 2nd
Player of the Year favorite: Indiana big man Cody Zeller entered the season as the favorite to win Big Ten (and National) Player of the Year honors. However, Zeller hasn't been dominant -- and Michigan's Trey Burke has been the best point guard in the country and the best player on the No. 2 team in the land. He can score and has improved his floor game. 
Freshman of the Year favorite: No one has shot it better from deep this season than Michigan's Nick Stauskas. Not just in the Big Ten, either. The 6-foot-6 Canadian is shooting 57 percent from long distance and isn't a one-dimensional player, either. 
Probable all-league team: Trey Burke (Michigan), Brandon Paul (Illinois), Cody Zeller (Indiana), DeShaun Thomas (Ohio State), Keith Appling (Michigan State)
Ranking the teams from first to worst ...
Michigan: Just about everything has gone right thus far for John Beilein and the Wolverines. Trey Burke has performed like an All-American, Tim Hardaway Jr. has improved his decision-making, freshmen Glenn Robinson III and Nik Stauskas have been tremendous and the inside duo of veteran Jordan Morgan and freshman Mitch McGary has been productive. Michigan is undefeated through its first dozen games and has established itself as a true national title contender.
Indiana: The nonconference slate has been a bit soft, and there's that loss to Butler over in Indianapolis, but this is still a team that enters Big Ten play as the co-favorite with Michigan. Cody Zeller hasn't been quite as dominant as some anticipated, but he's still one of the top big men in the country. Jordan Hulls remains arguably the best shooter in the country, freshman Yogi Ferrell has been poised and effective on both ends and Victor Oladipo has been tremendous.
Michigan State: Despite Tom Izzo's schedule, the Spartans are 11-2. And while they don't have a legitimate star, they do have good balance. Keith Appling has made progress, Branden Dawson has come back from last year's knee injury, Gary Harris is making an immediate impact as a freshman and Derrick Nix gives the team a solid big man down low. There are pieces here -- and more importantly, Izzo is at the helm. That always makes this team dangerous.
Ohio State: Deshaun Thomas has emerged, as everyone expected, as the team's star after the departures of Jared Sullinger and William Buford. The Buckeyes have beaten who they should have -- and lost two games to a pair of quality opponents: Duke and Kansas. No one has emerged as a consistent sidekick to Thomas as a No. 2 scorer. That's not a good sign as we enter league play. Lenzelle Smith has been inconsistent while LaQuinton Ross, Shannon Scott and Sam Thompson have shown glimpses. But for the most part, it's still Thomas and a bunch of role players on the offensive end. Aaron Craft is a great player, but he's not a major offensive threat.
Minnesota: The Gophers are ranked in the top 10 and have only lost one game -- to top-ranked Duke down in the Bahamas. They have beaten a bunch of decent teams but are still somewhat of a question heading into Big Ten play. There are wins over a struggling Florida State team, a brutal USC club and a South Dakota State group that was without its star. The jury is still out, but these guys do have a dozen wins. Tubby Smith has brought Trevor Mbakwe along slowly, but now it's time to see if the senior forward can return to the dominance that he showed a couple years ago.
Illinois: The surprise team in the Big Ten thus far and arguably in the entire country. No one expected John Groce to have the Illini in the Top 25, never mind the top 10. He inherited a decent team, but most pegged them for the NIT. Illinois won the Maui Invitational, but the win at The Kennel over Gonzaga put this team on the map. The Illini have overachieved. Period. The lone setback came against Missouri in St. Louis -- and it was a competitive contest. Groce has done a terrific job thus far, but we'll see if these guys can sustain it in league play. I still say they could well wind up in the bottom half of the league standings.
Wisconsin: Could this finally be the year that Bo Ryan doesn't take the Badgers to the NCAA tournament?  It's a legitimate question. This is a team that already has four losses: to Florida, Creighton, Virginia and Marquette. The issues have been poor defense, by Badgers standards, and point-guard play, where Josh Gasser was slated to replace Jordan Taylor before he went down with a season-ending torn ACL in the preseason. Gasser's injury was huge -- as he was the point guard, leader and also the team's top perimeter defender.
Iowa: Fran McCaffery's Hawkeyes are 9-2 -- and the two losses came against Wichita State and Virginia Tech -- but this is a dangerous team. It's led by Roy Devyn Marble, but two freshmen have wasted little time making an impact: 7-footer Adam Woodbury and guard Mike Gesell.
Purdue: The Boilermakers lost a ton: Robbie Hummel, Lewis Jackson and shooter Ryne Smith. Matt Painter's team has struggled to a 6-6 mark, but he has some talent. Terone and Ronnie Johnson are a capable backcourt, and there's optimism with the frontcourt. It's just going to take some time for young big man A.J. Hammons to develop.
Northwestern: It's hard not to feel for Bill Carmody. The guy has led the Wildcats to four consecutive NIT appearances, but the program still strives for that elusive NCAA tourney berth. Drew Crawford was the star of this year's team, but the senior went down with a season-ending shoulder injury in December. Now, Northwestern will be fortunate just to get back to the NIT.
Nebraska: Tim Miles took over for Doc Sadler and has done a nice job thus far, winning nine games in nonleague play. However, the Cornhuskers just don't have enough scoring punch to knock off the upper-echelon teams in this league. Dylan Talley, Brandon Abel and Ray Gallegos are nice players but need to be coming off the bench for a team competing for an NCAA tournament berth.
Penn State: Tim Frazier was one of the best players in the country that you've never heard about, and he went down for the season in Puerto Rico with a ruptured left Achilles tendon. It was difficult enough for the Nittany Lions to get into the middle of the pack with Frazier. Without their star, these guys will likely finish in the cellar -- as was the case a year ago. 
Bridges was mentioned in Friday's report, but has been cleared to be on the court

Miller may actually be owed $10 million if he fired for cause and $5 million if he is fired...

The Bearcats cling to a one-game lead in the AAC heading into Saturday
The second-ranked Spartans travel to Wisconsin for their regular season finale on Sunday vs....

Bagley has missed the last four games with a mild right knee sprain

Our advanced computer model simulated Saturday's Auburn vs. Florida game 10,000 times