Conference Reset: SDSU, New Mexico to battle in Mountain West
The Mountain West is basically guaranteed to have fewer NCAA tournament bids than last season, but will it get only two?
• 9 min read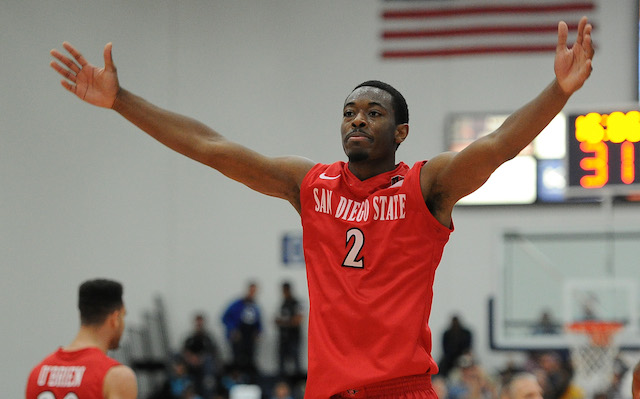 We once again are doing our midseason catchup on the 11 biggest leagues in college basketball. We're going to run these on the day leagues start conference play – or at least as close to them as possible. The Mountain West begins on Wednesday, so let's take a look at how last season's most-debated league is faring this season.
Here's the Mountain West Conference reset:
Teams on track to make the Field of 68: San Diego State, New Mexico
Teams with work to do: Boise State, UNLV, Utah State
Teams already out, barring a miracle: Wyoming, Colorado State, Fresno State, Nevada, San Jose State, Air Force
Most memorable moment to date: San Diego State wins the Wooden Legacy. Doug McDermott hit his first six shots as Creighton jumped out to a 19-7 lead in the semifinals – and it looked like San Diego State was going to get run out of the gym. However, the Aztecs responded with a 31-9 run en route to an 86-80 victory over the Bluejays at the Wooden Legacy. After beating Marquette two days later, San Diego State won the tournament – and possibly cemented itself as the Mountain West favorite.
Storyline you were too busy to notice: Is the Mountain West going to get more than two NCAA tournament bids? Only nine months removed from getting five bids to the Big Dance, along with two other 18-win teams, the league only has two sure-fire tournament teams right now. Boise State has lost its three biggest games, and has work to do. Outside of the Broncos, there might not even be another bubble team.
Coach feeling the heat: David Carter, Nevada. Carter had been up and down in his previous four seasons with the Wolf Pack, which came with high expectations after what they did under Trent Johnson. It's been mostly down the past two seasons, though, as Nevada went just 12-19 last season and are 5-8 heading into conference play this season. Meanwhile, Fresno State's Rodney Terry is just 31-45 in two-plus seasons with the Bulldogs.
Player who needs to step up: Among the contenders at the top of the league, Boise State is going to need a bit more from Jeff Elorriaga. He's one of the best shooters in the country, and is capable of getting hot from the perimeter. He just hasn't done it enough this season. He has scored in single-digits in seven of his last nine games and had three points in two of the Broncos' three losses. He needs to be the third option next to Derrick Marks and Anthony Drmic. Also, San Diego State's Josh Davis needs to be more effective offensively for the Aztecs to win the league.
Team better than its record: Fresno State is actually below .500 against Division-I teams, but the Bulldogs aren't going to be a pushover in conference play. They tested themselves in the non-conference, playing at Utah, California, Florida and Pittsburgh. I expect them to get better as the season progresses. Rodney Terry has five double-digit scorers, led by Marvelle Harris and flashy point guar Cezar Guerrero. By the way, San Jose State, despite its 4-6 D-I record, is actually something of a surprise.
Team not as good as its record: Colorado State lost all five starters from last season's NCAA tournament, and then saw Jesse Carr suffer another ACL injury before the season. There wasn't much coming back. Larry Eustachy has guided the Rams to a 9-4 start, including a win over New Mexico State, but that figures to change a bit in league play. Their defense is struggling, and getting San Diego State and New Mexico to start conference play doesn't help.
Three must-see games:
San Diego State at New Mexico (Feb. 22)
New Mexico at San Diego State (March 8)
Boise State at San Diego State (Jan. 8)
Player of the Year favorite: Cameron Bairstow, New Mexico. Bairstow has developed into one of the best big men in the country, dominating opponents on the inside. He's averaging 20.1 points and 7.2 rebounds, while also being very efficient and drawing contact on the offensive end. He's not a perimeter shooter, but he's got decent mid-range touch. On a team with Kendall Williams and Alex Kirk, it's Bairstow who has stood out.
Freshman of the Year favorite: Rashad Muhammad, San Jose State. If New Mexico's Cullen Neal continues to play like he has the past two games (21.0 ppg, 4.5 apg), he will make a push – but right now, it's all about Shabazz Muhammad's younger brother. Muhammad has scored at least 11 points in all but one game this season, reaching at least 17 points in five of his last six games. On the season, he is averaging 17.3 points while shooting nearly 45 percent from 3-point range.
Probable all-league team:
Deonte Burton (Nevada); Xavier Thames (San Diego State); Anthony Drmic (Boise State); Roscoe Smith (UNLV); Cameron Bairstow (New Mexico)
Ranking the teams from first to worst:
1. San Diego State: So much for a rebuilding season. The Aztecs only have one blemish on their resume, a nine-point home loss to Arizona back in the second game of the campaign. They have rolled off nine straight wins entering Mountain West play – with a showdown at Kansas on the schedule for this Sunday. Steve Fisher's team is playing terrific defense, especially inside the arc. Xavier Thames has been outstanding at the point, while Winston Shepard and Josh Davis lead a long, athletic group up front.
2. New Mexico: In terms of talent at the top of the roster, the Lobos should have the rest of the conference beat. Cameron Bairstow might be the league's best player, while Kendall Williams is the defending Mountain West Player of the Year and Alex Kirk is a dominant big man. However, New Mexico has already suffered three losses this season, including a home defeat to New Mexico State. It's the supporting cast that needs to improve. Cullen Neal has helped lately, but Hugh Greenwood hasn't been healthy and Deshawn Delaney is still getting comfortable in his role. 
3. Boise State: The Broncos live and die by the play of their guards. Fortunately, those guards are really, really good. Derrick Marks and Anthony Drmic are capable of going toe-to-toe with any backcourt in the country, while Jeff Elorriaga is a lights-out shooter from the perimeter. The defense has been entirely suspect, though, especially when it comes to defending the rim. Ryan Watkins has been the only consistent rebounder of the group. They will also need to figure out a way to get some road wins against good teams.
4. UNLV: Talent-wise, the Runnin' Rebels are fine. But like last season, the half-court offense is inconsistent and roles are still being figured out. Unlike last season, there's no lottery pick like Anthony Bennett to bail them out. Roscoe Smith has been a double-double machine inside, and Khem Birch is one of the best shot-blockers in the country. Point guard play has been an issue, though. Dave Rice's team has won six straight heading into conference play.
5. Utah State: The Aggies looked poised to make some noise in their first year as a member of the Mountain West Conference, but leading scorer Jarred Shaw was suspended indefinitely and was then charged with felony drug distribution recently. Without Shaw, guys like Preston Medlin and Spencer Butterfield will have to take on more of the scoring load, and Kyle Davis will have to continue controlling the boards. Stew Morrill has won at least 20 games in 14 straight seasons; will that continue?
6. Wyoming: The Cowboys collapsed toward the end of last season and are only 8-4 this season, but it's still not going to be easy beating this team in Laramie. Larry Nance Jr. is pushing for all-conference honors through two months of the season, but the secondary options haven't provided enough. As usual, the defense has been stifling, but the offense needs more. The best win for Wyoming so far is over Northern Colorado.
7. Colorado State: As we mentioned above, the Rams have been somewhat surprising this season, after losing five starters and Jesse Carr. Can Larry Eustachy's guys keep it up in league play, though? The Rams' defense will need to improve dramatically; teams are getting far too many open shots. But Colorado State can certainly score, with J.J. Avila and Daniel Bejarano forming one of the best one-two punches in the conference. 
8. Fresno State: Rodney Terry needs a good conference season to get some momentum for the Bulldogs' program, but that could be tough with UNLV, Boise State, San Diego State and New Mexico all within the first six games of Mountain West play. There are some talented pieces on the roster, but the defense hasn't been able to guard at the rim, and the team is arguably the worst rebounding group in the league. Terry has five double-figure scorers.
9. Nevada: Deonte Burton is one of the best guards in the country, but he's idling away on a Wolf Pack team that is headed for another season toward the bottom of the league. They finished in last a year ago, and while Burton should be able to carry them out of the cellar, they won't be moving too much. The defense is putrid, allowing teams to shoot 55 percent on 2-point shots. They've lost to Cal State Bakersfield, Morehead State, Long Beach State, Nebraska Omaha – with four home losses among the eight. Burton is enough to win some games, but how many?  
10. San Jose State: The Spartans brought back just two key players from last season, but Doug Wojcik has them poised to escape last place in the standings. Rashad Muhammad is arguably the best freshman in the league, and classmate Jalen James had a triple-double earlier this season. Jaleel Williams and Devante Wilson are two more double-figure scorers. There's a road win at Houston on the ledger, too. San Jose State isn't going to win many games this season, but they have some good young pieces.
11. Air Force: The Falcons went 18-14 last season, and even pushed toward the NCAA tournament bubble midway through conference play. That seems like a long time ago. They have four Division-I wins this season, with losses to VMI, Jackson State and UC Davis highlighting the five defeats. Air Force turns the ball over too often, rarely create second chances and are far too reliant on the 3-point shot. They also rank in the 300s in defensive efficiency. Tre' Coggins is the go-to-guy. 
The game will be finished on Thursday at noon at Providence's on-campus basketball gym

The five-star forward put on a dunking and blocking clinic in high school's state quarterfinal...

Pitino dug in and maintained he ran a 'clean program' after the NCAA stripped UL of its 2013...
Bagley is still recovering from a knee injury he suffered during the Blue Devils' loss to...

Izzo was emotional as he coached the seniors on their final home game in East Lansing

The Shockers look to build on their four game winning streak as they return home to face T...