Conference tournaments, part two: 2013 brackets, predictions
Your dates and predictions for the remaining conference tournament brackets.
• 4 min read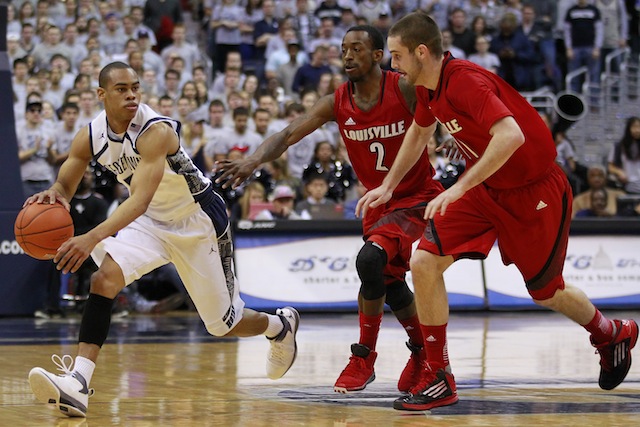 CONFERENCE TOURNAMENT SCHEDULES | PREVIEWS
Conference tournaments tipped off last week in most of the smaller conferences, with five bids being handed out over the weekend -- including the Ivy League, which gives out its bid to the regular-season champion. This week, the rest of the conferences get under way, including all of the "power six" conferences, the Atlantic 10, the Mountain West and a few others. Your head will be spinning, so keep it locked here for all the latest scores and updates from the brackets.
We looked at all 30 conference tourneys last week, but here's a refresher on the ones that tip off this week.
THE BIG ONES
Big East (March 12-16 -- New York)
What's at stake: The last "true" Big East tournament is going to be tremendous. Louisville Cardinals and Georgetown Hoyas are looking for a No. 1 seed, while Villanova Wildcats and Cincinnati Bearcats are trying to cement their spots in the NCAA tournament. And can Syracuse Orange snap out of its funk?
The pick: Louisville
Big 12 (March 13-16 -- Kansas City)
What's at stake: Kansas Jayhawks and Kansas State Wildcats split the regular-season title -- will we get a third meeting between the two in Kansas City? The Jayhawks need the title for a No. 1 seed, while Iowa State Cyclones and Baylor Bears need to keep winning games to get bids to the NCAA tournament.
The pick: Kansas
Mountain West (March 13-16 -- Las Vegas)
What's at stake: This one is going to be wide-open, considering the top of the league is loaded and it takes place in Vegas. New Mexico Lobos was on the bubble for a No. 1 seed before the weekend, while San Diego State Aztecs and Boise State Broncos would like cement their spots in the dance.
The pick: UNLV Rebels
Pac-12 (March 13-16 – Las Vegas)
What's at stake: There's really no clear-cut favorite, as the top four spots in the standings were separated by only one game. Five teams look set for the tournament, although the winner will likely see a significant boost in seeding next Sunday.
The pick: UCLA Bruins
SEC (March 13-17 – Nashville, Tenn.)
What's at stake: This one might have the most impact on the bubble picture. Florida Gators and Missouri Tigers are good to go, but Kentucky Wildcats , Tennessee Volunteers , Alabama Crimson Tide and Ole Miss Rebels are all looking to play themselves into the tournament. With three of those teams (not Tennessee) getting a double-bye, those quarterfinal games will be huge.
The pick: Florida
ACC (March 14-17 -- Greensboro, N.C.)
What's at stake: Duke Blue Devils is starting to round into form after getting Ryan Kelly back from injury, and the Blue Devils can lock in a No. 1 seed if they win the ACC tournament. Miami (Fla.) wants to stay in the top-three seed lines, and NC State and North Carolina Tar Heels are looking for boosts. Is Virginia Cavaliers primed for a run?
The pick: Duke
Atlantic 10 (March 14-17 -- Brooklyn, N.Y.)
What's at stake: The first year at the Barclays Center should see a wide-open tournament with several teams looking for a title. Saint Louis Billikens won the outright title, and it will be interesting to see if VCU's press will be effective at a neutral site. And what about Temple Owls or Butler Bulldogs ? There could be some surprises.
The pick: La Salle Explorers
Big Ten (March 14-17 -- Chicago)
What's at stake: After Sunday's unbelievable game between Michigan Wolverines and Indiana Hoosiers , who's ready for another week of those contests? The Hoosiers got the top seed, but the Wolverines, Ohio State Buckeyes , Wisconsin Badgers and Michigan State Spartans are all in the hunt. The winner will likely get a No. 1 seed, and the runner-up could be in the discussion.
The pick: Michigan State
ONES TO WATCH
MEAC (March 11-16 -- Norfolk, Va.)
What's at stake: Norfolk State Spartans is looking for a chance to repeat its Round of 64 upset from last season, after the Spartans went undefeated in league play. However, North Carolina Central Eagles only lost one game and might have more talent.
The pick: North Carolina Central
MAC (March 11, 13-16 -- Cleveland)
What's at stake: Akron Zips swept Ohio Bobcats during the regular season, but the Zips lost their final two regular-season games and need the automatic bid. They won't have starting point guard Alex Abreu , either, who was suspended after a drug arrest.
The pick: Ohio
SWAC (March 12-16 -- Garland, Texas)
What's at stake: This would have been much more competitive had Texas Southern Tigers and Arkansas-Pine Bluff Golden Lions not been ineligible for the tournament. As it stands, Southern Jaguars is the only above .500 team in the conference tournament.
The pick: Southern
WAC (March 12, 14-16 -- Las Vegas)
What's at stake: With Louisiana Tech Bulldogs losing its final two games, Denver Pioneers was able to share the regular-season title -- and Tech is also no longer an at-large threat. New Mexico State Aggies isn't too far back, either.
The pick: Denver
Conference USA (March 13-16 --  Tulsa Golden Hurricane , Okla.)
What's at stake: Memphis Tigers rolled over the league, going undefeated in conference play. Naturally, the Tigers are the heavy favorite to win the automatic bid. Southern Miss Golden Eagles needs the auto bid to get to the NCAA tournament.
The pick: Memphis
Southland (March 13-16 -- Katy, Texas)
What's at stake: Stephen F. Austin Lumberjacks won the regular season, but Northwestern State Demons was only one game back, and Oral Roberts Golden Eagles was in the mix for awhile. Will we see another battle between slow-it-down SFA and speed-it-up Northwestern State Demons ?
The pick: Stephen F. Austin
Big Sky (March 14-16 – Site of regular season champ)
What's at stake: Will Cherry is expected to be back for Montana Grizzlies , but leading scorer Mathias Ward is done for the season. Does that open the door second-place Weber State Wildcats ? The two split the regular season meetings.
The pick: Weber State
Big West (March 14-16 – Anaheim)
What's at stake: Long Beach State 49ers was blown out by Pacific Tigers in the season finale, and the regular-season champs weren't playing their best basketball late in the year. Pacific and Cal Poly Mustangs will be contenders.
The pick: Long Beach State
For more college basketball news, rumors and analysis, follow @EyeOnCBB on Twitter, subscribe to our RSS Feed and subscribe to our College Basketball Newsletter. You can follow Jeff Borzello on Twitter here: @jeffborzello
Arizona, for no good reason, doesn't have to play at USC or UCLA this season

We look at the 'Major 7' leagues and give you the best of what's to come in conference play...

Louisville's coach predicts a change is coming to the NBA's one-and-done rule by 2019
Multiple former players of Lonergan's alleged verbal abuse and inappropriate remarks

When Miller left for Indiana, there was cause for concern in Flyerland; a top-100 signee says...

The Hoyas will spend their non-league schedule playing mostly nobodies -- as will most big...