Confident five-star Craig Victor ready to progress in his recruitment
Over the past year, 2014 five-star forward Craig Victor has become more confident with his personality -- and his game. His recruitment is ready to heat up, too.
• 2 min read
INDIANAPOLIS -- When we spoke to Craig Victor last summer, he was somewhat reserved and quiet. Over the past year, that attitude has clearly changed – as has his game.
Victor was more aggressive with the ball this summer, driving aggressively to the basket and absorbing contact with finishes. He can score in so many different ways, and runs the floor extremely well.
"I've been playing really well," Victor said. "The last two games have been outstanding. I came in with the mindset of playing hard."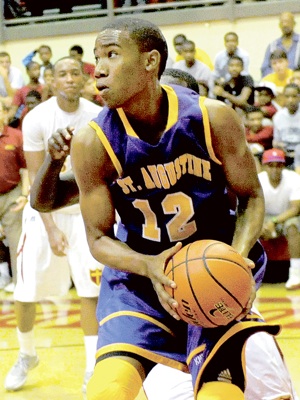 Louisiana native Craig Victor is one of the best forwards in the class of 2014. (Clarion Herald)
Victor is a 6-foot-8 power forward from St. Augustine (La.), and is ranked No. 16 in CBSSports.com's Top 100 for 2014. While his offensive game has expanded, Victor's ability on the defensive end of the floor has also improved. He went up against Chris Walker, Isaiah Hicks and Jordan Mickey during pool play at the Adidas Invitational – and more than held his own.
While his defensive skills were surprising to some, Victor has had plenty of confidence at that end of the floor.
"No lie, I can guard anyone," he said. "Whether it was Ricardo Gathers or Jabari Parker last year, or now Chris Walker or Isaiah Hicks. It's not a big deal. Any day, any time."
The five-star prospect is hearing from a long list of suitors: Baylor, Connecticut, Kansas, Georgetown, LSU, Alabama, UCLA, Miami (Fl.), Georgia Tech, Texas, Arizona, USC, Providence, Syracuse and Ohio State.
Victor got a chance to see how Ohio State operates when the Buckeyes played in New Orleans for the Final Four.
"[Assistant coach] Dave Dickerson and them," Victor said. "I like the way they play. I saw them when they came down for the Final Four. They were my favorite to win it."
With his proximity to LSU, the hometown Tigers –with new head coach Johnny Jones – are looking to make an impression. While they weren't big players in his recruitment earlier in the year, the Tigers have greatly improved their chances recently.
"I sat down with the new coaching staff," Victor said. "That was a good look. They're coming at me hard. The big difference for me was when they got [assistant coach] Robert Kirby from Georgetown. I saw him [wearing LSU colors] and I thought it was some kind of prank. And he's like, 'I'm officially at LSU.'"
Victor said Connecticut, Texas, Baylor and Ohio State are making the strongest effort in his recruitment.
It's still too early for a decision, but Victor is ready to begin making progress.
"I want to narrow it down," he said. "Get it to five or seven before my junior year. By the end of my junior year, I'll be committed."
The disgraced former Louisville coach really wanted those Yeezys with the zebra stripes

It's difficult to imagine an athletic director giving the Hall of Famer another chance

The recruiting scandal has cost Rick Pitino his job as coach of the Cardinals
Pitino's lawyer fought for his client's job Monday

These teams who have the potential to pull some upsets should they make it to the Big Danc...

Gary Parrish and Matt Norlander explain how and why UNC escaped penalty