Confirmed: Georgetown and Oregon to play in South Korea
It's the second version of the Armed Forces Classic, and also the second time a regular-season college hoops game has been held in Asia.
• 1 min read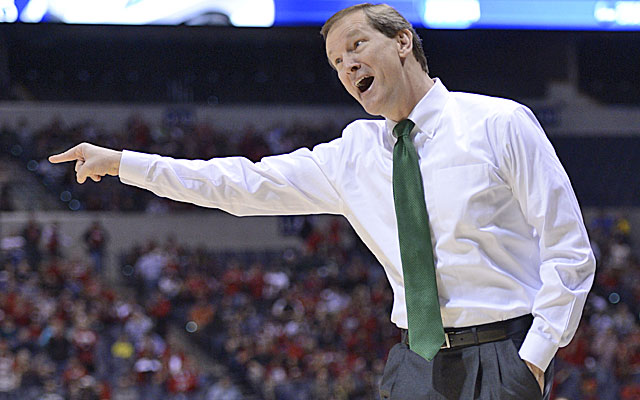 In early June we posted on the prospect of Georgetown and Oregon playing a November basketball game in South Korea. The game between the two was official at the time, but the locale technically wasn't.
Well, on Tuesday everything officially fell into place: Nov. 8, South Korea, Hoyas vs. Ducks. The news came via ESPN, which will broadcast the game. This is the Armed Forces Classic, the event that began last year with UConn and Michigan State playing on a military base in Germany.
Like UConn-MSU, Georgetown and Oregon will be playing in front of the troops at a United States military facility. It's the second time in college basketball history a regular-season game will be played in Asia. The first came 31 years ago, when Virginia and Houston faced each other in Tokyo. (On the heels of that game, Virginia went on to lose the infamous tilt against Division-II Chaminade.)
The game will be based at Camp Humphreys, an Army base in Pyeongtaek, South Korea. (Google Maps help here.)
ESPN.com's story explains part of the reason for this trip is an emphasis and directive by the Pac-12 to gain exposure and brand value in Asia. I just think it's great college hoops is spanning the globe and doing it largely in the name and for the sake of American military.
"Camp Humphreys is extremely proud to host this year's Armed Forces Classic," commander Col. Darin S. Conkright said via statement. "I can't think of a better way to provide the Soldiers and Families stationed here on Freedom's Frontier a taste of home than through a sporting event of this magnitude."
This second Armed Forces Classic covers the Army. Last year's was the Air Force. The five-year plan for this event means the Navy, Marines and Coast Guard all will get a turn in a foreign land to host American college hoops in the next three years.
Jackson isn't showing the Sun Devils much respect after beating KU

One AP voter must not know ASU is undefeated with wins over the Jayhawks and Musketeers

Duke and Kansas take a hit in the coaches poll
The top 10 gets a major shakeup after a wild week of upsets

The Sun Devils make a big jump and the Jayhawks slide after ASU pulls the big upset

Gary Parrish and Matt Norlander spend some time on the SEC, too