Count Mudiay's commitment to SMU as another low spot for Texas
Emmanuel Mudiay picking SMU continues a trend of Texas missing on top in-state talent. What does it mean for Longhorns coach Rick Barnes?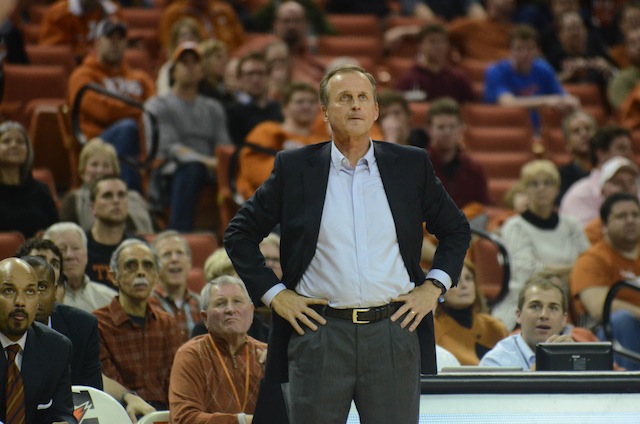 SMU made national headlines this weekend by landing Emmanuel Mudiay, a Class of 2014 star from Dallas whom many consider the nation's top high school point guard. It was a development that suggested Larry Brown and his staff might really be a problem in the new American Athletic Conference, considering Mudiay is the second top-40 prospect they've secured in the past five months. The Mustangs beat Kentucky, Kansas, Oklahoma State and Baylor to get this done.
Lost in that story is the fact that SMU did not beat Texas for Mudiay.
SMU didn't even have to deal with Texas.
The Longhorns were non-factors in the recruitment, which led to a discussion on social media about just how far Rick Barnes has allowed his program to slip. Colleague Doug Gottlieb tweeted on Sunday that Mudiay's commitment to SMU "says more about Texas Longhorn Basketball than it does anything else. ... Amazing fall from grace." Yahoo! Sports' Jeff Eisenberg added that "it's an indictment on Rick Barnes that Texas wasn't even in contention for an elite recruit who stayed in state."
Me?
I spent Sunday afternoon and Monday morning communicating in some form with various sources connected to either the Texas program or Barnes specifically in an attempt to provide context. Put another way, I wanted to do something more than state the obvious -- that Texas basketball is in a bad place. I wanted to try to explain why and how this happened. So I asked some people who would know, and they collectively painted a picture of a changing landscape in the region that Barnes quite simply failed to change with. Instead, the sources said, Barnes at some point became disenchanted with the off-court grind it takes to maintain a certain level of success. That combined with some bad luck -- Texas has lost several underclassmen to professional contracts; others have transferred -- has led to a reality where the Longhorns will, barring a surprise, finish without a winning record in the Big 12 this season for the third straight time and miss the NCAA tournament for the second consecutive year.
That might not sound too bad on the surface. But it's a troubling trend when considering that Barnes finished with a winning record in the Big 12 in each of his first 13 seasons at Texas, and outside of the top three in the league only three times. Now he's projected to finish outside of the top four in the league for the third straight year, and will likely miss the Sweet 16 for the sixth consecutive season after going an average of every other season during his first decade at Texas.
Which brings me back to Mudiay's decision.
Mudiay is, as Eisenberg pointed out, an in-state product who chose to stay in the state but did not seriously consider the state's biggest university ... one that during Barnes' prime consistently enrolled five-star prospects like LaMarcus Aldridge, Daniel Gibson, Kevin Durant, Damion James, Jordan Hamilton, Avery Bradley, Tristan Thompson and Cory Joseph. Read that list again. Barnes and his staff used to get things done at an elite level. Now the Longhorns can't even get involved with a prospect like Mudiay, and you're not going to believe the statistic I'm about to throw at you.
You ready?
Here goes ...
To date there have been 21 top-40 national prospects from Texas (according to Scout.com) commit from the past seven recruiting classes, and the Longhorns have landed just one  -- Cameron Ridley in 2012. The rest have picked either Oklahoma (Willie Warren, Tommy Mason-Griffin, Cameron Clark), Baylor (Anthony Jones, Perry Jones, Isaiah Austin), North Texas (Tony Mitchell), Oklahoma State (LeBryan Nash, Marcus Smart), Maryland (Shaquille Cleare), Houston (Danuel House), Duke (Rasheed Sulaimon, Matt Jones), LSU (Jordan Mickey), SMU (Keith Frazier, Emmanuel Mudiay), Kentucky (Julius Randle, Andrew Harrison, Aaron Harrison) or North Carolina (Justin Jackson).
That is unacceptable for the University of Texas.
That's the biggest reason Barnes finds himself in this position.
So what happened?
The easiest thing to point at is staff changes and the fact that Barnes is now 59 years old instead of 49 years old, meaning he's lost some of the energy and/or desire to really get after it on the recruiting trail. And those things have played a role. Don't get it twisted, because it also should be noted that Baylor, Oklahoma State, SMU and Houston weren't really factors early in Barnes' tenure, and now all of them are consistently competing for top-50 prospects within the state. So that's four area programs Texas must battle -- in addition to Texas A&M, LSU and the national powers that recruit the state like Kentucky, Duke and North Carolina -- that Texas didn't use to concern itself with. It's an issue ... and there's no end in sight because most recruiting analysts expect Class of 2014 instate stars Myles Turner and Justise Winslow to also spurn the Longhorns.
Add it up and what we have here is a tough situation for a good man.
I like Rick Barnes.
Almost everybody I know likes Rick Barnes.
But the bottom line is the bottom line, and the bottom line is that Texas likely will finish outside of the top four in the Big 12 for the third straight year and without a single appearance on ESPN's Big Monday, the latter of which is another telling sign of the state of things in Austin. So while Barnes has spent this offseason consistently talking about changing the culture of and around his program, and those close to him insist he's not blind to what's happened, the question isn't whether he can do it as much as it's whether athletic director DeLoss Dodds will give him the necessary time to do it.
Sources told CBSSports.com that remains unclear.
Dodds and Barnes have a close relationship.
That could buy an extra year.
But there's no denying that Mudiay's weekend decision to attend SMU was a another low for a program that has the resources and natural recruiting base to consistently be great but hasn't been great lately and doesn't project to be great in the immediate future. That's a problem. Because Texas basketball is too good to ever be in a spot this bad.
Duke's Grayson Allen, Notre Dame's Bonzie Colson and UNC's Joel Berry make a pretty good ACC...

Finding the best basketball situation should be the only motivator for budding stars

We asked more than 100 coaches to give their predictions on how the NCAA will judge two massive...
After leaving Western Kentucky, five-star recruit's future in college basketball seems slim...

Hollywood, 19, redshirted last season

An incredibly fun idea has been put on the table for next year