Crazy Thursday in NCAA tourney, and it's just the beginning
From start to finish, Thursday took more than 13 hours and delivered in a variety of ways -- most notably via overtime games and buzzer-beaters.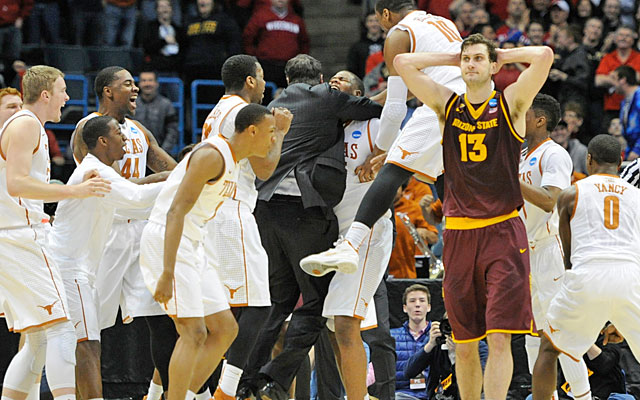 More NCAA hoops: Tournament bracket | Complete coverage of NCAAs | Latest news
So was Thursday wild or was Thursday wild?
(Or was Thursday wild?!?!)
North Dakota State got its first NCAA Tournament win in school history. Harvard advanced for the second straight year. Wisconsin rolled. Louisville survived. North Carolina State collapsed. Adreian Payne flourished. Cameron Ridley beat a buzzer, and Brigham Young didn't do a single thing to quiet those of us who thought the No. 10 seed the selection committee gave the Cougars was inexplicable, wrong and ridiculous.
But the story of Thursday had to be the overtimes, right?
There were four of them.
(Four!)
Yes, four of the 16 games played Thursday went to overtime, which is a single-day record and twice as many as the past two NCAA Tournaments combined to produce. Think about that for a second. A total of 134 games were played in the past two NCAA Tournaments, and only two of those 134 games went to OT. On Thursday, four of the 16 went to OT, and, when you count that First Four matchup between Tennessee and Iowa, the 2014 NCAA Tournament has already featured five games that took longer than 40 minutes to decide.
That context should make you shake your head.
Or, at least, scratch your head.
Either way, let's dive in.
Here's all you need to know about Thursday's NCAA Tournament action ...
Game of the day: I'll go with the first game of the day as the Game of the Day, if only because it set the tone for what was to come. Vee Sanford drove and scored on Aaron Craft with 3.8 seconds remaining, then watched Craft miss a runner at the buzzer that allowed Dayton to record a 60-59 upset of Ohio State. So, in the matchup of teacher (Thad Matta) vs. student (Archie Miller), the student won. And I still can't believe that the final thing Craft did on the defensive end of a court in his college career was get beat off the dribble for a game-winning basket. That's just odd given how he spent four years establishing himself as one of the nation's best perimeter defenders. Odd and cruel, really.
Player of the day: Adreian Payne's 41 points in Michigan State's 93-78 win over Delaware doubled as the NCAA Tournament's first 40-point effort since a little guard named Stephen Curry got 40 for Davidson in 2008. Payne was 10 of 15 from the field, 4 of 5 from 3-point range and 17 of 17 from the fee throw line. As I've written many times, not all prospects who return to school to "improve their NBA stock" actually accomplish that goal. But Payne is an amazing example of somebody who has done it (and is still doing it).
Buzzer-beater of the day: Far as buzzer-beaters go, it wasn't the sexiest. But there was still something terrific and awesome about big ol' Cameron Ridley, all 285 pounds of him, picking a loose ball up off of the court and banking it in as time expired to lift Texas to an 87-85 win over Arizona State, and how about Rick Barnes? From the hot seat to the Round of 32 (at least) in a span of four months. Good for him.
They really did it: Harvard was a No. 14 seed last year and advanced to the Round of 32. Now guess who's up to their old tricks again? Yep, the Crimson. They're a No. 12 seed and back in the Round of 32 thanks to a 61-57 win over Cincinnati.
They really blew it: North Carolina State was technically the underdog against Saint Louis ... but that kind of stuff ceases to matter once you're up 14 points with 5:03 left in regulation. Underdog. Favorite. Whatever. At that point, you're supposed to win the game. Somehow, though, NC State did not, and the main reason is because the Wolfpack missed 12 free throws in the final 5:03, let the game get to overtime and T.J. Warren foul out. The result of all that? An 83-80 loss. Afterward, Wolfpack coach Mark Gottfried described his team as "heartbroken." Every gambler holding a ticket that read NC State +2.5 can relate, I'm sure.
The other OT games: As mentioned, there were three overtime games in addition to the NC State-Saint Louis game. One was North Dakota State's 80-75 OT win against Oklahoma that doubled as the second 12-5 upset of the day. Another was Connecticut's 89-81 OT win over Saint Joseph's in which Shabazz Napier finished with 24 points, eight rebounds and six assists. The last was San Diego State's 73-69 OT win over New Mexico State that was close by definition but unique considering the Aztecs never trailed at any point.
Five notable numbers
0: That's the number of top-40 RPI wins Colorado recorded this season after Spencer Dinwiddie tore his ACL on Jan. 12, which is why some were surprised when the Buffaloes got a No. 8 seed. That's worth noting because the Buffaloes looked like anything but a No. 8 seed against Pittsburgh. They looked more like an No. 18 seed, long as I'm being honest. Colorado was down 46-18 at the half and lost 77-48. (Get well soon, Spencer. Your school needs you.)
1: That's the number of 3-pointers Wofford made against Michigan. Meantime, the Terriers missed 18 3-pointers, which means they shot 5.3 percent from beyond the arc in a 57-40 loss to the Big Ten champions. That's no way to attempt an upset.
13: That's the number of total assists Tyler Ennis has dished in Syracuse's past two games after recording six in a 77-53 win over Western Michigan. Ennis, the Orange's splendid freshman point guard, has 13 assists and two turnovers in Syracuse's past two games.
19: That's the number of 3-pointers Villanova missed in its 73-53 win over Wisconsin-Milwaukee. The Wildcats were 0 for 11 from beyond the arc in the opening 20 minutes and finished 4 of 23. Still, they cruised -- mostly because they were 24 of 39 on 2-pointers.
27: That's the number of consecutive games top-ranked and top-seeded Florida has now won after recording a 67-55 victory over Albany. The Gators' last loss was Dec. 2, otherwise known as roughly six weeks before -- watch how I loop this back around -- Spencer Dinwiddie tore his ACL in Colorado's loss to Washington.
News story of the day: Wake Forest fired Jeff Bzdelik after four years of losing and at least three years of loud protesting from fans. The decision from athletic director Ron Wellman was a year later than it should've been. But better late than never, right?
Three nice Round of 32 games now set for Saturday
Florida vs. Pittsburgh: The nation's top-ranked team must now beat Jamie Dixon's Panthers to advance to the Sweet 16. This game, on paper, according to oddsmakers, should be more competitive than a typical game between a No. 1 seed and a No. 8 seed.
San Diego State vs. North Dakota State: "We'll gladly be your Cinderella, America," tweeted the NDSU official Twitter account late Thursday. One more win here -- and this looks like an attainable win -- and America will take North Dakota State up on that offer.
Louisville vs. Saint Louis: Both the Cards and Billikens were pushed by lower-seeded teams Thursday. Still, they both won, and now Saturday's Round of 32 will feature the American champions against the Atlantic 10 champions.
Final thought: From start to finish, the games spanned more than 13 hours and reminded us that this is the one postseason event in American sports that never lets us down. We get bad Super Bowls, bad BCS title games, bad World Series, etc. But there has never been a bad NCAA Tournament because stories always develop and drama consistently ensues.
"How will tomorrow possibly match today?!" my colleague and pal Adam Zucker tweeted late Thursday, and I know exactly what he means.
Thursday was perfect.
But let's not put a ceiling on Friday just yet.
This event has a way of outdoing itself, you know?
The selection committee will again reveal what it is thinking ahead of Selection Sunday

Teams not in major conferences with a shot at an at-large NCAA Tournament bids

The nation's No. 3 player will commit Saturday and here's his impact on each of his finali...
Gary Parrish and Matt Norlander also preview the weekend and Zion Williamson's announcemen...

The Sun Devils started 12-0, but since then are 2-4 after Wednesday's loss to Stanford

Andrew Jones is Texas' second leading scorer