Creighton's McDermott shakes rust off after lengthy summer layoff
Few knew that Doug McDermott shut it down for about two months this past summer. He needed a break -- both mentally and physically -- and part of the reason for his slow start this season can be attributed to the lengthy layoff.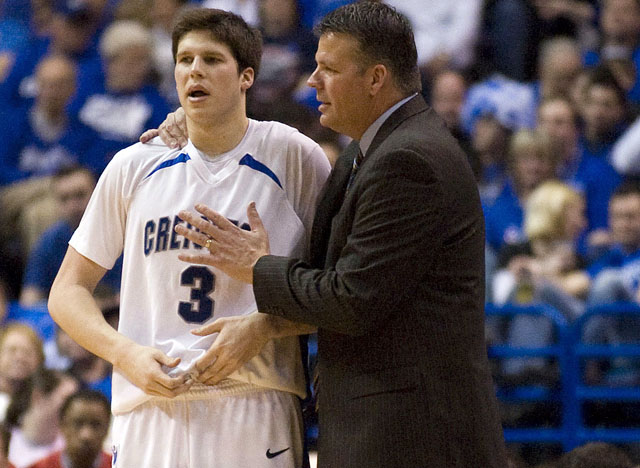 McDermott, here with his dad and coach, took two months off to rest over the summer. (US Presswire)
Doug McDermott struggled out of the gates. There were constant double- and even triple-teams, coming from perimeter players this season instead big men, but it was more than just the rash of attention that Creighton's star forward was receiving. That wasn't completely new. It was getting back into game shape after taking nearly two months off this past summer to rest -- both mentally and physically. 
More on Creighton
Related links
More college hoops coverage
"I was a little slow after taking so much time off," he admitted. "My legs were a little sore, but I finally feel like I'm back in shape." 
McDermott needed a break, according to his father/coach Greg McDermott. The previous summer had been a whirlwind, from playing on the U.S. Under-19 team that traveled to Latvia to going with his Creighton teammates on a summer trip to the Bahamas. Doug McDermott was admittedly fatigued down the stretch last season and hadn't taken three days straight off in two years. So shortly after his back started to bother him around July 4, after the LeBron James Camp, he shut it down for the next two months.  
That would likely explain his five-point performance against UAB, or the 30 percent shooting percentage from long distance over the first half-dozen games of the season. He was understandably rusty. 
Now McDermott is back, looking the part of the guy many of us pegged to be a legit contender for the National Player of the Year Award. He's averaging 25.3 points per game over the past eight contests and has made 17 of 24 shots from beyond the arc over the past four games. 
"It's been crazy," McDermott said Sunday night about his recent stretch of shooting. "Today was the best I've ever shot. Everything felt like it was going in."
McDermott was 6 of 8 from deep and finished with 30 points in a win over Akron. It was Creighton's ninth victory in its first 10 games, but it was that one loss that had people wondering about the Bluejays. It was a 13-point loss to Boise State in Omaha on Nov. 28, one where McDermott & Co. allowed 83 points, that had some thinking this is the same old Bluejays, the team that can score with anyone -- but was inept defensively. 
Remember, a year ago Creighton ranked 222nd in the nation in field goal percentage defense. Through 10 games this season, though, the Bluejays are at 123rd in the country -- and their other defensive numbers are also improving, according to stat guru Ken Pomeroy of KenPom.com. Creighton has gone from 178th a year ago in adjusted defensive efficiency (which measures points allowed per 100 defensive possessions) to 41st in the nation this season. 
"We're so much more locked in," McDermott said. "The coaches have really focused on it and we've bought into it. We realize we're not the most talented defensive team, but we've focused on it so much and know the other team's tendencies that it gives us a huge advantage." 
McDermott also said the loss to Boise might have been a blessing in disguise, as Creighton had rolled to a fairly easy 6-0 start without truly being challenged. 
"It was a wakeup call," he said. "We weren't ready to play and we got what we deserved, but it definitely got us focused." 
While the defense has certainly improved, it's still the offense that is the bread and butter for Greg McDermott's team. Creighton ranks first in the country in effective field goal percentage, second (behind Gonzaga) in overall field goal percentage and the Bluejays are making 41 percent of their 3-pointers as a team -- with McDermott leading the way at 52 percent. 
McDermott is healthy and Creighton virtually has a pair of point guards on the floor in Austin Chatman and Grant Gibbs. Chatman is the team's primary ballhandler and has a respectable 2-to-1 assist-to-turnover ratio, while Gibbs has a ridiculous 66 assists and just nine turnovers -- including 27 assists and just one turnover over the past three contests. That's an insane assist-turnover radio of 7.3-to-1 overall. 
"He's been unreal," McDermott said of Gibbs. "It's so easy playing with him, and Austin has come a long ways. They've both been amazing." 
But let's not underrate what McDermott does on his own. He's a prolific, unorthodox scorer who can fill it up in so many ways. He shoots the you-know-what out of the ball from deep, he scores with either hand in the post -- and I haven't seen too many guys get the ball out of their hands as quickly as McDermott. 
Now that his shot has returned, his defense has improved, and he's getting to the line more often, the next steps: step up his rebounding efforts and improve passing out of the double-team. He's averaging 6.7 boards per game this season, down about 1.5 rebounds from a year ago. He credits some of the drop-off to the effectiveness of Gibbs and big man Gregory Echenique, but the layoff might have affected that area of his game as well. 
My guess is that, like his shot, that'll come back soon too. 
CBS Sports HQ Daily Newsletter
Get the best highlights and stories - yeah, just the good stuff handpicked by our team to start your day.
Please check the opt-in box to acknowledge that you would like to subscribe.
Thanks for signing up!
Keep an eye on your inbox for the latest sports news.
Sorry!
There was an error processing your subscription.
Duke, UNC, Kansas, Nevada and Wisconsin all placed players on the preseason All-America first...

The CBS Sports Classic and Champions Classic are among the best events in 2018

The Cavaliers got some good news for the upcoming season
Calipari believes only a small portion of elite HS prospects will take the G League route

No. 3 Gonzaga and No. 4 Duke are behind the Jayhawks and Wildcats to start the season

Porter returned for a sophomore season with hopes of developing into a lottery pick for the...