Critical Coaches: How much of a factor is 'World Wide' Wes in recruiting?
William Wesley, aka 'World Wide' Wes, is one of the more mysterious people in the world of basketball. He has relationships with people at every level of basketball, and is known to influence a wide range of decisions. Is he a major factor in recruiting, though?
by

Eye on Col Basket staff

• 5 min read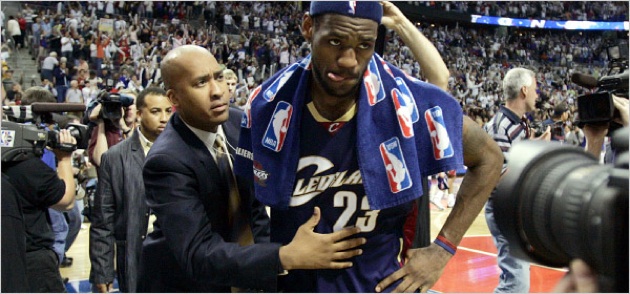 William Wesley (left) has relationships with every power player in basketball, including LeBron James. (AP)
CBSSports.com's college basketball quartet spent the July open recruiting period hobnobbing with nearly 100 coaches, brain-picking them on some of college basketball's current issues. From the best players to their comrades in coaching; from the AAU programs to the agents' involvement; from the rule changes to the NCAA as a whole. We had to promise them anonymity, and in exchange, they gave us honest answers. Over the next three weeks here on the blog, we'll be putting out one question per weekday and giving you the array of results, straight from the coaches' mouths.
So far, we've looked at the best college players in the country, the most underrated coaches in the country, and – the most controversial one yet – the most overrated coaches in the land. It's not as cut-and-dried with Thursday's topic, though. William Wesley, aka 'World Wide Wes', is one of the more mysterious people in the world of basketball. He has relationships with people at every level of basketball, and has been to known to influence a wide range of decisions.
The question is: Is William Wesley (aka 'World Wide' Wes) a factor in recruiting or is his perceived presence overblown?
Factor: 63 percent
Overblown: 37 percent
Quotes that stuck:
"He's an agent who cheats. He's a bag man."
"I think he's a factor. He has unlimited access to kids and coaches -- and clearly makes it no secret of his allegiance to John Calipari." 
"We have all become so sensitive to just him. There are more just like him, he just gets all of the attention."
More Critical Coaches
Questions
"Wes' presence is drastically overblown. His power is only perceived at best, and only because naïve/desperate coaches empower him. If he had any power, he would certainly be using it to the benefit of John Calipari and Kenny Payne, who he has known for 25 years. The fact that coaches are hiring him as an agent is laughable, and the fact that the NCAA does not treat him as an agent due to his close affiliation with Leon Rose is an absolute injustice!"
"Some people think he helps Cal with every kid, but I don't think that's true. He's involved. He has influence. He uses it. So he's a factor. But he's probably not a big factor with every kid ... at least I don't think he is."
"He's factor. I mean, Michael Kidd-Gilchrist, man. That's a big fish. Even if he's the only one in a particular year."
Takeaway (by Jeff Goodman):
It's laughable that anyone would deem William "World Wide Wes" Wesley "The Most Powerful Man in Sports," as GQ considered a handful of years ago. However, it's also naive for those in the basketball industry to discount Wesley's influence in particular circles.
Uncle Wes is a man of mystery, a guy who is seemingly everywhere and claims to be tight with nearly every big-time coach in America. You can find him traveling with Team USA at the Olympics, in the front row of NBA playoff games, mingling around the Kentucky locker room and even sitting courtside at the LeBron James Skills Academy. He's often seen with Jay-Z, has developed a friendship with Nike czar Phil Knight and even has the blessing of Duke coach Mike Krzyzewski to hang around the U.S. Olympic team.

Currently, he works for Creative Artists Agency in its coaches division. CAA's coaching stable includes Tom Thibodeau and Erik Spoelstra in the NBA and guys like Kentucky's John Calipari and Auburn's Tony Barbee (a former Calipari player and assistant coach) in the college ranks.

Previously, Wes was a mortgage broker, a guy who grew up in New Jersey and, at one time, sold shoes.

Talk to coaches in the industry, other than maybe Calipari, and it'll likely be a similar refrain.

"I deal with him because I have no choice," they say. "I don't want him to hurt me."

Wesley, on one hand, says he's tight with many of the young basketball players of America, how they reach out to him for advice. Then, in the next sentence, will claim he doesn't get involved with players and their recruitments.

That's the mystery.

Was he involved in Josh Selby de-committing from Tennessee years ago? How much has he aided Calipari in getting players to Memphis and now Kentucky? Does he recruit prospects to CAA, even though his buddy, Leon Rose, hasn't had much success landing Kentucky players in the Calipari regime? Is he on Nike's payroll?

All legitimate questions.

Who is William Wesley and how much influence does he command?  No one knows for certain.

He'll call reporters and start the conversation the exact same way. "Are we off the record?" He calls Rip Hamilton his nephew. Same goes for Michael Kidd-Gilchrist and Chris Douglas-Roberts. This guy has one large extended family.

Wes can certainly influence situations. Remember, he helped get Milt Wagner to Calipari and Memphis. He was tied to Tyreke Evans 'recruitment when he wound up playing for Cal and the Tigers. Wes certainly played a significant role in Michael Kidd-Gilchrist landing at Kentucky. He also helped Larry Brown get the SMU job this past offseason.

He makes no secret of his close relationship and affinity with Calipari.

In essence, what's the difference between Wesley and another midwest basketball guy, Ken Caldwell? They are both third-party guys, who both claim to help young kids. However, as my colleague Gary Parrish pointed out, there's one major difference: Wesley is much smarter. He's also far more connected.

But William Wesley as the most powerful man in sports -- or even in basketball?  I'm not buying that, but Uncle Wes still has some pop.
Coming Friday: Who is perceived to be the biggest cheater in the game?
The university also maintains that Pitino was appropriately fired

Price only made it nine games into his third season

The Wildcats won't play another currently ranked team until Jan. 10
The BC fan has a ton of apparel and gear headed his way after this putt

Durant's made a habit of making sure his alma mater is set with the latest customized gear

Ball says UCLA told him to thank Trump for getting him back to the states after shoplifting...