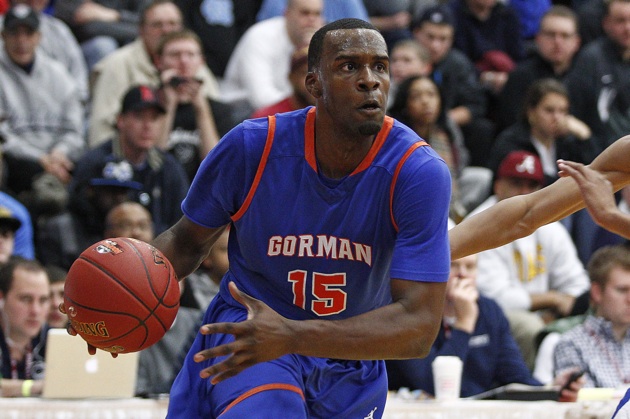 Shabazz Muhammad was the No. 2-ranked prospect in the class of 2012. He committed to UCLA. (US Presswire)
CBSSports.com's college basketball quartet spent the July open recruiting period hobnobbing with nearly 100 coaches, brain-picking them on some of college basketball's current issues. From the best players to their comrades in coaching; from the AAU programs to the agents' involvement; from the rule changes to the NCAA as a whole. We had to promise them anonymity, and in exchange, they gave us honest answers. Over the next three weeks here on the blog, we'll be putting out one question per weekday and giving you the array of results, straight from the coaches' mouths.
Players getting cars and bags of money, parents getting jobs, family members getting new houses – dirty recruitments are legendary in college basketball. The movie "Blue Chips" glorified that aspect of the sport, although it's unclear how many (or even if) tractors have actually been involved in a five-star player's recruitment. There are numerous rumors and stories about various "shady" recruitments, but that doesn't mean everything is true. And this exercise in no way makes accusations, but presents an avenue for views of people directly involved. So we go to one of the best sources possible: coaches who have been around these types of recruitments for a decade.
The question is: Which player is perceived to have the dirtiest recruitment in the last 10 years?
Shabazz Muhammad: 15 percent
Anthony Davis: 13 percent
John Wall: 7 percent
Kyle Anderson: 7 percent
O.J. Mayo: 7 percent
Derrick Rose: 6 percent
Renardo Sidney: 6 percent
Terrence Jones: 3 percent
Tobias Harris: 3 percent
Chris Obekpa: 3 percent
Also received votes: DeMarcus Cousins, DeAndre Jordan, Anthony Randolph, Enes Kanter, Josh Selby, Lance Stephenson, Khem Birch, Rodney Hood, Norvel Pelle, Terrence Jennings, J'Mison Morgan, Jordan Goodman, JaKarr Sampson, Jevon Thomas
Quotes that stuck:
On Shabazz Muhammad: "This deal was done for a long time. The other rumors and stuff were just smoke and mirrors. People on the inside knew this deal was done. I mean, he turned Kentucky down."
More Critical Coaches
Questions
On Anthony Davis: "I've never seen a recruitment get shut down as quickly as that one got shut down. I don't know how they did it. But it was a strong play."

On John Wall: "Baylor hired John Wall's AAU coach and that still wasn't enough to get that deal done. That recruitment was on another level. And remember, Roy Williams basically stopped recruiting him. Best player in the country is from North Carolina, and North Carolina didn't really want anything to do with it. What does that tell you?"
On Kyle Anderson: "A kid doesn't go across the country to a school that doesn't fit his style of play – and turn down some of the top East coast schools – without it being it unfair. It doesn't make sense from a basketball standpoint."
Takeaway (by Jeff Borzello):
Basically, a dirty recruitment encompasses a wide range of different things, is always difficult to prove and might or might not include actual violations of NCAA rules. According to the coaches we polled, the "winner" was Shabazz Muhammad, the incoming UCLA freshman who has yet to be cleared by the NCAA to play this fall. Recently, it was reported that he could not travel with the Bruins to China for their preseason trip because he is not yet eligible. A financial advisor admitted to CBSSports.com in February that he paid for two of Muhammad's unofficial visits while another financial planner said he helped fund Muhammad's AAU program, the Adidas-sponsored Dream Vision. UCLA, it should be noted, is an Adidas-sponsored school. Lots of coaches (and people in general) have made that connection.
And that's what we know.
What about the other stories and rumors about Muhammad? That's what the NCAA is trying to find out -- and that's why he is not yet eligible to play college basketball. Attempts to reach the UCLA athletic department were unsuccessful, while a voicemail left on Ron Holmes' -- Shabazz Muhammad's father -- cell phone seeking comment was not returned.
Anthony Davis had no amateurism issues with the NCAA, but Chicago Sun-Times once reported that his commitment to Kentucky cost $200,000. That claim was denied by the family and later scrubbed from the article by Sun-Times. Was that the reason for 13 percent of polled coaches voting for him?
O.J. Mayo, another top-five finisher, forced USC to vacate 21 wins from the 2007-08 season after the NCAA determined he had received extra benefits. According to an "Outside the Lines" report, Mayo received around $30,000 in cash and gifts from an agent's runner in the Los Angeles area.
Coming Thursday: Are coaches confident that the NCAA is good enough at catching cheaters to give them a level playing field in recruiting?