Dan Hurley has Rhode Island poised for big jump in A-10 standings
Dan Hurley and Rhode Island won only eight games last season, but many are pinpointing the Rams as one team who can make a major turnaround.
• 4 min read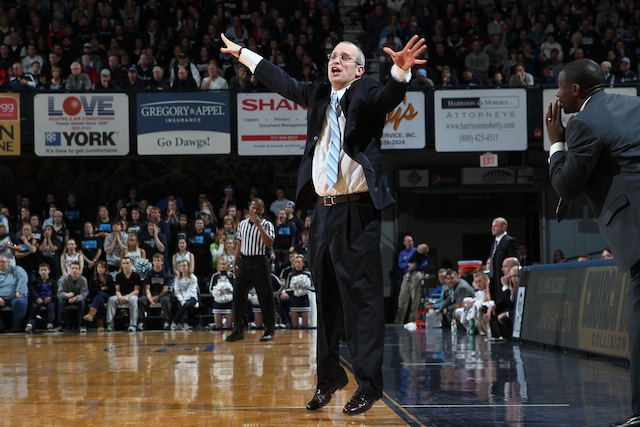 BROOKLYN – Despite coming off an 8-21 record last season, Dan Hurley has had to manage expectations heading into 2013-14 campaign.
Sounds weird, right?
It might, but the Rhode Island head coach – and his players – are hearing the same things everyone else is: the Rams are poised for a huge jump in the Atlantic 10 after bringing in a slew of talented players. They are picked to finish ninth in the league, which might be too low, and some are pegging the 20-win plateau as the goal for this season.
"The expectation for us is we're going to get over this hump very, very quickly," Hurley said Tuesday at A-10 media day. "I think the approach that we take is we embrace that. We expect to win that many games. We're filled with incredible disappointment if we don't."
Hurley is entering his second season at Rhode Island after leading Wagner to a 12-win improvement in his two years with the Seahawks. A 12-win improvement for the Rams this year would equal, you guessed it, 20 victories.
Obviously, the Atlantic 10 is more difficult than the Northeast Conference, and Wagner's jump in the standings was smaller (sixth to second). But Rhode Island wasn't as far off last season as its record might indicate. The Rams won at Saint Louis in January, and 12 of their 21 losses were by eight points or fewer.
There's a difference between just staying in games and winning those games, though.
"We were struggling to find ways to be competitive," Hurley said of last season. "Now our mindset goes from competitive to good. How do we become a good college basketball program that consistently wins? We have enough talented players to be good."
Most of that optimism centers around two newcomers: Rutgers transfer Gilvydas Biruta and freshman guard E.C. Matthews.
Biruta is a Lithuania native who played for Hurley at St. Benedict's Prep in New Jersey. He spent two seasons at Rutgers before leaving back in 2012. The 6-foot-8 power forward averaged 9.7 points and 5.3 rebounds in his final year with the Scarlet Knights. After knocking off the rust that comes with sitting out a season, Biruta has the ability to be one of the better frontcourt players in the Atlantic 10.
Meanwhile, Matthews will make an immediate impact on the perimeter. The 6-foot-5 lefty was a top-100 recruit coming out of high school, and Hurley is convinced he has the potential to play at the next level in a few years.
"E.C. is such a talented kid," Hurley said. "And I think what's going to separate him . . . is he's got that work ethic, and he's a student of the game. He's got all the requisite skills. He wants it a bad, and he's a great kid. I don't imagine there's going to be many better freshman guards in the country than him this year."
In addition to Biruta and Matthews, Hurley and his staff are bringing in freshmen Hassan Martin and Matthew Butler, as well as transfers Jarrelle Reischel (Rice) and Biggie Minnis (Texas Tech). Starting point guard Mike Powell and talented post player Jordan Hare are also back, along with center Mike Aaman.
And we haven't yet mentioned second-team all-conference guard Xavier Munford, who averaged better than 17 points last season. He scored 24 or more points on seven occasions, including 33 at Auburn and 30 against Temple.
With the newcomers suiting up for the Rams this season, Munford won't have to shoulder so much of the load on the offensive end – and that could make him even more dangerous.
"I think Xavier is one of the best players in the conference," Hurley said, "and I think hopefully people will view him differently at the end of the year than they are the beginning of the year."
The biggest plus of having all this talent at his disposal is that Hurley can now play the way he wants to play. The Hurley family – which of course includes legendary high school coach Bob Hurley and Buffalo head coach Bobby Hurley – has always preferred to play relentless defense, pressuring full-court.
With only eight or nine scholarship players last year, Hurley simply didn't have the bodies to instill that style in his team. This season will certainly be different.
"Everyone knew they were going to play [last year]," Hurley said. "This year, there's going to be a couple guys that are good players that won't play. But that's what happens at good programs. It's competition."
On paper, Rhode Island has the pieces to make a run at the top five of the league. If everything works out, this time next year we could be talking about the Rams coming off the biggest turnaround in the country.
"I believe in our talent, I believe in the way we work," Hurley said. "I think we're ahead of schedule, and that's the way we like it."
Guess those higher expectations aren't so weird after all. 
Discussing the one-and-done rule -- plus Michael Porter Jr.'s injury and Billy Preston's c...

Even though he's scheduled to graduate in December, the NCAA still won't let Hayes play

The Wisconsin resident wasn't happy with how the Musketeers handled their win in Madison
There's a change to the way teams are picked and selected for the NCAA Tournament

Gamecocks coach Dawn Staley says the she only wants an invite to the NCAA Tournament

Goodwin is making the most of his chance at Florida Gulf Coast after he was forced to leave...