Dan Muller enters second season looking to put stamp on Illinois St.
Only 17 months after Dan Muller took over at Illinois State, there's not a single player remaining who played for his predecessor.
• 3 min read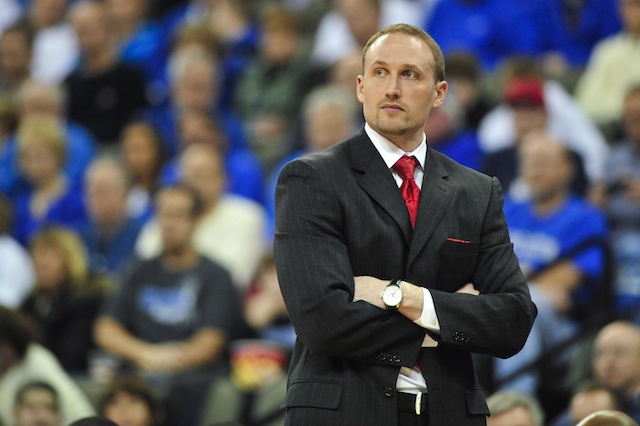 When Dan Muller left Vanderbilt in May 2012 to become the head coach Illinois State, he was entering a situation with four seniors and a redshirt junior.
Only 17 months later, Muller doesn't have a single guy on the roster that played a minute under predecessor Tim Jankovich.
Go-to-guys Jackie Carmichael and Tyler Brown are gone, along with senior John Wilkins. Moreover, the Redbirds saw four players transfer in the spring: Jon Ekey, Johnny Hill, Jordan Threloff and Zeke Upshaw.
When all the dust settled, only two scholarship players – Kaza Keane and Nick Zeisloft – remained from the 2012-13 season.
"I didn't envision this," Muller said by phone Tuesday. "We had guys at the end of the season that wanted to go somewhere else, and I'm supporter of that. We had prepared in case things happen."
Some of those preparations included signing a 10-man recruiting class made up of six freshmen and four junior college transfers.
There are plenty of minutes up for grabs, although two of the more talented members of that group won't be eligible to play this season. MiKyle McIntosh, who was courted by multiple high-major programs, was deemed a non-qualifier by the NCAA, while forward Deontae "Teddy" Hawkins also has to sit out this season. Hawkins is a unique case, as he signed with Wichita State before heading to the Redbirds; instead of sitting out two seasons, he only has to sit out one – but can't play against Wichita State in the 2014-15 season.
In addition, Junior college transfer Daishon Knight, a talented Baltimore native, is currently suspended. Muller said there was no update on his status.
"We're going to build our culture, our expectations on and off the court," Muller said. "Guys are learning, and we have so many things to put in because we don't have a foundation. It's all new."
The Redbirds were competitive in their first season under Muller, winning 18 games – including road victories over Creighton and Dayton, as well as taking Louisville and Northwestern to the wire. And despite having very few holdovers from last year's campaign, Muller's expectations haven't changed for his alma mater.
"Nothing has happened so far that has surprised us," Muller said. "I'm here to build a program, not just for one year. I'm going to coach these guys the same way I did last year. If you're on my team, you're my guy. I don't care if I recruited you or not, you're my guy."
There could certainly be some bumps in the road this season, as the newcomers mesh with the two returnees. The Missouri Valley doesn't have Creighton anymore, but Wichita State is coming off a Final Four appearance, and there is a group of teams looking to push for a second-place finish.
With no seniors on the roster, though, there is optimism in the program. The roster for the upcoming season is going to look awfully similar to the group in 2014-15 – with the additions of McIntosh and Hawkins.
"There's a lot of curiosity from fans, there's a lot of excitement," Muller said. "We've got a collection of talent, and we need to get that talent playing together with great toughness. I don't feel sorry for myself. We're headed in the right direction."
Illinois State opens the season Nov. 8 at VCU. 
Shittu is the highest rated Vandy commitment since .. Darius Garland, who committed last w...

Gary Parrish and Matt Norlander also preview the PK80-Phil Knight Invitational

Either the Shockers or the Irish will lose for the first time in Wednesday's Maui Invitational...
Five-star recruit Brian Bowen won't play for the Cardinals, but is free to transfer

No. 12 Cincinnati will face Wyoming in the championship game

Trump is once again looking for gratitude from the outspoken father of LiAngelo and Lonzo