Day One Notebook: Whitehead impresses with coaches watching
Isaiah Whitehead had a slow start, but bounced back to finish with a good performance. Trayvon Reed was also among the Day One standouts.
• 3 min read
PITTSBURGH -- It was a game that didn't start until just before 10 p.m., and it wasn't even part of pool play at the Hoop Group Pitt Jam Fest. Plus, the teams only had about three minutes to warm up.
As a result, it wasn't too surprising that Isaiah Whitehead started off Friday night's game against the Arkansas Hawks pretty slow.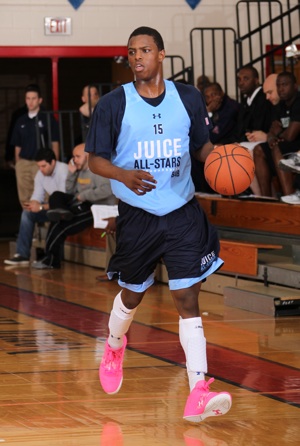 Whitehead can fill it up. (Kelly Kline/Under Armour)
"I struggled early," Whitehead said. "I had to pick up the pace, get used to the rims. We just got here."
He managed to turn it around after the opening stretch, leading the Juice All-Stars to an impressive win over the Hawks. Whitehead's ability to make difficult shots and draw contact in the lane enabled Juice to dig out of the early hole and hold off the Hawks in the final minutes.
Whitehead, a 6-foot-4 shooting guard from Lincoln (N.Y.), is among the top 10 players at his position. He's also one of the best pure scorers in the class, but is continuing to improve his all-around skills.
"I just want to get better," Whitehead said. "I want to get ready for college, since it's my senior year. I'm working on my jump shot, my handle, everything."
Syracuse, Louisville and St. John's were all in attendance for Friday night's performance, and those are three of the schools in the mix for Whitehead. Kentucky and UCLA are also in pursuit.
Louisville and Syracuse are the two coming after him the hardest.
"They're both run and run, they play defense, and they have great coaches," Whitehead said.
He's ranked No. 32 in the 247 Sports Composite rankings for the class of 2014.
Trayvon Reed looking to become elite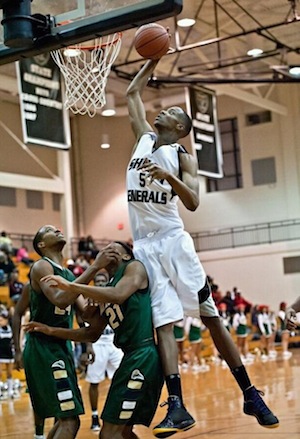 Reed's size makes him a major factor. (247 Sports)
When asked where he ranked among the best centers in the country, Trayvon Reed didn't waver in his answer. It wasn't a long answer, either.
"One."
Reed, a 7-foot-1 big man from Shiloh (Ga.), certainly has the tools to be a future pro.
"I can rebound, I can block shots, I can run the floor," he said. "I can do some of the stuff that other centers can't do." 
Ranked No. 3 among centers in 247 Sports Composite rankings, Reed is an elite shot-blocker who uses his size and length to be a nightmare on the defensive end. He finishes with ease at the rim, and can catch and finish in transition.
The biggest question with Reed is his motor -- if he brings effort on a consistent basis, his natural ability will put him over the top.
"I want to get better," he said. "I'm looking ahead to the college level, and possibly the NBA level. I'm working on controlling the paint. That's the most important thing."
Obviously, Reed has his choice of schools right now. Georgetown, Connecticut, Miami, Florida, Georgia Tech, Auburn, Florida State, Wake Forest are all chasing the Atlanta Xpress big man.
Reed said that Auburn is the school working the hardest.
Friday's Standout Performers
Derrick Jones, 2015, We R 1: One of the top players in the class of 2015, Jones showed his enormous potential in an otherwise sloppy game on Friday. He is long and extremely athletic, running the floor and finishing at the rim with aggression. Jones is certainly one to watch in the junior class.
Chris Chiozza, 2014, Team Thad: The Phil Pressey comparisons are inevitable with Chiozza. He's a pest defensively, creating havoc and forcing turnovers. He pushes the ball well in transition, and showed much-improved consistency from behind the arc.
Romelo Trimble, 2014, DC Assault: The future Maryland Terrapin showed very solid ability as a combo guard on Friday. His shot wasn't falling like it usually does, but he got to the rim effectively off the dribble and ran some offense. He also looks stronger and more confident.
TeMarcus Blanton, 2014, Atlanta Xpress: Xpress had plenty of impressive performances on Friday night, but Blanton's scoring was a major highlight. He got points in a variety of ways, knocking down shots from the perimeter but also getting to the lane and finishing through contact.
Thomas Alexander, 2014, Arkansas Hawks: Alexander tailed off a bit in the second half against Juice All-Stars, but his first-half effort was impressive. He was extremely active at both ends of the floor, and was consistently aggressive scoring the ball. His energy was a welcome surprise at the end of the night.
CBS Sports HQ Daily Newsletter
Get the best highlights and stories - yeah, just the good stuff handpicked by our team to start your day.
Please check the opt-in box to acknowledge that you would like to subscribe.
Thanks for signing up!
Keep an eye on your inbox for the latest sports news.
Sorry!
There was an error processing your subscription.
Michigan State, Purdue and LSU should all feel great about their trusty ball-handlers as the...

The Blue Devils Hall of Famer believes the corruption trial is a 'blip'

The Kansas coach wanted Adidas' help, in part, because he believed Nike was helping Duke and...
The government's case has had its skeptics, but from inside the courtroom this trial very much...

Sister Jean was just inducted into the 2018 Illinois Senior Hall of Fame

The Red Storm should now be expected to make the NCAA Tournament