Dayton beats Stanford to send Archie Miller to the Elite Eight
The Flyers' 35-year-old coach is now just one win away from the Final Four.
More NCAA hoops: Tournament bracket | Complete coverage of NCAAs | Latest news
MEMPHIS, Tenn. -- Dayton (the city, not the team) was partying, Archie Miller was answering questions from the media, and his wife, Morgan Miller, was keeping an eye on the couple's 9-year-old daughter, Leah Grace, in a hallway here at FedExForum.
This was the scene Thursday 10 minutes after the Flyers advanced to the Elite Eight.
And John Miller was just outside the locker room taking it all in.
Proudest papa you've ever seen.
"Arch is just in Year 3, and he's in the Elite Eight," John Miller said. "It's unbelievable."
For the third time in three games, 11th-seeded Dayton scored more points than a higher-seeded opponent to advance to the next round of this single-elimination event. This time the opponent was 10th-seeded Stanford, which had former Secretary of State Condoleeza Rice and Super Bowl champion Richard Sherman seated near the court but not nearly enough offense on the court to avoid an 82-72 loss to the Flyers.
So Johnny Dawkins' season has ended.
But Archie Miller's season has been extended, and this is one of the best stories of an NCAA Tournament that no longer features Mike Krzyzewski, Jim Boeheim, Roy Williams, Doug McDermott, Andrew Wiggins or Jabari Parker but does still feature two Miller brothers -- including a 35-year-old who's gone from future coaching star to current coaching star in eight days. This improbable trip started with a 60-59 win over sixth-seeded Ohio State last Thursday that was followed by a 55-53 win over third-seeded Syracuse last Saturday, meaning Dayton advanced to the Sweet 16 by winning two games by a total of three points.
This victory wasn't the same kind of nail-biter.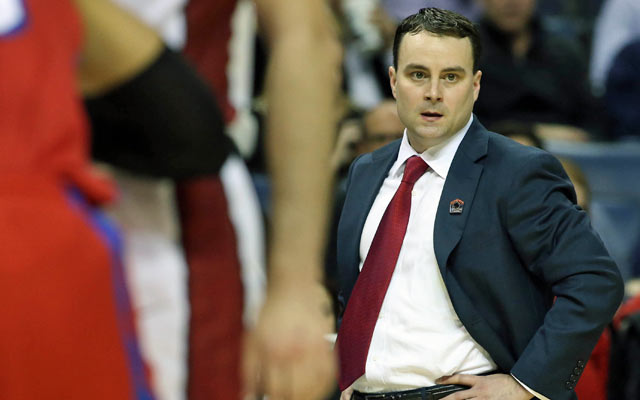 Dayton led by 10 at the half and by 14 late thanks to a number of things -- among them the fact that the Flyers shot 48.3 percent, turned the ball over just once and got 34 points from their bench. Afterward, Miller reflected on the previous 40 minutes with positive words. He seemed just as proud of his team as his father is proud of him.
"We had, I think, 11 guys score in the game, and from top to bottom they just kept coming and coming and coming," he said. "The way they shared the ball, the way they moved the ball ... it was a true team effort. That's what they've been about all year. So it's nice to see, on the biggest stage, us be ourselves."
As Archie Miller was saying this, his older brother, Sean, was 1,800 miles west preparing to coach Arizona against San Diego State in the Sweet 16, and John Miller acknowledged that it's still really hard to grasp. Again, he and I were talking outside of the Dayton locker room, and, at the time of our conversation, there were 14 Division I coaches still chasing a national title, and his sons were two of them. They're coincidentally on opposite sides of the bracket, meaning they couldn't possibly coach against each other until the national title game, and even John Miller knows that's an unlikely scenario for a variety of reasons.
But can you imagine?
John Miller spent the early part of Thursday night watching one son coach in the Sweet 16 in person, then spent the later part of Thursday night watching another son coach in the Sweet 16 on television, and is that a helluva way to spend a Thursday night or what?
"It's really crazy," he said with a smile. "It really is just crazy."
Meet the mid-major coach who refused to vote for the teams involved in the recruiting scan...

The player, now at the University of Portland, says he was injured during a workout which broke...

Please don't start with the 'Being preseason No. 1 didn't work out so well for Duke last season!'...
A look at some of the biggest name coaches in new places in 2017

The Big Ten will start playing 20 conference games a season earlier than the ACC

Pitino appeared on ESPN to discuss his ousting and the lie detector test he passed