Dayton keeps winning even with a uniquely limited and short roster
The Flyers have just six scholarship players -- none of whom are taller than 6-foot-6. Still, they 13-2 overall and 3-0 in the Atlantic 10 heading into Wednesday's game with La Salle.
Archie Miller's staff at Dayton is a lot like other staffs at other schools in the sense that they spend part of each offseason obsessing over a roster while discussing who fits where and debating the best ways to use different rotations.
Basically, it's a summer-long planning session.
They work and plan.
Work and plan.
Work and plan.
So this past summer, when the Dayton staff was working and planning, they envisioned Devon Scott, a 6-foot-9 junior, as their starting center. Jalen Robinson, also a 6-9 junior, would back him up, they figured. And then Steve McElvene, a 6-11 freshman, would serve as an emergency option in the middle, point being that the Flyers seemed set up front.
But then the NCAA declared McElvene a partial-qualifier, rendering him ineligible this season. And then Scott and Robinson were allegedly caught committing theft in an on-campus dorm, which led to their removal from the program in mid-December. That's three centers gone. Add those developments to the fact that a junior-college recruit (Detwon Rogers) has been sidelined the entire season by a knee injury, and the fact that the career of a graduate-transfer (Ryan Bass) is over because of what's described as concussion-related symptoms, and Dayton's roster has been reduced in an incredible way.
All those off-season meetings?
They don't matter much anymore.
Because Dayton now has only six scholarship players -- none taller than 6-6.
"You take your entire offseason and try to build how you're gonna have to play," Miller said. "And I'll be honest with you … that's changed a lot for us. It's really changed a lot."
****
Six scholarship players -- none taller than 6-foot-6. If somebody asks what's up with Dayton after last season's trip to the Elite Eight, that's what you can tell them, that the Flyers now only have six scholarship players -- none taller than 6-6.
No other Division I team is limited so noticeably.
Most junior-college teams aren't this short in the frontcourt.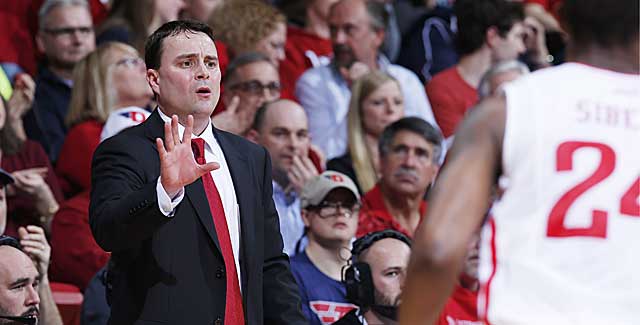 And yet here's Dayton, this reputable program with seven Sweet Sixteen appearances to its credit, operating with only six scholarship players -- none taller than 6-6. To put this into perspective, consider that Kentucky has seven scholarship players taller than 6-8, and that UK's starting backcourt (Andrew Harrison and Aaron Harrison) is just as tall as Dayton's starting frontcourt (Dyshawn Pierre and Kendall Pollard). It's crazy, undeniably. But the remarkable thing is that the Flyers still own a win over the Ole Miss team that took UK to OT, and that Dayton is 13-2 (3-0 in the A-10) and ranked 30th at KenPom.
"There's a lot of season left," warned Miller.
And that's true.
But even this 36-year-old rising star in the profession can acknowledge that turning a mess-of-a-situation into a positive -- Dayton is 6-0 since Scott and Robinson were dismissed -- is a "very satisfying" sequence, and it's reasonable to argue that what Miller is doing now is even more impressive than what he did last season when he guided the Flyers to wins over Ohio State, Syracuse and Stanford on their way to their first Elite Eight since 1984.
Head coach Archie Miller's coaching magic may be the most potent it's ever been as Dayton's 3-0 Atlantic 10 Conference start is the best in over a decade. The dangerous mirage of "small ball" that Dayton brings to the table has fooled opponents since Dec. 20.
That's a paragraph from a recent story in Dayton's student newspaper.
So it looks like we're all on the same page here.
The idea that Miller has a team with only six scholarship players, none taller than 6-6, on a six-game winning streak is an awesome thing worth highlighting regardless of where the season goes from here, which is why I got him on the phone to ask a simple question.
How?
How does a coach win with only six scholarship players?
How does a coach win with no real power forwards or centers?
"Only five players play at one time -- not 13," Miller answered. "And if you have five on the court who are executing on both sides of the ball, and if you have an attitude about yourself every day, a chip on your shoulder, good things can happen -- especially when you're together, and that's what we are. We're together. And I'm very proud of the players."
The interesting thing about how Miller is handling this is that he's refused to use it as an excuse. In fact, he's actually tried to turn everything into a positive even if that flies in the face of common sense. Miller, for example, doesn't talk about being shorthanded as much as he talks about benefitting from a short rotation that empowers players and let's them learn by playing through mistakes. And he doesn't talk about being small up front as much as he talks about how he now has more skill on the floor at all times.
"Everything is advantage-us," Miller said. "It's advantage-Dayton in a lot of ways."
That's debatable, clearly.
Miller knows it deep down.
But it's exactly that mindset that's trickled down to his players and created a culture where doing anything other than stringing wins seems unimaginable no matter the circumstances. Will it catchup to Dayton at some point? Perhaps. But so far, so good. And that's why UD Arena will be packed Wednesday when the Flyers host La Salle and try to extend their winning streak to a number larger than the number of scholarship players in uniform.
"What we're doing right now is a byproduct of the culture that we have here," Miller said. "Whether [we keep it up or] the bottom falls out and we lose 10 games in a row, to me the people in this program are doing it the right way right now and playing at a high level, and I'm excited for them. They're playing together. And they're playing the right way. And good things can happen when you do that."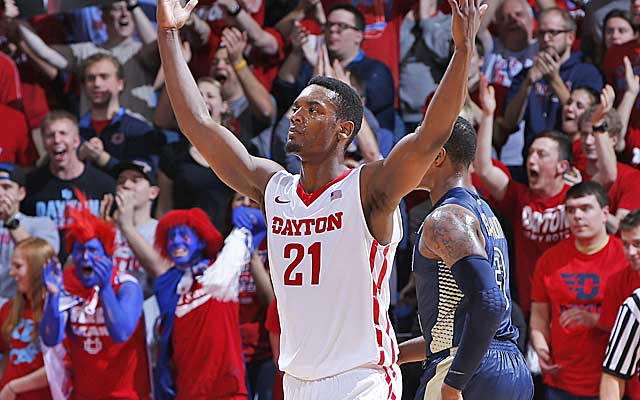 CBS Sports HQ Daily Newsletter
Get the best highlights and stories - yeah, just the good stuff handpicked by our team to start your day.
Please check the opt-in box to acknowledge that you would like to subscribe.
Thanks for signing up!
Keep an eye on your inbox for the latest sports news.
Sorry!
There was an error processing your subscription.
Porter returned for a sophomore season with hopes of developing into a lottery pick for the...

Class of 2019 standout picked the Mountaineers over a slew of other high-major offers

Williamson scored 14 points in a Duke scrimmage that resulted in a 44-39 win for his team
Gary Parrish and Matt Norlander spend 80 minutes discussing every big headline from the we...

Sister Jean's Loyola-Chicago Ramblers may very well be back in the mix for a spot in this year's...

Commissioner Bernadette McGlade's message to her coaches: Take chances and schedule aggres...