DeAndre Daniels' consistency continues to be X-factor for UConn
DeAndre Daniels had 27 points and 10 rebounds in Connecticut's impressive win over Iowa State.
• 4 min read
More: NCAA Tourney News | Bracket Hub | Expert Brackets
NEW YORK – DeAndre Daniels wasn't happy at the end of his sophomore season at Connecticut. He was playing more power forward than he initially expected, and was still adapting to being a secondary option on the offensive end.
Daniels finished last season with a very strong stretch, but there were still some concerns.
"Because of the nature of his personality, he has to be comfortable in his environment," Dinos Trigonis, his former AAU coach, told CBSSports.com by phone after Friday's night game. "It was a big adjustment he had to make."
When this season started, it wasn't much better. Daniels totaled eight points and three rebounds in Connecticut's first two games, shooting just 4 of 14. His inconsistency was troubling. He was deferring too much to Shabazz Napier and Ryan Boatright, and the Huskies were missing a reliable third scorer.
A four-game span toward the end of the regular season in which he averaged 5.5 points didn't bode well heading into the postseason.
"He's a guy who's going to fit in, he's not a guy who's going to rock the boat," Trigonis said. "But for his team to be successful and for him to be taken seriously as an NBA prospect, he realized he had to be productive and consistent."
And it's paying off in a major way for Connecticut.
Daniels led the Huskies to an 81-76 win over Iowa State on Friday night, advancing Connecticut to the Elite Eight, 40 minutes from the Final Four. Daniels had 27 points and 10 rebounds, proving to be a matchup nightmare for the Cyclones.
"He was unbelievable tonight," Iowa State head coach Fred Hoiberg said. "Daniels went through that stretch in the second half where they really went to him. He was hitting mid-range shots over extended hands, and got free for a couple threes. They did job of going to him. And give Kevin [Ollie] credit for continuing to feed the hot hand."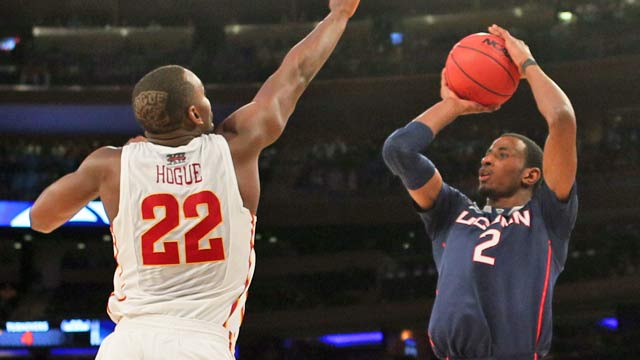 Daniels was basically unguardable for the most of the night, scoring against smaller defenders in the post and stretching the floor to knock down 3-pointers. He finished around the rim, in transition, and also had a baseline turnaround that was highlight worthy.
When Daniels can crash the glass and score in different ways, he's a matchup nightmare for most opponents. And when he was playing like he did on Friday night, Connecticut is very difficult to guard.
"In the beginning, DeAndre was kind of pressing," Napier said. "I just told him, calm down, the game's going to come to you. When he made that first one, and then we got him an easy one. DeAndre is a scorer. And once you feel like you have that confidence, the next shot is going to go in, and we kept feeding him. He got super hot. He had to cool his hand down, and we just kept going."
Make no mistake, Connecticut is Napier's team. The senior guard was an All-American all season and is arguably the best player remaining in the NCAA Tournament. He's capable of putting the Huskies on his back and carrying them to wins against good teams. But when Connecticut is at its best, Napier is getting help from his supporting cast – and that player is ideally Daniels.
He's been the X-factor all season long for Connecticut, which can go both ways. Daniels has the potential to be the perfect second option to Napier, but he also has the tendency to disappear.
And Daniels has certainly had plenty of bad games this season. But he never got down after rough stretches, instead focusing on putting a subpar performance in the rearview mirror.
"You go through ups and downs," Ollie said. "It's not about points for him. It's about getting touches. It's about him bringing energy.
"He did a great job tonight staying with it. Because he could have easily hung his head, and he stayed with it and he pushed us over the top in the second half."
Daniels' stellar play of late has put Connecticut in the Elite Eight. He's averaging 18.7 points and 6.3 rebounds in the NCAA Tournament, after putting up 15.3 points and 8.0 rebounds in the four games leading up to the dance. If he continues playing like this, Connecticut can continue its run.
"This is it," Daniels said. "I just want to win. I just want to go out there and just play hard for my teammates. This is the Tournament, and this is when everybody's going to go out and give it their all. And just with our seniors on this team, I just want them to go out with a good bang."
And now the Huskies are one step from the Final Four. 
Duke's much-anticipated Allen-Duval connection is off to a hot start already

It'll be Miller vs. Miller if the Hoosiers and Wildcats can finalize the proposed series

Wisconsin's Ethan Happ has made only two jumpers in his career, but is adding a long-range...
The deal is part of long-awaited $2.64 billion contract; CBS' hoops-only commitment runs through...

If Wichita State guard Landry Shamet has a breakout season, he could leave early for the N...

Athletic big man finished 3-day trip to Durham, N.C., with trips to USC, Arizona coming up