DeAndre Kane carries father's dream with him at Iowa State
DeAndre Kane's father passed away almost two years ago -- but he's carrying his father's dream with him at Iowa State.
• 4 min read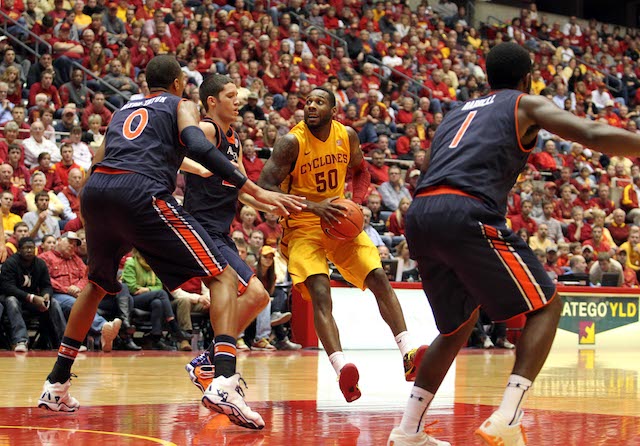 Fifty.
As an age, it's supposed to be a milestone.
As a jersey number, though, it looks strange. On a point guard, it especially looks strange.
But there's no other number DeAndre Kane would consider at this point. And it has nothing to do with being superstitious.
In February of 2012, Kane's father died suddenly after suffering a brain aneurysm.
"He would have turned 50 the next week," Kane said by phone earlier this week.
At the time, Kane was No. 24 at Marshall – but he didn't want to stay there. He wanted to go home to Pittsburgh, and he wanted to give up basketball. When Kane went home for the funeral, part of him wanted to just stay there.
After all, his father was the one that pushed him into basketball. Calvin was the person he talked to all the time, the person he turned to whenever he needed anything, the person he discussed his game with. And without his father, Kane was lost.
In the end, his father is exactly what kept him in the sport.
"My mom said, 'Dad wouldn't have wanted you to do that,'" Kane said, referencing a conversation he had with his family about quitting.
"I found it in my heart to keep going. I want to dedicate this basketball dream to him. He wanted it more than I wanted it. I'm hungrier since he passed; there's a chip on my shoulder. My dad wanted me to do something special." 
So far, his father would be proud. Kane left Marshall at the end of last season, transferring to Iowa State in search of something new – and in search of making his first NCAA tournament during his senior year. After seven games, everything is on schedule. Iowa State is 7-0, and Kane is averaging 15.4 points, 8.0 rebounds and 5.3 assists.
Most importantly, though, there's been a major attitude adjustment for Kane. While at Marshall, he was looked at as selfish and someone who picked up too many technical fouls. Once arriving at Iowa State, Kane made a concerted effort to rid himself of that label.
"It's part my father, part me getting older," he said of what prompted the change. "I wanted to change. I wanted to show people the real DeAndre Kane."
Iowa State has been a hot destination for guys like Kane: players needing a change of scenery, either simply looking for a fresh start or because they didn't fit perfectly at their previous location. Last year's run to the tournament was spurred by several transfers, namely Korie Lucious (Michigan State) and Chris Babb (Penn State), while imports Royce White (Minnesota) and Chris Allen (Michigan State) were key players the previous season.
Despite the fluctuating roster, chemistry has never seemed to be a major issue at Iowa State under Fred Hoiberg. Kane knew that going in, and it was part of the reason he ended up in Ames.
"I wanted to be part of something special. Part of a winning program," he said. "Early in the summer, we were in the gym a lot together. Outside of basketball, we hang out a lot together. We're like a brotherhood and a family."
Kane has been one of the most productive players in college basketball throughout his career, averaging 15.6 points, 5.4 rebounds and 4.6 assists in four seasons. Not many players in the country are as versatile as Kane, or can contribute in as many as ways as Kane.
With that said, he's overlooked on a national level. Maybe it was his attitude, maybe it was the fact he was at Marshall. But now that he's on a winning team and has a more positive outlook on things, Kane is hoping for some more recognition 
"I have a lot to prove, man," he said. "I still feel like I don't get the respect I deserve. I'm still not talked about nowhere, no lists, no nothing. Nobody really talks about DeAndre Kane, and I feel like I'm one of the best players in the country.
"But I can't control those things. I'm doing what I got to do to make the tournament and maybe make a national championship run. I'm going to help my team get victories."
No matter what happens the rest of the season – and in his quest to get to the NBA – Kane is going to have one person in the back of his mind. And everyone will know it.
All they have to do is look at his jersey. 
Arizona, for no good reason, doesn't have to play at USC or UCLA this season

We look at the 'Major 7' leagues and give you the best of what's to come in conference play...

Louisville's coach predicts a change is coming to the NBA's one-and-done rule by 2019
Multiple former players of Lonergan's alleged verbal abuse and inappropriate remarks

When Miller left for Indiana, there was cause for concern in Flyerland; a top-100 signee says...

The Hoyas will spend their non-league schedule playing mostly nobodies -- as will most big...