Decision day preview and prediction: Myles Turner
Top-five senior Myles Turner will make his college decision on Wednesday afternoon -- where will he choose? We break down everything.
• 5 min read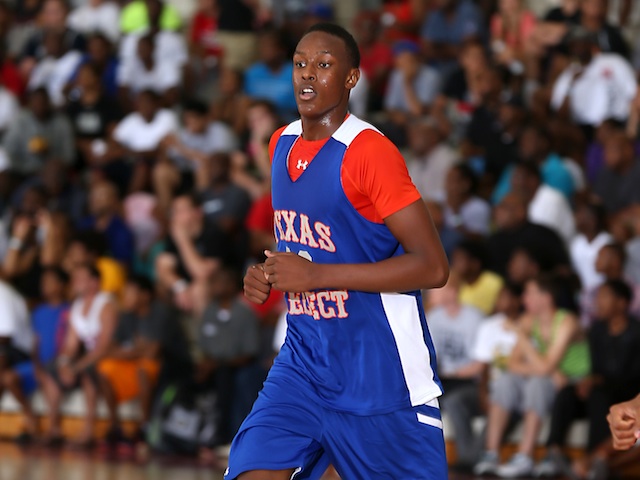 Latest in hoops: NBA Early Entries | Latest News | Coaching Changes
One of the final pieces to the 2014-15 preseason puzzle will be put into place on Wednesday afternoon, when Myles Turner decides where he will be playing next season.
Turner, No. 4 in the 247Sports Composite, has been the highest-ranked uncommitted prospect from the class of 2014 for several months, but his recruitment will come to an end during an announcement on ESPNU. There are seven schools still on his list: Texas, Kansas, SMU, Duke, Oklahoma State, Ohio State and Texas A&M.
The 6-foot-10 Turner wasn't always a priority recruit for several of the nation's best programs, though. His upside is extremely high, given his capability to add strength and become more effective down low on the offensive end. Turner can step out and knock down perimeter shots, and he can change games defensively with his shot-blocking ability.
He didn't truly burst onto the scene until spring of his junior year, getting his name out there a little bit during the school season – before dominating at the Jayhawk Invitational in April and the Under Armour Invitational in May. After Turner's performances on the spring circuit, he picked up offers from more than 60 schools – needing to trim his list to 25 schools before the July period just to keep things organized. Impressive performances against the rest of the nation's elite at the NBPA Top 100 camp in June solidified his standing, and brought him into the top 10 in the class of 2014.
Turner has stayed among the best prospects in the class since the summer, often training with John Lucas in Houston. The schools on his list haven't changed all that much either. He cut his list to eight after the July period, but Louisville, Arizona and Kentucky are no longer strongly under consideration – although both sets of Wildcats made late pushes and some people close to him include them on his list.
He has taken official visits to Texas, Kansas, Duke, Oklahoma State and Ohio State, while taking unofficials to SMU and Texas A&M. Several of the schools also conducted in-home visits with him in the past couple of weeks to make their last pitches.
Let's quickly go through each school remaining on his list – although we took a more in-depth look a couple weeks ago.
Texas: Turner would easily step into a starting spot in Austin, while also vaulting the Longhorns into the top seven or eight teams heading into next season. Texas seems to have most of the buzz right now, and getting the last official visit likely helped the Longhorns' case with Turner. He's also been to the campus several times on unofficial visits. Worth noting: Turner's favorite player is Kevin Durant and the background on his phone is a photo with the onetime Longhorns star.
Kansas: Back in the fall, it seemed like the Jayhawks led for Turner – and they are still one of the two schools getting most of the talk. Turner would be able to step in for Joel Embiid, and he and Cliff Alexander would form a dominant tandem down low. Turner officially visited Lawrence in early March, and Bill Self met with Turner last week. The Jayhawks are a slight underdog to Texas heading into the final hours. 
SMU: Don't read much into the fact the Mustangs didn't get an official visit. He's been to the Dallas campus multiple times, and SMU made up plenty of ground since initially being left off his final list last August. Turner would push SMU into many preseason top 10s, and the idea that SMU could land two top-five recruits (along with Emmanuel Mudiay) would be a game-changer.
Duke: Turner would have a chance to complete one of the best recruiting classes of all time if he ended up in Durham, joining McDonald's All-Americans Jahlil Okafor, Tyus Jones, Justise Winslow and Grayson Allen. Turner can co-exist with Okafor, forming a terrific inside tandem. The Blue Devils have been in the mix with Turner for a long time, and their chances may have risen recently after waning in the winter.
Oklahoma State: There is certainly plenty of playing time for Turner in Stillwater, as the Cowboys lose three primary offensive weapons from last season – including Marcus Smart. Unfortunately, that also means Oklahoma State isn't set up very well for next season. The Cowboys had more buzz for Turner back in the fall than they do right now.
Ohio State: In terms of contact over the past year, the Buckeyes are right up there with any other school pursuing Turner. They have been going after him as long as any team on his list, and Turner would have the chance to step in immediately and be a difference-maker on the inside for Thad Matta. The Buckeyes have seemed to be a darkhorse throughout the process, constantly hovering around. 
Texas A&M: The Aggies are close to home and need Turner in the worst way – he would clearly be the best player on the roster and could get as many shots and minutes as he wanted. Billy Kennedy is pitching that opportunity to Turner, but it doesn't seem likely to work. If Turner does choose to stay in The Lone Star State, Texas and SMU are better set up for success next season.
And now, time for my prediction.
I think Myles Turner will choose Texas. The Longhorns hadn't seemed like the favorite last summer or in the fall, with Kansas having the early momentum and staying in strong position throughout the process. Oklahoma State also seemed to pick up some momentum in the late fall and winter. But the buzz over the past couple of months has been Texas, and many signs point to Turner choosing the Longhorns on Wednesday afternoon. Kansas is still right there, and some of the others aren't completely out of the running, but Texas is the slight favorite heading into the final day. The Longhorns offer Turner the chance to play in his home state, the chance to get plenty of minutes, the chance to reach a Final Four – and the chance to follow in the footsteps of his idol, Kevin Durant.
I do think Kansas is still squarely in the mix, but I'm predicting Turner heads to Austin.
The BC fan has a ton of apparel and gear headed his way after this putt

Durant's made a habit of making sure his alma mater is set with the latest customized gear

Ball says UCLA told him to thank Trump for getting him back to the states after shoplifting...
SportsLine's advanced computer model simulated Wednesday's Villanova vs. Temple game 10,000...

Will any of these six teams make it to 2018 without their first loss?

Temple could be a big problem for undefeated Villanova, the No. 1 team in the Top 25 (and...