Dedric Lawson makes it official, says he's following dad to Memphis
The Class of 2016 star publicly picked the Tigers four days after Memphis hired his father as an assistant coach. His brother, a Class of 2015 prospect, is already committed to Memphis.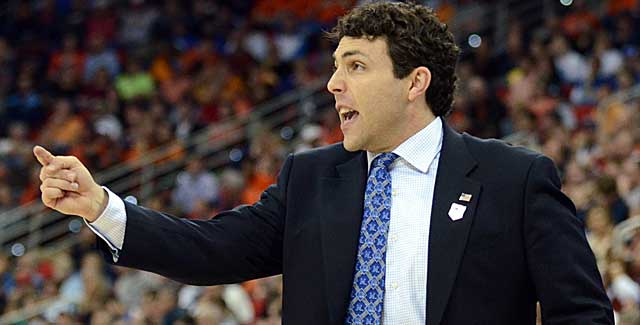 Latest in hoops: Latest News | Coaching Changes | Recruiting
Dedric Lawson told CBSSports.com 10 days ago that Memphis hiring his father as an assistant would "probably seal the deal" for his commitment. Six days later, Memphis hired his father. And now the Class of 2016 star has publicly committed to Memphis.
So things are moving quickly and going as planned for Josh Pastner, huh?
"With [my father] being on staff, there's no other college I would rather go to," Dedric Lawson told reporters Sunday morning after helping Team Penny defeat Boo Williams in the semifinals of the EYBL Finals at the Peach Jam, which is widely regarded as the nation's best summer tournament for high school prospects.
Team Penny will play in the championship game on Sunday at 3 p.m. ET (ESPNU).
Dedric Lawson is a 6-foot-8 forward ranked No. 7 in the Class of 2016, according to 247Sports. His older brother, K.J. Lawson, is a 6-6 wing ranked 43rd in the Class of 2015, according to 247Sports. K.J. has been committed to Memphis for nearly a year.
There are also two younger Lawson brothers -- both of whom are considered elite prospects. One recruiting service, for instance, ranks Chandler Lawson No. 1 in the Class of 2019. He's a 6-6 wing who will start 8th grade next month. (Note: The Lawsons were profiled by CBSSports.com last summer. You can read that here.)
Pastner's hiring of Keelon Lawson has been viewed in college basketball circles as smart and mostly essential considering multiple sources have told CBSSports.com that if Memphis didn't make the hire then some other Division I program would've. Keelon Lawson told CBSSports.com in May he had spoken with at least one other program about possibly joining its staff. But the former college player who won a state championship in 2009 while coaching Hamilton High in Memphis always made it clear that his preference was to take a job at Memphis and keep his family in its hometown, and that became a reality last week.
Dedric Lawson is the first top-10 prospect from the Class of 2016 to commit.
247Sports ranks Josh Jackson, a 6-6 guard from Detroit, No. 1 in the Class of 2016.
Gary Parrish and Matt Norlander discuss the latest in college basketball

The university also maintains that Pitino was appropriately fired

Price only made it nine games into his third season
The Wildcats won't play another currently ranked team until Jan. 10

The BC fan has a ton of apparel and gear headed his way after this putt

Durant's made a habit of making sure his alma mater is set with the latest customized gear