Defense, supporting cast make Porter and Georgetown dangerous
Otto Porter played well on Thursday, but his supporting cast and the team's defense are what will make Georgetown so tough in the coming weeks.
• 2 min read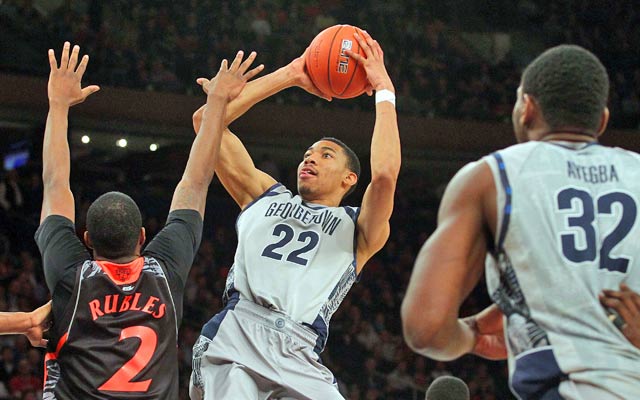 NEW YORK -- Over the past couple of months, Otto Porter has built a worthy case for National Player of the Year honors, helping lead Georgetown to the No. 1 seed in the Big East tournament and a top-five ranking.
Porter had another stellar game on Thursday, going for 18 points and six rebounds in a 62-43 win over Cincinnati in the conference quarterfinals.
But it was the Hoyas' outstanding defense and solid supporting cast that was impressive on Thursday -- and will make Georgetown so difficult to match up with in the NCAA tournament.
"Otto is getting a lot of attention, and he should," coach John Thompson III said, "but we have a very good team."
More on Georgetown-Cincinnati
Related links
More college basketball coverage
Georgetown has now won 13 of its last 14 games and would be in position for a No. 1 seed should it go on to win the Big East tournament. Once in the big dance, there aren't too many teams that will be disciplined and explosive enough to beat them on most nights.
The Hoyas play a variety of defenses, constantly switching looks to confuse opponents. Against Cincinnati, they played a 2-3 zone in the first half, not allowing the Bearcats to consistently get open looks. They also utilized fullcourt pressure, forcing turnovers and getting transition points. Finally, they played plenty of man-to-man, with Jabril Trawick chasing Sean Kilpatrick around screens and limiting him to four points on 2-for-12 shooting.
"We wanted to keep them off balance," Thompson III said. "Once they fall into a rhythm, it's hard to stop them."
On the other end, having consistent production from Porter's supporting cast has been a major factor in Georgetown's improvement. D'Vauntes Smith-Rivera has added perimeter punch since getting more minutes in the wake of Greg Whittington's suspension, and Markel Starks has increased his offensive role as well.
On Thursday, the Hoyas also got production from Trawick, who hit two 3-pointers and scored nine points.
"The attention [Porter] is getting is well deserved, but knowing that he's going to have that, we have to step up," Starks said.
"We know they're keying on him, so guys like Nate, Markel and myself have to get going," Smith-Rivera added.
Because of the way Georgetown plays, it is already difficult to prepare for the Hoyas on short rest. They are disciplined offensively once they get into a halfcourt set, utilizing cutting and passing from all five positions to get easy baskets.
Considering how tough it is to play Georgetown with a short turnaround, the ability of the Hoyas to change defenses on the fly makes them even more dangerous.
Oh, and we haven't really talked about Porter yet.
"We're not thinking, 'It's just Otto.' Nah, we play as a team," Starks said.
And that's what makes Georgetown scary in the NCAA tournament.
---
For more college basketball news, rumors and analysis, follow @EyeOnCBB on Twitter, subscribe to our RSS Feed and subscribe to our College Basketball Newsletter. You can follow Jeff Borzello on Twitter here: @jeffborzello
The voter has Northwestern seven spots ahead of undefeated Texas Tech, which just blasted the...

The 7-foot-1 center is the No. 3 prospect in the Class of 2018, according to 247Sports

Alabama enters the top 25 while Northwestern drops out after a rough week
Four years ago, Bryant told Jimmy Kimmel that he'd have picked UNC

Dates, start times and streams of LaVar Ball's interview with CNN

Wichita State and Notre Dame could meet in the final of the Maui Jim Maui Invitational