Derrick Jones emerges as a five-star prospect in 2015
Five-star rising junior Derrick Jones said Saint Joseph's, Temple, Cincinnati and Syracuse are on him the hardest.
• 2 min read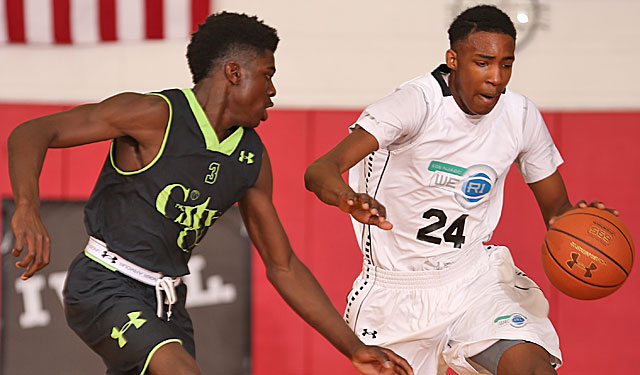 Most of the biggest stock-risers of the spring and early summer period were members of the class of 2014. Myles Turner emerged as one of the top five or 10 players in the entire country over the past few weeks, and he's not the only one.
However, there's a 2015 prospect who has blossomed into a five-star prospect in nearly every ranking and service: Derrick Jones.
The 6-foot-6 small forward from Archbishop Carroll (Pa.) was outstanding on the AAU circuit with We R 1, and he has been good in camp settings as well.
"I'm coming out with energy every time," Jones said. "I'm in the gym 24/7 working on my game. Getting my jump-shot better, getting my handling a lot better, getting my defense better."
Jones is a big-time athlete who excels in transition, finishing above the rim and attacking the paint. He runs very well and has a smoothness about his game that is impressive when going against stronger and older players. At the NBPA Top 100 camp a couple of weeks ago, Jones also showed an ability to knock down shots.
He said he's working on getting stronger and becoming more consistent from the perimeter.
"Last year, I probably could have hit a 3," Jones said. "But I wouldn't hit as many as I am now."
Saint Joseph's, Temple, Cincinnati and Syracuse are on Jones the hardest right now, with Rutgers, West Virginia also having offered. Xavier, UCLA, Villanova and Seton Hall are in the mix as well.
The only school he's visited so far is Temple.
"I like the campus," Jones said. "It's pretty big, and it's close to home. I'm open to any school. I like their coaching staff."
While he liked the fact that the Owls are something of a hometown school, Jones doesn't seem close to making a decision. He also said that he's open to going anywhere -- no matter location.
Campus and interest in the basketball program are high on his priority list.
"A big fanbase, lot of fans coming to the games and cheering us on," Jones said. "I'm a social person, so a big campus. Great coaching staff, great team. That's pretty much it."
Jones is ranked No. 15 in the class of 2015 at 247 Sports.
No. 12 Cincinnati will face Wyoming in the championship game

Trump is once again looking for gratitude from the outspoken father of LiAngelo and Lonzo

Missouri freshman will miss the season and likely never play another minute of college bal...
College basketball fans, especially those at Missouri, are robbed of the excitement Porter...

School officials expect the five-star freshman to miss the rest of the season

The Bluejays are 4-0 with some impressive victories, including a win vs. the Bruins on Mon...