Derryck Thornton using U-16 disappointment as motivation
Derryck Thornton is one of the best point guards in the class of 2016, but he didn't make the cut at the recent U16 National Team tryouts.
• 2 min read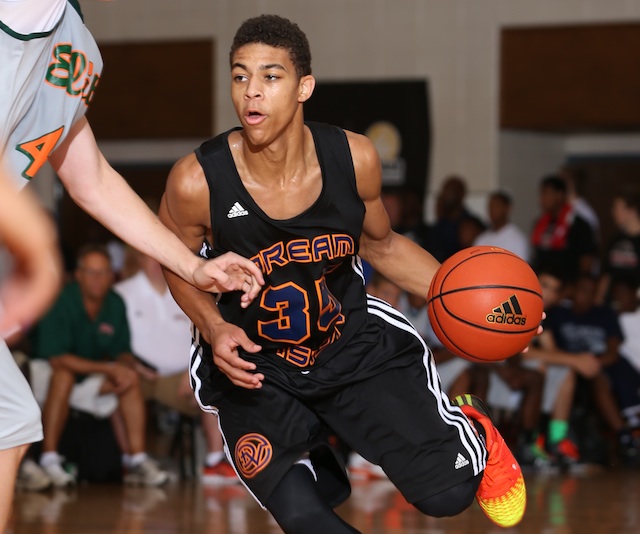 Derryck Thornton's summer didn't get off to a great start, as the 6-foot high school sophomore was cut from the USA U16 National Team back in June. While there was plenty of initial disappointment, Thornton has moved on.
In fact, he's using the experience as motivation.
"It's been helping me a lot, just playing," Thornton said. "I've been working a lot harder. I feel like I did really well. I had too many turnovers, but overall I did pretty well. I got to meet a lot of good players. It was pretty fun."
Thornton, who will play at Findlay Prep (Nev.) next season, is one of the top point guards in the class of 2016. He established himself as a potentail five-star candidate more than a year ago, proving he could hold his own against older and more experienced players.
He said that playing up with U-17 and U-16 AAU teams has forced him to improve his game.
"I feel like I'm leading better," Thornton said. "Trying to get my teammates involved more, and then just score off the dribble. There's little things in my game to fix, and playing up helps me figure out what I'm not doing great."
Thornton is a long way from making a college decision, but he's already hearing from plenty of schools. Kentucky, Duke, North Carolina, Arizona, UCLA, USC and Michigan have all reached out.
He's also already taken trips to USC and Arizona.
"I like the atmosphere," Thornton said. "The schools are very nice. Everyone I met was very nice. Both visits were very fun."
While many of the schools on his list are from the West coast, the program making the biggest push for Thornton is a couple thousand miles away: Michigan.
"They let their point guards run and score," Thornton said.
Another Big Ten program has become involved recently, with Indiana watching a few of his games and beginning to make contact.
"They haven't really contacted me a lot, but they've talked to my coach," Thornton said. "I don't know much, but what I do know, I like so far. History, their style of play, they get up and down. I like to run up and down, just make plays and have fun."
Because Thornton is so young, he's a couple years away from making a decision. As a result, he only has a couple of boxes on his destination checklist right now.
"The interaction with the coaches and the players. I like to be really close to my coach and have a good relationship with my coach," he said. "I'm really open to pretty much everything. I haven't really looked seriously into anything yet. I'm just trying to enjoy the recruiting process right now."
Thornton is ranked as a high four-star prospect in most recruiting services. 
Zack Cimini has been on a roll in college basketball and locked in a play for Texas-West V...

Zack Cimini is on a college basketball heater and just locked in a strong pick for Saturda...

Our advanced computer model simulated Saturday's Arizona-Stanford game 10,000 times
'If you want it, you're world champs,' A-Rod told the Spartans, which isn't exactly correc...

The players have the right to appeal the decision within three business days

Young is coming off his worst game as a Sooner and will try and bounce back vs. the Cowboy...