Despite Pearl's show-cause, Auburn making plenty of recruiting inroads
Bruce Pearl is able to recruit beginning on Sunday -- and Auburn and its head coach are hitting the ground running.
• 3 min read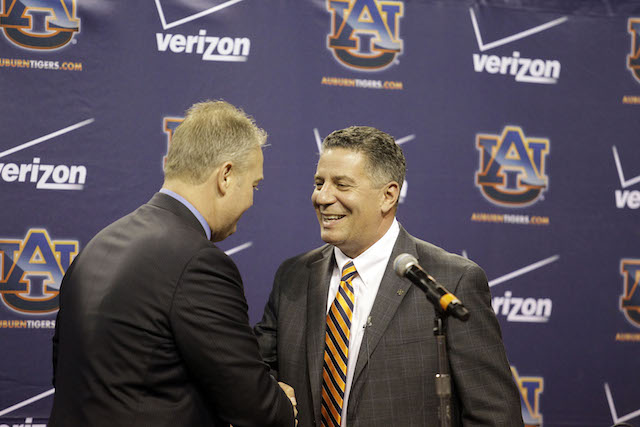 Bruce Pearl's three-year show-cause penalty ends on Saturday night, and he will finally be allowed to talk to recruits and coaches and parents for the first time since taking over at Auburn.
Pearl will also be allowed to go on the road to recruit for the first time in three years, so he will be spending his first day . . . at Auburn.
That's because four-star prospect Horace Spencer is taking a visit to Auburn this weekend, and the visit will begin on Sunday morning – right after the show-cause penalty ends.
Spencer is a 6-foot-8 power forward from Findlay Prep (Nev.) and one of Auburn's top targets in the 2015 class. UNLV is also in a strong position with Spencer, but getting the first visit with Pearl could help Auburn.
Sunday is also the date for Auburn's elite camp, for which at least 80 kids will be on campus. The names have not been released for the camp, but it's expected that multiple targets in 2015, 2016, 2017 and possibly even 2018 will be in attendance this weekend.
Pearl is clearly hoping to make up ground quickly with prospects, as he's been unable to help out at all since he was hired in mid-March. He's watched some film on kids, but it's been the assistant coaches laying the groundwork for Auburn's biggest targets in 2015.
They got off to a good start with the class of 2014, helping upgrade the talent within the program almost immediately. Cinmeon Bowers was one of the top JUCO players in the country, while freshman T.J. Lang helped inject some youth into the program. After some drama, Marshall transfer Kareem Canty ended up at Auburn. And more importantly, the Tigers landed graduate transfers K.C. Ross-Miller from New Mexico State and Antoine Mason from Niagara. Mason was the nation's leading returning scorer, and both he and Ross-Miller will be eligible immediately.
As far as the class of 2015, Auburn has yet to land a commitment. In-home visits start September 9, and the Tigers will also soon begin to welcome official visitors to campus.
Outside of Spencer, one of the biggest targets on Auburn's board is Danjel Purifoy. The Alabama native was impressive at the UAA Finals event in July, and he visited Auburn's campus in June.
"I went there for a visit three weeks before we came up here," Purifoy told me at that event in July. "It was a good experience."
The Tigers also made the final lists of a strong group of prospects.
Five-star wing Dwayne Bacon trimmed his list to 10: Georgetown, Florida State, Auburn, South Florida, USC, SMU, UNLV, Tennessee, Oklahoma State and Georgia Tech.
Top-40 prospect Derrick Jones is still considering nine schools: Connecticut, Kansas, Kentucky, Florida, Louisville, North Carolina, Arizona, Auburn, UNLV.
Guard Wendell Mitchell (Rockdale, Texas/Rockdale) has five remaining: Auburn, Baylor, Kansas State, SMU and Texas Tech
Kaiser Gates (Alpharetta, Ga./St. Francis) is down to eight: Auburn, Missouri, Texas Tech, Georgia, Cincinnati, Xavier, LSU and Oklahoma State. He is expected to be at the elite camp on Sunday.
Auburn is casting a wide net for its 2015 targets. The Tigers are in solid position with combo guard New Williams, a 6-foot-2 Santa Monica (Calif.) product. They offered him in April, and he is expected to visit soon.
"They have moved up pretty high," Williams told 247Sports in the spring. "They're a high-quality school. They're in the SEC and they play top-level talent and I like to be challenged."
Louisiana Dynasty guard Jacob Evans shot up the recruiting boards of several schools after a strong July, and Auburn was no different. The Tigers offered him in late July, and he's squarely on their target list.
They are also hitting the junior college trail again, targeting 6-foot-5 T.J. Dunans out of Columbia State. Brad Winton of JUCORecruiting.com says Dunans could be the best junior college prospect in the country, as he scored 52 points in an NJCAA Tournament loss last season. According to Winton, Dunans has set an official visit to Auburn for September 13. Penn State and Cincinnati are also on his list. 
Auburn will be busy over the next couple of months, looking to continue the momentum gained from a strong spring in the transfer market. Starting Sunday, though, the Tigers will now get the charismatic Pearl to help land players.
Given how many inroads Auburn has already made in 2015, Pearl's finishing touch will make the Tigers a factor on the recruiting trail.
Was there contact? 'Everybody saw it,' UK coach John Calipari said

After losing its second game this week, a deep NCAA Tournament run looks far-fetched for U...

Coach K shows he is on on top of his game by landing the best three prospects in the Class...
The Buckeyes and Boilermakers continue to assert their dominance in the Big Ten

The 5-star phenom was thought to be headed to Clemson, but was swayed to the Blue Devils

The nation's No. 3 player will commit Saturday and here's his impact on each of his finali...