Did LeBron's 'Decision' lead to Okafor-Jones package? I think so
LeBron James showed in 2010 that it's cool for elite players to willingly share the spotlight in a quest for a championship. Now Jahlil Okafor and Tyus Jones are doing it at the college level.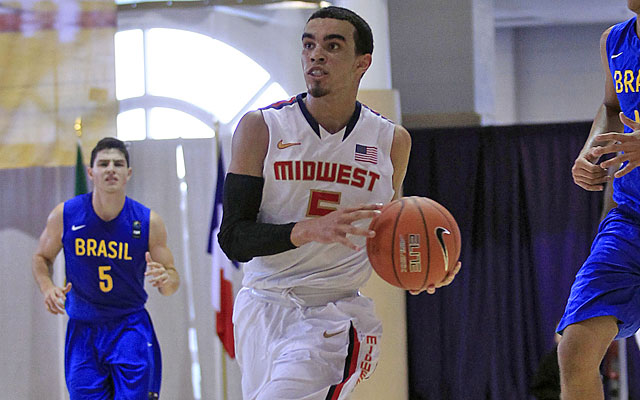 On July 8, 2010, in a 75-minute special that forever changed the way athletes announce things, LeBron James sat across from Jim Gray and told the world that he would take his "talents to South Beach and join the Miami Heat."
His reasoning?
"I feel," James said, "like it's going to give me the best opportunity to win."
And the reason for that?
The presence, of course, of Dwyane Wade and Chris Bosh.
I bring this up on this day because Jahlil Okafor and Tyus Jones announced Friday afternoon -- on national television, it should be noted -- that they are taking their talents to Duke, where they're going to similarly give themselves -- not to mention Blue Devils coach Mike Krzyzewski -- the best opportunity to win, and it's difficult not to connect the dots and trace it back to The Decision. NBA stars are trendsetters, after all. They start wearing headbands, kids start wearing headbands. They start wearing shooting sleeves, kids start wearing shooting sleeves. They start talking about taking their talents somewhere, kids start talking about taking their talents somewhere. And, on the subject of that last fact, I'm going to put my head through a wall if I ever hear another kid talk about taking his talents somewhere. Just take your bookbag, bro. Your bookbag will do.
Anyway ...
Neither Okafor nor Jones used that phrase on Friday.
Good for them.
But they still decided together to become the most significant so-called package deal in the history of college basketball, and they're now the sport's version of James-Wade-Bosh. Those three NBA All-Stars were friends from summers spent together playing for USA Basketball, and they opted, back in 2010, to team together in Miami in the spirit of winning. Fast-forward to today, and they've stacked two championships and are the favorites to win a third next June, according to Las Vegas sportsbooks. Things are going brilliantly. So now, more than ever, high school prospects are taking notice and seriously considering teaming with elite-level friends from different parts of the country.
Okafor and Jones just did it.
One of them (Okafor) is widely considered to be the nation's best big and prospect in general, the other (Jones) is probably the top pure point guard playing prep basketball today. And, this is important to remember, they didn't just happen to pick the same school like John Wall and DeMarcus Cousins once did, and they aren't AAU teammates who decided to continue their careers together like Mike Conley and Greg Oden once did. Okafor and Jones are elite players from different states who met on the summer circuit and -- like James, Wade and Bosh -- through USA Basketball. They first decided they'd play in college together, then decided to figure out where. And though they've insisted forever that such would be the case, lots remained skeptical because something exactly like this had never really happened before. But it has happened now. Consequently, Duke will likely be projected as champions the moment Okafor and Jones throw on uniforms the same way the Heat were projected as champions the moment James, Wade and Bosh threw on uniforms. And, if everything goes as planned, the guess here is that two other top prospects will decide to commit together the next year ... and the next year ... and the next year, too.
This is the way things work.
We live in a world of copycats.
Once James, Wade and Bosh showed it's cool for stars to willingly share a spotlight in the quest of a championship, a door was opened. Okafor and Jones just walked through it. Now I'm wondering which combination of top-10 prospects will be the next to follow suit.
It's rare to see two incredibly gifted big men going head to head this early in a college hoops...

The Wildcats are no longer undefeated after losing to NC State

Brey's team overcame a 16-point deficit to top Wichita State in the Maui finale
No. 13 Irish led for only 22 seconds, but a pair of clutch free throws lifted them to a Maui...

Freshman overcomes plenty before he even puts on a jersey and then sparks signature win for...

Officials didn't buy the flop, but the Mastadons player gets an A-plus for his acting effo...