Diminutive guard Stevie Clark staying in 2013, names top five
Over the past month, Stevie Clark had said he was thinking about graduating high school a year early and enrolling in college. Now, Clark says he plans to stay in the class of 2013.
• 1 min read
Seemingly out of nowhere, 2013 prospect Stevie Clark made headlines last month when it was reported that he might graduate high school early and enroll in college in the fall.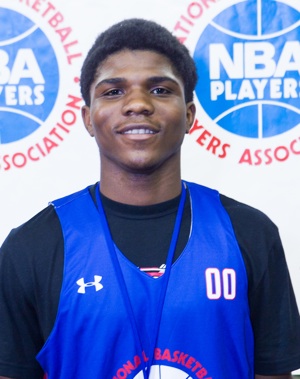 Stevie Clark is only 5-foot-9, but he has some of the best 3-point range in the class of 2013. (Davide DePas)
The reasoning behind Clark's thought process was Douglass (Okla.) coach Terry Long leaving for another high school job. Clark was close with Long, and was ready to move on – but now Clark has decided to return to Douglass for his senior season.
"I'm staying in high school," he told CBSSports.com last week. "My high school coach had left. It shook me. I couldn't see myself playing for anyone else.
"But the new coach wasn't approved by the board, so coach Long is coming back."
Clark, a 5-foot-9 guard, is content with his decision to spend another year in high school.
"I wouldn't have gotten as many minutes in college," he said. "Now I can develop my body and enjoy the process."
Ranked No. 75 in the class, Clark is a lights-out shooter with tremendous range on his jumper. Despite his small stature, Clark is able to get his shot off against taller defenders, and has improved his ability to go off the dribble and finish at the rim. If he gets hot from behind the 3-point line, he can carry a team.
At the NBPA Top 100 Camp last weekend, he averaged 8.9 points, 2.1 rebounds and 2.6 assists -- some of the better all-around numbers of any guard at the event. His recruitment heated up when he said he might reclassify to 2012, and there are still many schools interested in the four-star guard.
Clark said his top five included Connecticut, Missouri, Florida State, Oklahoma State and UCLA, but he is also hearing from other schools and said he is still open in the process.
Most likely, a decision won't come until next spring.
"It's just to see the coaches and college players, a chance to build my relationship with the coach," Clark said. 
Louisville's coach predicts a change is coming to the NBA's one-and-done rule by 2019

Multiple former players of Lonergan's alleged verbal abuse and inappropriate remarks

When Miller left for Indiana, there was cause for concern in Flyerland; a top-100 signee says...
The Hoyas will spend their non-league schedule playing mostly nobodies -- as will most big...

An overview of what the most interesting conference will offer up this season -- beyond Duke...

The sneakers were made to commemorate the Tar Heels' six national championships