Disconnect between Tom Crean and players has Indiana in disarray
Six IU players have been involved in some sort of off-the-court/headline-grabbing incident in the past 10 months. That, combined with too many losses, has some calling for Tom Crean's job.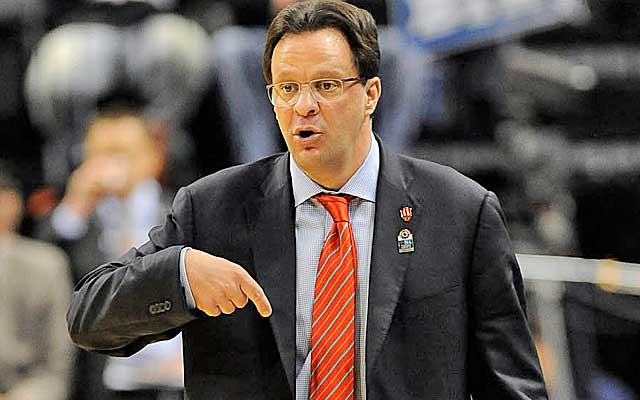 The text came from a college basketball coach late Monday.
It consisted of four words that created a simple question about Indiana's Tom Crean.
"Can he survive this?"
Needless to say, it's never good when your colleagues are asking such questions literally days before the start of your season. Likewise, it's never good when a caller waits on hold during your first coaches show of the year to ask why you still have a job. And it's never good when the local columnist is essentially calling for your job. And it's never good when your boss is forced to try to defuse the entire situation publicly.
"Tom is absolutely not in trouble," Indiana athletic director Fred Glass told the Herald-Times. "Tom is part of the solution. He's not part of the problem."
Before we go any further, let me say this: I believe Glass when he insists Crean is not in trouble ... at least not now. He won't be fired today or tomorrow. He won't be fired for anything that's happened already. Technically, that's all Glass is saying. And I believe him.
But what happens when Crean posts a losing record in the Big Ten for the fifth time in seven seasons? And misses the NCAA tournament for the fifth time in seven seasons? And doesn't secure the type of recruiting class that excites anybody? And has more off-the-court issues (because history suggests he'll have more off-the-court issues)?
Then what?
Will Glass back him then?
Honestly, I doubt it, if only because a frustrated mob of Indiana fans would then set their sights on Glass. So, make no mistake, Tom Crean is absolutely in trouble here. Again, he won't lose his job today or tomorrow ... or even next week (unless something new and wild emerges at some point in the next week). But Crean was never going to have a roster good enough to compete at the top of the Big Ten this season, and now that ho-hum roster has four players starting the year either suspended or injured by one of the suspended players. Consequently, most smart projections have the Hoosiers missing the NCAA tournament, and I think those projections are probably accurate. And when you combine those projections with the fact that six Indiana players have generated troubling national headlines for off-the-court transgressions since February, it's reasonable to predict doom.
Which is crazy.
Twenty months ago, Indiana was a No. 1 seed in the NCAA tournament.
Now it's a mess.
So the question is simple: What happened?
****
"There is definitely a disconnect between Tom and the players," one source close to the program told CBSSports.com, and that source added it's been that way for years. Where the disconnect originated is up for debate, and how it escalated to a point where one underage player who was drinking (Emmitt Holt) seriously injured another underage player who was drinking (Devin Davis) by striking him with a vehicle this past weekend is unclear. But it's hard to deny the disconnect, and that disconnect has been obvious for a while.
One example is Noah Vonleh's decision to leave IU after one season.
To be clear, it's not that Vonleh left.
He should've left.
But what I always found interesting about Vonleh's decision was how he announced it while Crean was totally in the so-called dark. In other words, Vonleh told me on the record and for public consumption before he told Crean. And, though I was appreciative, I've been doing this long enough to know that's not how things normally go down.
Typically, a player tells his coach first.
Or that player (or his agent) simply leaks the news anonymously.
But Vonleh was perfectly comfortable announcing to the world, late on a Sunday night during the NCAA tournament, that he was exiting the program and becoming a professional without first having disclosed the news to Crean, and that's an undeniable sign of some sort of breakdown between a coach and a player.
I'm told that disconnect also existed when Crean's team was top-ranked in 2012-13.
"It's just that those guys were so talented that they rallied around each other and won," a source said. The same source detailed how there are no seniors on this Indiana roster and just two relevant juniors. Those two relevant juniors -- Yogi Ferrell and Hanner Mosquera-Perea -- have both been caught violating the law in cases related to alcohol, and is it any surprise some of the younger players have unfortunately copied the example they've set?
"It's just a bunch of guys running around," a source said. "No leaders."
****
"I was a manager under Crean for the 2012-13 season," Tyler Devitte told me Tuesday. "I can confirm the disconnect started that season. ... Tom's words seemed to go in one ear and out the other with the younger guys."
Those "younger guys" are now the juniors (Ferrell, Mosquera-Perea) or players who are no longer with the program for one reason or another (Remy Abell, Austin Etherington, Peter Jurkin, Jeremy Hollowell), and Devitte painted a picture of them privately questioning everything from strategy to substitution patterns. In fairness to Crean, there's nothing too unique about young players questioning their coach. But Devitte's main point was that Crean, for all intents and purposes, lost those young players that season, and, as other sources explained similarly, he was never able to reconnect with them.
Devitte left the program after that 2012-13 season. Still, he was, like all managers are, very much a part of the program that season, working side-by-side with the staff for countless hours, hanging behind closed doors with the players day after day. His lasting memory, he said, is this: "Crean never learned my name and always called me 'Detlef Schrempf' or 'Hey You' despite me telling him my name is 'Tyler' over and over again. I'd run errands to his house, drop off his kid, Riley, and he still wouldn't make an effort to learn my name."
****
Beyond all of this, it's worth pointing out the news that Troy Williams and Stanford Robinson will miss two exhibitions and two regular-season games for failed drug tests leaked Monday -- less than three days after the alcohol-fueled incident that has Davis still lying in a hospital with a head injury, and it's difficult to believe that's a coincidence considering a source told CBSSports.com those drug tests were failed "several months ago."
My guess: Somebody with knowledge of the failed drug tests recognized leaking them now is a good way to pile on Crean, and, well, it worked. The seventh-year coach spent his first coaches show listening to a caller ask why he still has a job, and, unless Crean overachieves with this roster, that question will be repeated lots over the next four months.
None of which means Tom Crean is necessarily a bad guy.
None of which means Tom Crean is necessarily a terrible coach.
(Personally, I've known him for years and have always liked him fine.)
All this means is that Tom Crean is in a tough spot at a high-profile job with a passionate fan base, and those tough spots are hard to escape. Yes, I know, he has a buyout of $12 million, and that's an awesome job by his agent. But $12 million won't prevent a school with Big Ten money from pulling the plug on a coach overseeing a roster in disarray who doesn't win enough, and that's why Tom Crean had better win enough this season. Or else.
CBS Sports HQ Daily Newsletter
Get the best highlights and stories - yeah, just the good stuff handpicked by our team to start your day.
Please check the opt-in box to acknowledge that you would like to subscribe.
Thanks for signing up!
Keep an eye on your inbox for the latest sports news.
Sorry!
There was an error processing your subscription.
Martin ended a six-game drought of missed 3s with a huge shot in clutch time

SportsLine's advanced computer model simulated Tuesday's Arkansas vs. Tennessee game 10,000...

A look at what to watch this week in college hoops on CBS Sports Network
The sudden turn from in trouble to on scholarship never gets old

Only seven players in recent college hoops history have done what Gardner did -- none of them...

Howard scored 53 points in a game? Yeah, this isn't a hard call. This player of the year candidate...