Donnavan Kirk transfers back to Miami -- is this a trend?
Donnavan Kirk started his career at Miami -- and now he's going back. The same goes for Brandon Reed, who will play at Arkansas State next season.
• 2 min read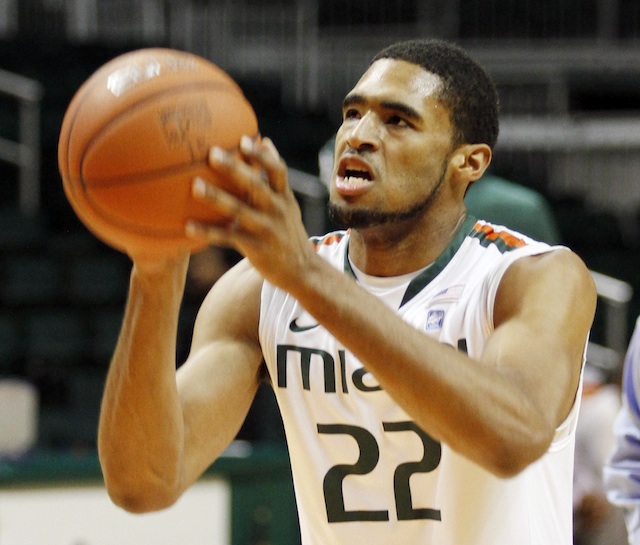 Donnavan Kirk wasn't much of a factor at Miami during the 2009-10 and 2010-11 seasons. Under Frank Haith, he totaled just 45 points and 30 rebounds in 150 minutes.
So he decided to transfer to DePaul -- where he improved over the course of two seasons, averaging 6.2 points and 3.9 rebounds last season with the Blue Demons. Apparently there were no hard feelings between Kirk and Miami, though, as Kirk is headed back to the Sunshine State.
On Wednesday morning, a source informed CBSSports.com that Kirk was transferring to Miami for his final season of eligibility. He is a graduate student, so he can play immediately.
"I am a lot stronger than when I came in to Miami as a freshman," Kirk said, according to State of the U. "My body is better. I am more intelligent. I have learned so much about the game. I am a better shot-blocker and a better shooter. I made a lot of strides in my game at DePaul. But I still have a lot of strides to make."
Kirk is a nice pickup for Miami, especially since the Hurricanes lost their top three interior players from a year ago. He should get post minutes immediately.
Kirk isn't the first player to return to his original school this offseason. Back in May, Georgia Tech guard Brandon Reed announced he was leaving the Yellow Jackets to play at Arkansas State -- where he left in 2010 after winning Freshman of the Year in the Sun Belt.
At the time, head coach John Brady was none too happy.
"Arkansas State gave [Reed] an opportunity to play at a high level and put him in a system that allowed him to showcase his talent and prove himself as a player in his first year of Division I basketball," Brady said back in May of 2010. "We gave him a scholarship when other schools that saw him did not. It is a situation that really disappoints me, upsets me, is not right and does not sit well with me."
Reed, a 6-foot-3 guard from Georgia, never truly made the impact he expected at Georgia Tech, averaging 5.2 points this past season and seeing his minutes take a significant hit.
And now, he's headed back to where it all started -- and Brady suddenly couldn't seem happier.
"We are excited about Brandon rejoining our program and enrolling in our master's degree program," Brady said in a release this spring. "He brings leadership, experience, and an ability to score the basketball. His family and I have visited in depth about this move and we all believe it will benefit all involved." 
The examples of players leaving a school and then transferring back a few years later were very hard to find -- until this offseason. Will this become a trend? Doubtful. Sure, there is the familiarity factor, and a player sometimes still has a relationship with his former coaching staff. But there is also plenty of animosity in certain transfers, and the idea of a player and coach reuniting after a bad breakup seems far-fetched.
But, hey, we all probably know two people who have gotten back together a few years after breaking up. It's just happening in college basketball now, too.  
Fall is being shut down after dealing with shoulder injuries and will undergo surgery soon

The Wildcats' resume doesn't seem too impressive right now

Was there contact? 'Everybody saw it,' UK coach John Calipari said
After losing its second game this week, a deep NCAA Tournament run looks far-fetched for U...

Coach K shows he is on on top of his game by landing the best three prospects in the Class...

The Buckeyes and Boilermakers continue to assert their dominance in the Big Ten