Don't underestimate Cincinnati, despite lack of style points
Will Cincinnati be the most attractive team in the country? Not even close. But it will win games in March.
• 3 min read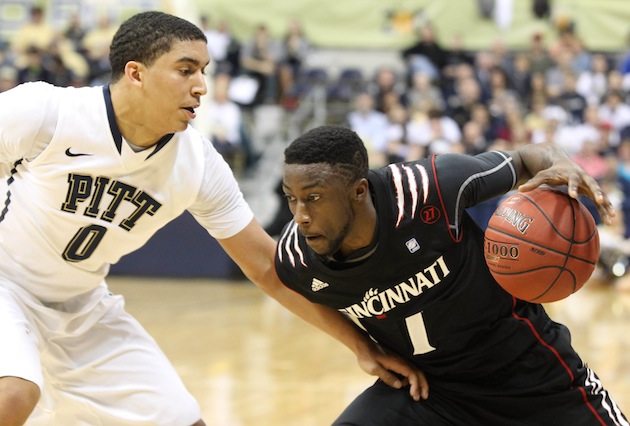 Veteran guard Cashmere Wright had 18 points to lead Cincinnati to an impressive road win at Pittsburgh. (US Presswire)
When comparing Cincinnati to some of the other top-10 teams in the country, it's easy to see why the Bearcats aren't exactly thought of as a Final Four contender. On paper, at least.
In reality, Cincinnati is going to be a team that no one wants to see on their side of the bracket come March. The Bearcats proved that Monday, when they went into Petersen Events Center and knocked off Pittsburgh, 70-61.
It didn't start off that way.
More on college basketball
Related links
The first half showed why people don't think Cincinnati has a great ceiling or deep-run potential in the NCAA tournament. The Bearcats couldn't really score in the half court and were relying too much on isolation and one-on-one situations. Even I started thinking about how to write a "Pittsburgh finally gets a statement win" blog. Cincinnati just looked ugly and ineffective offensively.
The second half was a completely different story, with Cincinnati outscoring Pittsburgh by 17 en route to the victory. However, the performance in the final 20 minutes wasn't that much prettier -- which is the point. Cincinnati won't win style points or pass the "eye test" for attractive basketball, but the Bearcats are going to win games, both in the Big East and in the NCAA tournament.
Cincinnati is one of the toughest teams in the country, and it gets stops on the defensive end. After Pittsburgh's Lamar Patterson hit a layup (and foul) with 13:43 remaining in the game, the Panthers managed just one field goal over the next seven minutes. By that time, Cincinnati had turned a four-point deficit into a 10-point lead -- and it's tough to make up that sort of gap against a team like the Bearcats. They have big guys down low who can block and alter shots because of their length, and wings Sean Kilpatrick and JaQuon Parker are strong and physical.
They have an outstanding, veteran backcourt with Kilpatrick and point guard Cashmere Wright. Wright had 18 points against Pittsburgh, and he knows how to make big shots. He has proven that we probably made a mistake when leaving him out of our top-50 point guard rankings in the preseason. He and Kilpatrick are enough to carry the Bearcats offensively, limiting prolonged droughts. When those guys are off, Cincinnati makes a killing on second-chance points. The Bearcats rank among the top-10 teams in the country in offensive rebounding percentage, and they were able to grab 12 of them Monday.
It's easy to say that Cincinnati relies too much on its guards and ability to score from the perimeter, but the Bearcats made just three 3-pointers against Pittsburgh and managed to win. Taking 35 foul shots was likely an anomaly, since Cincinnati averaged just about 20 for the first 13 games of the season. But the Bearcats were able to get points in the paint, making things easier on Wright and Kilpatrick. That will be key going forward -- getting easy baskets and bonus opportunities at the free-throw stripe.
Cincinnati doesn't have the explosiveness of Kansas, the multi-threat offense of Duke or the talent and depth of Indiana, but the Bearcats would be a bear (or cat) of an opponent for anyone. They will muddy things down and simply make things difficult for their opponent.
Will Cincinnati be a chic pick to reach the Final Four come March? Highly doubtful -- the Bearcats are probably no better than No. 3 in the Big East behind Louisville and Syracuse.
Like last season, though, this team has guards and it has defense. That's a good recipe for winning a few games in the Big Dance.
For more college basketball news, rumors and analysis, follow @EyeOnCBB on Twitter, subscribe to our RSS Feed and subscribe to our College Basketball Newsletter. You can follow Jeff Borzello on Twitter here: @jeffborzello
Oklahoma's star freshman has a father who has been there and done that

Kentucky now is at risk of slipping out of the Top 25 (and one)

Cherry's commitment gives ASU a top-20 recruiting class and its highest rated pledge since...
Matt Norlander is on a 11-7 run in college basketball picks and shares his best bets for W...

Kentucky losing this game probably cost it a shot at earning a high NCAA Tournament seed

Freshman had 12 turnovers and 20 points; the Wildcats rattled him and kept OU on its heels