Door is open for Creighton to make its mark on Big East history
Creighton could make its mark in Big East history by winning the conference tournament title.
• 3 min read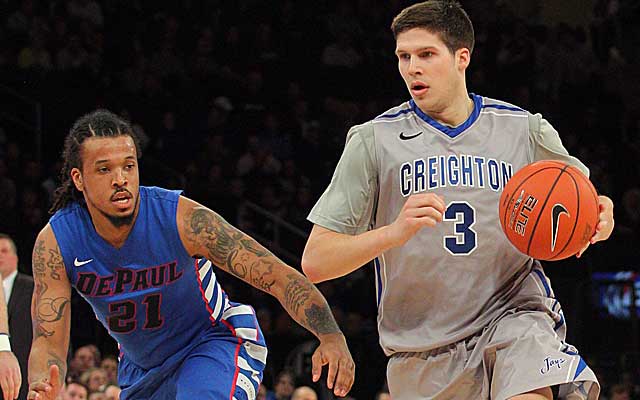 Latest in hoops: Top 25 (and one) | Bracketology | Bubble Watch
NEW YORK -- The door is open for Creighton.
The door is open for Creighton make a very loud statement, to cement its mark in conference history in its first season in the league.
Creighton beating DePaul 84-62 in the Big East quarterfinals doesn't seem like much on the surface, but combined with Villanova's loss to Seton Hall earlier Thursday, it means the Bluejays are the favorite to win the conference tournament.
A victory against Xavier on Friday would send the Bluejays into the final on Saturday night and a shot at the title.
And when the Bluejays entered the league, there were some serious questions regarding whether they could do that right away. The step up in conference, the step up in night-in, night-out action -- would that be too difficult for Creighton?
"I wanted to come back to school to set the tone for our move into the Big East," Creighton star Doug McDermott said. "I feel like we've definitely proved that as a senior class."
McDermott obviously has been the catalyst for most of Creighton's success this season, and Thursday night was no different. The National Player of the Year frontrunner -- and by "frontrunner," I mean nobody is within miles -- had 35 points and seven 3-pointers. The seven 3-pointers were a career-high, and his 27 first-half points set a Big East tournament record for most in a half.
Coach Greg McDermott said it was one of the best performances he has seen from Doug, and considering McDermott the younger just surpassed 3,000 points for his career, that's pretty high praise.
"As a kid, you dream of playing in venues like this," Doug McDermott said. "Watching the [Big East] tournament, you remember the [UConn star] Kemba [Walker] moments. To be a part of it was definitely in the back of my mind."
Creighton is the talk of the Big East, and the Bluejays need to take advantage of the opening.
"I think it would solidify the season we've had a little more," senior Grant Gibbs said. "It would be a great way to cap off our inaugural year in the Big East. Our goal was win the conference outright, which we didn't get to, but this one is still alive."
While Gibbs is right and Creighton came in second in the league, no one foresaw the Bluejays running through the league the way they did. They destroyed regular-season champion Villanova twice, averaging 98.5 points in the two games. Ten of their 14 Big East victories came by double-digits, and that does not include Thursday's 22-point tourney victory.
McDermott erased any doubt about how he would perform against better competition on a nightly basis, becoming the clear-cut best player in the league and seemingly topping career-bests on a nightly basis.
The Bluejays admittedly had some nerves the first time they visited Madison Square Garden, but fortunately for them, that came against St. John's in early February -- and now that it's out of their system, it's bad news for the rest of the conference.
"That awe factor was taken care of," Greg McDermott said. "Now it's about concentrating and getting down to business." 
And that business would include making their mark on the Big East in a major way after just one season.
Who knows what the future holds for Creighton in a post-Doug McDermott world? When Doug McDermott, Gibbs, Ethan Wragge and Jahenns Manigat depart, Greg McDermott will face something of a rebuilding year. And that might be harder to do in a power conference.
But that's next season, and Creighton already has proven it's ready for any challenge in the Big East.
A conference tournament title would cement that idea.
"We talked about this with this group of seniors, how important this year was in terms of establishing ourselves and hitting the ground running for the generations in our program," Gibbs said. "I think it would be a big statement for really being considered out of that mid-major mold and that we're a legit contender in this conference."
The door is open.
Josh Nagel has almost two decades of handicapping experience and locked in a play for Monday's...

The Wildcats stumbled to an 0-2 record this week and fell out of the top 25

Gary Parrish and Matt Norlander also get into Trae Young's 48 points on 39 shots at Oklahoma...
The Wildcats had been ranked for 68 consecutive weeks

The Wildcats and Sooners have lost their last two games and drop in Jerry Palm's latest br...

Irving is impressed with what he saw and heard from the No. 3 player in the nation