Dorian Finney-Smith an important new piece for depleted Gators
After transferring from Virginia Tech to Florida, 6-8 forward Dorian Finney-Smith will seek to make an impact in the SEC.
• 4 min read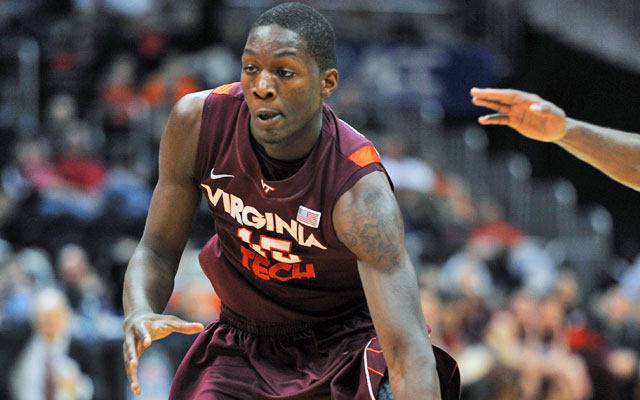 Dorian Finney-Smith was a highly productive freshman two years ago at Virginia Tech.
The 6-8 wing was versatile, could defend multiple positions, and showed a penchant for regularly filling up the box score.
When Seth Greenberg was fired as coach of the Hokies following the 2011-12 season, Finney-Smith became a major commodity when he announced his intentions to leave Virginia Tech and transfer.
He wound up at Florida.
And Billy Donovan expects him to make an immediate difference this season for the Gators.
"The best thing about his game is he can really handle and pass," Donovan said of Finney-Smith, who averaged 6.3 points and 7.0 rebounds two years ago for the Hokies. "He can make the game easy for people because he can beat people off the dribble. He's a totally different player when he's at the four or at the three than people we've had the past few years. We've played pretty much three guards. Now when you look at Corey Brewer, Chandler Parsons, Mike Miller, you've got that in Dorian at the small forward spot potentially. If you have him at the power forward spot, you have more skill than maybe Erik Murphy had but you're not getting the same shooting. He's one of those guys that can play multiple positions and we've got to use him in different ways. He brings a different element to our team."
And Florida will need him to do a little bit of everything early because the Gators roster is currently beyond depleted.
Veteran point guard Scottie Wilbekin is suspended indefinitely and according to Donovan, "will miss games and practices" but there is no timetable. Patric Young is coming off ankle surgery and is also dealing with tendonitis. Rutgers transfer Eli Carter, who was just recently cleared by the NCAA to play this season is coming off ankle surgery and won't be ready for the start of practice. Veteran forward Will Yeguete is also on the mend after microfracture surgery. Freshman forward Chris Walker is currently not enrolled at Florida but Donovan is optimistic he'll be on the court in December or January.
That's five likely rotation players that won't be on the floor when the Gators begin the season.
"I'm concerned right now about our team just because of our health issues," Donovan said. "If you look at our team on paper, you may say 'wow', but if we had to play a game the first day of practice we'd be missing some real key ingredients to our team. Scottie Wilbekin is going to miss games. He's going to miss practice. How much I don't know, but you're talking about your starting point guard not being with you to start the season."
And that will put even more of the spotlight on freshman point guard Kasey Hill. The highly decorated floor general will have to be immediately ready to run the Gators' offense and defend the opponent's point guard.
"It's huge," Donovan said when asked of the importance of Hill's role early. "How he's going to respond early though is up in the air. He's a freshman point guard. I love him and he's great to coach and great to be around. But now you're talking about taking the reins and having to a run a team without a bulk of experience and your starting point guard isn't around. We're going to need some other players on the team to help with his transition."
One of those players should be sophomore guard Michael Frazier. The 6-4 sharpshooter averaged 5.6 points per game last year as a freshman and made 52 three-point shots. Now though, Frazier will be looked upon to regularly produce at a high clip.
Can he be consistent?
It's just one of many questions that are going through Donovan's head right now.
"The complexion of our team has changed," Donovan said. "We lost three great outside shooters in Erik Murphy, Kenny Boynton, and Mike Rosario. Who else can provide perimeter shooting for our team? What's our identity in terms of how we're going to play? I do think our front line if healthy is big, long athletic, and versatile. You can do some different things. I do think though we're going to have to find some more depth in our backcourt. Eli Carter being healthy would have helped that because he's been a proven scorer in the Big East the past two years. For me, creating an identity for our team is going to be very important."
Florida returns several key rotation players from last year's team that reached the Elite Eight and lost to Michigan. In addition to Young, Yeguete, and Frazier, Casey Prather is a solid energy guy that has big game experience. Donovan is also high on South Carolina transfer Damontre Harris, a 6-10 big man who averaged 6.8 points, 5.5 rebounds, and 2.3 blocks per game two years ago for the Gamecocks.
Still, even with the overwhelming talent this program has on paper, there's a bit of an uneasiness surrounding the Gators' role allocation.
Florida may be like a Rubik's cube to start the season -- a unit full of possibilities but none of which have properly aligned yet.
"We're going to have to come together as a team and we're going to have get connected as a team," Donovan said. "I think there's more work in front of us for our team this year even though we're a veteran group, than maybe we've had in front of us the last three years."
For the first time in years, the Shockers played a must-see game with national implications...

Gary Parrish and Matt Norlander discuss a wild weekend of college basketball

Andy Kennedy announced on Sunday he will no longer coach the Rebels
Grayson Allen has taken over with Marvin Bagley (knee) out of the lineup

The loss puts the Buckeyes out of the top 16 and it may lose the one-seed in the Big Ten t...

Austin Hatch has been part of the Wolverines program since 2014