Drake transfer Rayvonte Rice exploring potential destinations
Rayonte Rice had an outstanding sophomore season for Drake, but is now looking for a bigger challenge. Several schools have already reached out to Rice.
• 1 min read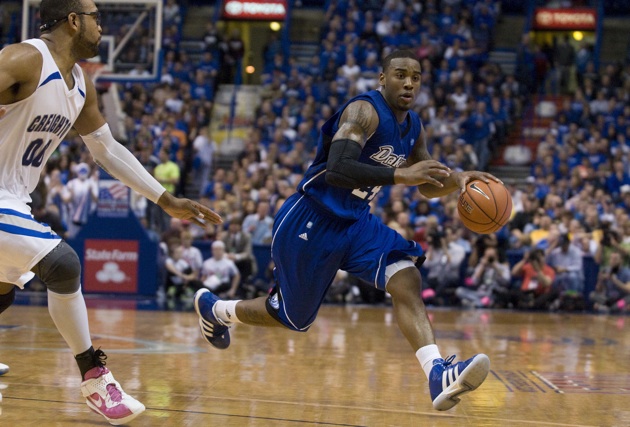 Drake transfer Rayvonte Rice is one of the most sought-after players on the market. (US Presswire)
After an impressive freshman season for Drake, Rayvonte Rice decided to return to the Missouri Valley for another campaign. After an even better year for the Bulldogs this past season, Rice decided it was time to move on.
The 6-foot-4 shooting guard from Champaign announced last week he was leaving Drake and transferring to another school.
"The coaches were great to me and so was the Drake community," Rice told CBSSports.com on Monday. "I just felt like this was a decision I need to make for me personally. I want to challenge myself in a different way."
Rice immediately became one of the most sought-after transfers on the market. Illinois, Kansas State, Virginia, USC , Xavier, Nebraska and Missouri have already reached out.
He's not specifically looking for a bigger conference, but that could be a factor in his decision process.
"Not necessarily. I mean, maybe," Rice said. "I haven't decided on any school yet. I'm in the process of doing all that right now."
He said there are no visits planned yet, and no favorites out of the aforementioned group.
Rice averaged 16.5 points and 5.7 rebounds this past season for Drake, including eight games of at least 20 points. 

The updated transfer list will be posted on CBSSports.com on Tuesday. It will be in excess of 300 names.  
Calipari threw major shade at Duke and the coaching staff's recruiting pitch

Brown is the No. 2 center in the Class of 2018 and a big get for the Bruins

The Sooners are on a two-game losing streak but still rising on one AP ballot
Vegas legend Kenny White has nailed 3 straight UNC picks and just made a play for Monday's...

Josh Nagel has almost two decades of handicapping experience and locked in a play for Monday's...

The Wildcats stumbled to an 0-2 record this week and fell out of the top 25