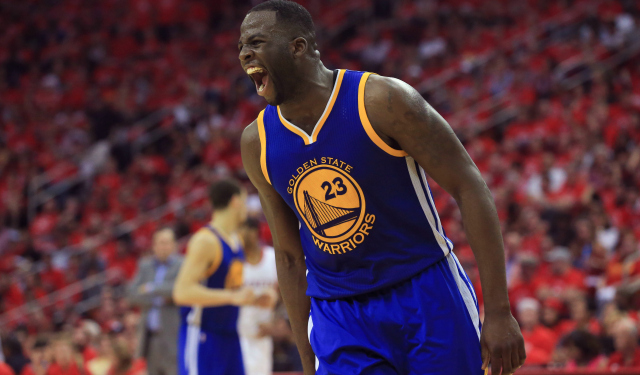 Day-Day, my, my.
Michigan State alumnus Draymond Green , whose vocation is professionally playing basketball for the world-champion Golden State Warriors, just donated $3.1 million dollars to his school's athletic department.
The Board of Trustees must first formally approve this generous gesture from Green -- uh, that'll probably take about seven seconds at the next meeting -- and then MSU will accept what's the largest donation ever by an athlete to MSU's athletic department. 
Green can do this because, fresh off a title with Golden State, he signed an $82 million deal to keep balling with Stephen Curry, Klay Thompson and Co. The gift means Green will have the program's weight room and fitness center named after him.
"Green's gift will continue fundraising efforts led by the Spartan Fund for MSU Athletics' $262 million goal as part of Empower Extraordinary, the campaign for Michigan State," the school's release states.
Green, in a lot of ways, became the ultimate college hoops success story. He grew up in Michigan, attended a big state school, developed his game up through his senior season, and now he's one of the 25 best players in the league. Next season will be his fourth in the NBA. He was named to the NBA's All-Defensive Team in 2013-14.
"Michigan State means everything to me," Green said in a statement. "I grew up in Saginaw and was lucky enough to attend Michigan State University where coach (Tom) Izzo believed in me and gave me the chance to succeed. I wouldn't be the person I am today without my Spartan experience and this donation reflects my deep appreciation to the University. This donation isn't just about me. I want more kids to have the opportunities I had thanks to Michigan State and want to use this to stimulate all Spartans to give back to the best university in the world."
Michigan State's season begins on Nov. 13 at home against Florida Atlantic.