Duke-Arizona makes for ideal preseason NIT title game matchup
The preseason NIT title game between Duke and Arizona has been on people's calendars since the tournament's pairings were announced months ago.
• 4 min read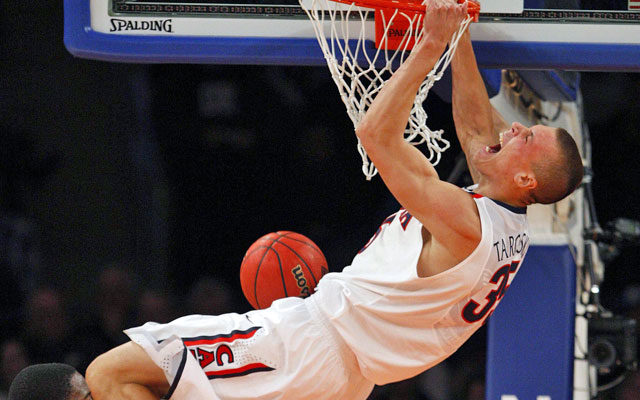 NEW YORK -- Way before Patrick Ewing, Mark Messier, and even Carmelo Anthony, Madison Square Garden was known as a home for big-time boxing.
In the early 70's, there were two battles between Muhammad Ali against Joe Frazier.
Then some two and a half decades later in 1999, Lennox Lewis and Evander Holyfield squared off in a fight between two of the best heavyweights of their time.
There will be no boxing at the World's Most Famous Arena on Friday, but the competition that goes on at 33rd Street and Eighth Avenue will very much feel like a prize fight.
The preseason NIT title game between Duke and Arizona has been on people's calendars since the tournament's pairings were announced months ago.
What do we have to be thankful for?
One thing is the showdown between the Blue Devils and the Wildcats.
"We were obviously rooting for a Duke-Arizona final when we saw the bracket," said Joel Fisher, MSG's executive vice president of sports said on Wednesday night at Madison Square Garden. "These early season tournaments have become major events. Teams want to get to a place like this and have a forum."
And that's exactly what each of these elite programs will get on Friday.
Duke has already played Kansas in the Champions Classic, but for Arizona this is the first time the Wildcats will play a truly elite opponent on a national stage this season.
"The reason we come to a place like Arizona is to play in a championship game like we are on Friday night," Arizona coach Sean Miller said after his team grinded out a 66-62 win over a pesky Drexel team in Wednesday's semifinals.
The matchup between the Wildcats and Duke is beyond fascinating because of its multiple storylines.
First off, there's some recent history.
In 2011, Arizona upset the Blue Devils in the Sweet 16 when Derrick Williams came of age and went off against a Duke team that featured Kyrie Irving, Nolan Smith and Kyle Singler.
There's also two of the sport's best freshmen in Arizona's Aaron Gordon and the Blue Devils' Jabari Parker.
The bouncy Gordon hasn't gotten the same national attention as Parker, Julius Randle (Kentucky) or Andrew Wiggins (Kansas), but he can definitely take his seat at the table after Friday.
"Aaron isn't going to wow you with 25 shot attempts," Miller said on Wednesday after the Wildcats beat Drexel. "But if you really pay attention, he had 13 rebounds and 10 points in 35 minutes."
Parker meanwhile may remind people in New York who haven't seen him yet of another scoring forward -- the Knicks' Anthony -- when he takes center stage on Friday.
The 6-8 freshman showed a vast array of offensive moves in Duke's 74-64 win over Alabama on Wednesday and scored 27 points in the victory.
Armed with a superb face up game and a soft touch around the basket, Parker has the game of an NBA small forward even though he's only played seven games of college basketball.
"He's as talented as any first year player we've ever had at Duke," Blue Devils coach Mike Krzyzewski told CBSSports.com earlier this week.
Both teams come into this game with different dynamics.
Arizona faced serious adversity on Wednesday night and trailed Drexel by 19 points in the first half before coming back and earning a close victory to move to 6-0 on the season.
Duke meanwhile, is still finding itself after losing three key seniors -- Seth Curry, Ryan Kelly and Mason Plumlee -- from last year's team that went 30-6.
"We're developing into a team," Krzyzewski told CBSSports.com. "Just because a school puts on a uniform and it says 'Duke' or whatever, it doesn't mean you're a team. The groups of teams around the country that have key players back whether they're seniors or juniors, they're usually ahead right now in terms of being a team because they were part of a team. Our group is different because our two best players (Parker and Rodney Hood) have never played at Duke before. To assume that we're all ready to be a team is a bad assumption. We have to go through experiences together."
And they'll do just that on Friday against Arizona.
Madison Square Garden will be home to the NCAA tournament's East regional finals in 2014, and there's a good bet that the World's Most Famous Arena will have a postseason type atmosphere on Friday night.
"Arizona is an older team and they're really big for us," Krzyzewski. "They can post up three guys because they have such great size. They and Michigan State are probably ahead of some other teams because they have guys that have played prominent roles back. In Arizona's case, they also added a great freshman (Gordon) and a great guard (T.J. McConnell) to what they brought back. We've played some really difficult schedules in the past. I'm just happy we have a chance to play for a championship."
So are we.
What do we have to be thankful for?
On Friday it's Duke against Arizona.
Wall is preparing for life after basketball and wants to finish his business degree

Here are teams in the midst of big turnarounds who could be big threats in the Big Dance

Our advanced computer model simulated Monday's Minnesota-Wisconsin game 10,000 times
The latest coaches poll has Michigan State at the top followed by Virginia and Villanova

Zack Cimini nailed 67 percent of his college basketball picks and released a play for Okla...

Zack Cimini is on a 34-24 run and just released a pick for Monday's Maryland-Northwestern...