Duke disappeared in second half, lost 'it' and a big game at UNC
Duke coach Mike Krzyzewski hates to lose -- though he's OK with it under certain circumstances. But the circumstances surrounding Thursday's loss at North Carolina? No, he was not OK with them.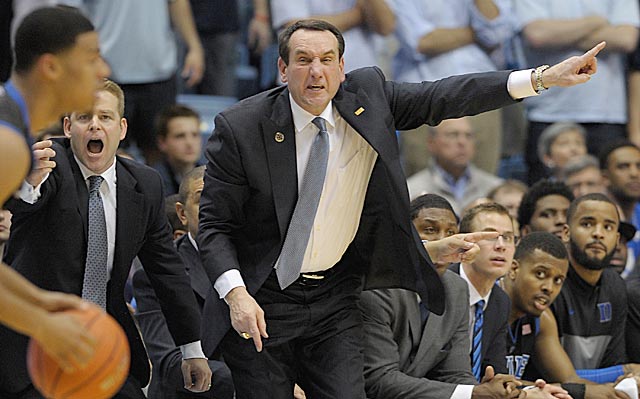 CHAPEL HILL, N.C. -- Mike Krzyzewski has won more games than any Division I men's basketball coach in history, damn-near 1,000 between stints at Army and Duke. But he's also lost 303 times, point being that, at the age of 67, this Hall of Famer is way past the point of living and dying with every regular-season victory or defeat.
He still cares, of course.
Man, does he ever still care.
But Coach K has been doing this long enough to know that sometimes you're just going to be on the wrong side of the final score, almost no matter what, and, when that's the case, he's fairly good at tipping his hat, minimizing the significance, seeing the big picture and moving on. For what it's worth, I watched him do exactly that at the Carrier Dome three Saturdays ago. Krzyzewski stood at a lectern on that night and practically glowed about his players ... after a 91-89 loss to Syracuse in overtime.
"I can't ask anything more from my guys," Krzyzewski said then.
Again, he was disappointed with the outcome because, you know, he hates to lose. But, on some level, Krzyzewski left that dome pleased on Feb. 1 because of the effort his players showed, and I couldn't help but recall that scene late Thursday, here at the Dean Smith Center, after fifth-ranked Duke took a 74-66 loss to North Carolina in this rivalry game that was initially scheduled for last week but postponed for eight days because of weather.
Krzyzewski's tone was completely different this time around.
He never once said he was proud of any of his players.
He only acknowledged being baffled by them.
"We looked tired," Krzyzewski said. "We didn't have life ... and that, to me, is the disappointing thing. I'm not afraid to lose and respect people who beat us. But I would've liked to have done more tonight in the second half. So I'm walking out of here frustrated -- not with the loss but with the fact that we didn't ante up the way we should've."
****
There are lots of reasons why Duke blew an 11-point lead in the final 15 minutes, lost for the third time in five weeks, and fell to 21-6 overall, 10-4 in the ACC, and I might as well go through a few of those reasons now. One reason was the zone Roy Williams, himself a Hall of Famer, threw at the Blue Devils down the stretch, which contributed to Duke going more than nine minutes without a field goal while missing 13 straight shots. Another reason was Marcus Paige, who took eight shots in the second half, made five and finished with 13 points in the final 19 minutes. And yet another reason was the announced crowd of 21,750 that stood and yelled and chanted for what felt like two straight hours without interruption.
"The crowd was sensational the whole game," Williams said. "Even when we were down, they were into it. We'd like to have them that enthusiastic against everybody."
So, yeah, all of those things were factors.
North Carolina's team and fans were really something in the second half, and the byproduct is that the Tar Heels are 19-7 overall, 9-4 in the ACC and in possession of an eight-game winning streak. Their resume now includes victories over the schools ranked first (Kentucky), second (Michigan State), third (Louisville) and fourth (Duke) in the preseason Associated Press poll. So all of that NIT chatter from mid-January should be securely in UNC's rearview mirror despite what losses to Belmont, UAB, Wake Forest and Miami might suggest.
"We're playing well right now," Paige said. "We're winning games in a lot of different ways."
Which makes Williams smile.
"This has been a really special group," he said. "It's a fun group."
But what about Krzyzewski's group?
What's up with them?
That's a question even Krzyzewski had trouble answering late Thursday. He swore the problems weren't rooted in overconfidence or underconfidence, basically insisted they had nothing to do with confidence. So you can cross that off of the list of possible issues, he said. But every other explanation seemed very much in play, and Krzyzewski just couldn't stop talking about the "life" and "spark" that was missing against UNC. He kept calling it ... well ... it. He must've said it a dozen times before predicting what'll happen if things don't change before top-ranked (for now) Syracuse visits Cameron Indoor this weekend.
"If we don't find it," Krzyzewski said, "we'll get beat on Saturday.". 
Make that beat again on Saturday.
And then Duke would have its first two-game losing streak in nearly two years.
A revamped Erwin Center is part of a $4.25 million upgrade to the Longhorns' hoops facilit...

Nov. 10 will be here before you know it so here's what you need to know

The league would be wise to treat that series like the ACC treats Duke-North Carolina
Pacific is penalized after the NCAA found academic rules were broken

Arizona, for no good reason, doesn't have to play at USC or UCLA this season

We look at the 'Major 7' leagues and give you the best of what's to come in conference play...