Duke lands another five-star prospect: Justise Winslow
Duke likely clinched the No. 1 recruiting class in the country on Thursday, as top-12 prospect Justise Winslow announced he was heading to Durham.
• 2 min read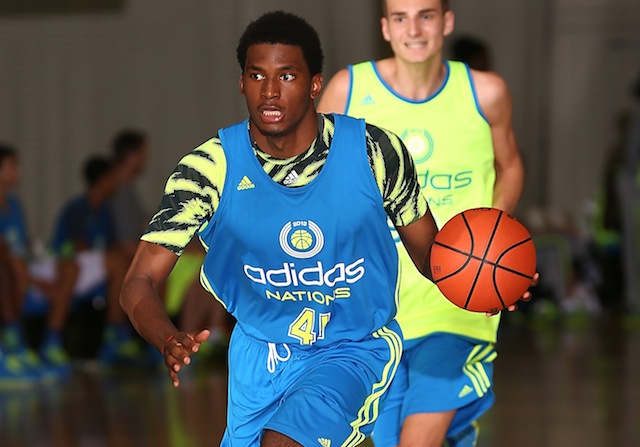 It's been more than a decade since Duke had the No. 1 recruiting class in the country, but the Blue Devils might have clinched the top spot once again on Thursday.
Five-star Justise Winslow announced he was headed to Duke during a press conference at his high school.
Winslow chose the Blue Devils over Florida, UCLA, Arizona, Texas A&M and Stanford.
Throughout his recruitment, Winslow kept his cards fairly close to his vest – but Duke never seemed to fade from the forefront. In the spring, it looked like Arizona might have the lead (a step ahead of Duke) but Winslow continued to take trips to Tucson – without committing. UCLA and Florida also emerged as players in his recruitment, while Texas A&M and Stanford were also on his list. And Winslow certainly researched each of his options. According to Scout.com, Winslow took seven trips to Arizona, six to UCLA, four to Texas A&M, three to Duke, two to Florida and one to Stanford. Through it all, though, Duke was squarely in the mix – and the Blue Devils' push to get him to Durham only increased last week, when top-five prospects Jahilil Okafor and Tyus Jones pledged to Duke.
While Okafor and Jones were the package deal that everyone focused on, Winslow had also been mentioned with those two in terms of going to the same school. He wasn't locked into the package like Okafor and Jones, but his relationship with those two certainly didn't hurt Duke's pursuit of Winslow.
Winslow, a 6-foot-6 small forward from St. John's (Texas), is ranked No. 11 in the 247Sports Composite for the class of 2014. He's a versatile prospect capable of doing a little of everything. Winslow is a leader and a winner, and he has a high basketball IQ. In terms of skillset, Winslow is a very good athlete who can handle and pass the ball effectively. He's also a terrific defender who can guard multiple positions. If he improves his perimeter jumper, Winslow will take his game to another level.
As mentioned earlier, Winslow joins Okafor (No. 1) and Jones (No. 5) in Duke's 2014 class. But that's not all. The Blue Devils also have a commitment from Grayson Allen, a 6-foot-4 shooting guard from Florida. He's no slouch, either, ranked No. 30 in the 247Sports Composite. Barring a major surprise in the spring, Duke will end up with the No. 1 recruiting class in the country.
The influx of talent for the 2014-15 season makes Duke well-positioned to withstand potential early-entry losses of Jabari Parker and Rodney Hood. Even if those two leave, though, Mike Krzyzewski has the pieces to be the national championship favorite next season. A lineup of Jones, Quinn Cook, Rasheed Sulaimon, Winslow and Okafor would be favored in most matchups.
As Krzyzewski nears his 67th birthday, he's still cooking with fire – and he's not showing any signs of slowing down. 
Fall is being shut down after dealing with shoulder injuries and will undergo surgery soon

The Wildcats' resume doesn't seem too impressive right now

Was there contact? 'Everybody saw it,' UK coach John Calipari said
After losing its second game this week, a deep NCAA Tournament run looks far-fetched for U...

Coach K shows he is on on top of his game by landing the best three prospects in the Class...

The Buckeyes and Boilermakers continue to assert their dominance in the Big Ten