Duke riding high in updated bracket
Duke is a strong overall No. 1 seed in the latest NCAA tournament bracket ... also, some general bracket projection FAQs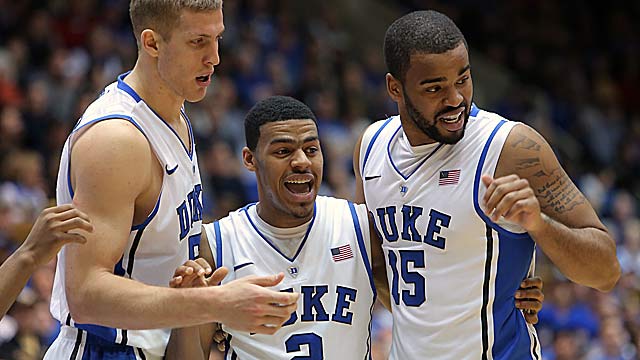 It could change come March, but as of now, Duke is a solid No. 1 seed overall.
(Getty Images)
The first of what will be twice-a-week bracket projections is now out with Duke as a strong overall No. 1 seed.  The other undefeated team, Michigan, is second.  Kansas and Louisville round out the top seeds.  I have a feeling this will be a very competitive year at the top of the bracket.
Here are some things to keep in mind as you look at these projections as the season moves forward.
More on college basketball
Columns
---
Related links
Video
More college hoops coverage
The bracket is always put together as if the season ended today.  I am not predicting what it will look like in March.
The team listed as the "conference champion" is the team that has the fewest conference losses, with ties broken by RPI, as of the time I do the bracket.  I am not predicting that team will win the league in March.  Also, there's no rule that says the conference leader/champion has to be the top seeded team from the league.  That's true now and in March.
There is no rule that says the overall No. 1 seed gets to play a winner of one of the play-in games.  The committee tries to send PIG winners to Friday-Sunday sites when possible to give those teams an extra day for travel.  If the overall No.1 is at a Thursday-Saturday site, it's very likely not going to play a PIG winner.
Geography plays a very strong role in where teams are sent.  The committee will sometimes ignore other rules to get teams close to home.  The higher the seed, the greater chance that team will get to play close to home.
If you are comparing where your team is seeded to others, keep these things in mind...
RPI alone is irrelevant.  It's not even a little decisive.  So, if all you got is "our team's RPI is higher," you got nothing.
Conference records/standings are irrelvant.  Maybe back in the days of nearly double round-robins, that information might be useful.  Now though, with conferences ballooning in size and schedules becoming comically unbalanced, your conference record and standing means nothing.
The same is true for conference rankings.  Just because your team is in a higher-rated conference doesn't necessarily give you an edge over a similar team in a lower-rated conference.  Teams get bids, not conferences.
Head-to-head results are not decisive.  They can be a factor, but teams routinely get selected and seeded behind teams they beat, sometimes more than once.  Teams are judged on their entire schedule, not just a game or two.
The committee also doesn't care about: The name on the front of the jersey, past tournament history, the coach, marquee players, tv watchability, strength of fan base, or how badly a team got screwed by the refs.
Coming soon...bubble watch.
Fall is being shut down after dealing with shoulder injuries and will undergo surgery soon

The Wildcats' resume doesn't seem too impressive right now

Was there contact? 'Everybody saw it,' UK coach John Calipari said
After losing its second game this week, a deep NCAA Tournament run looks far-fetched for U...

Coach K shows he is on on top of his game by landing the best three prospects in the Class...

The Buckeyes and Boilermakers continue to assert their dominance in the Big Ten