Duke senior Quinn Cook embracing the freshman set to take his job
Quinn Cook has started at point guard each of the past two years at Duke ... but he almost certainly won't this year because of the presence of freshman Tyus Jones. In theory, this could be a problem and chemistry killer. But it's not. Because Cook won't allow it to be.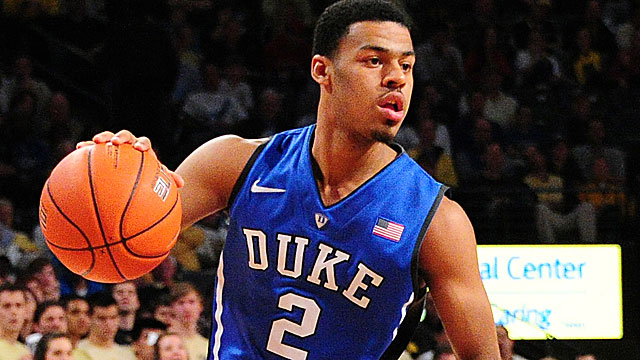 DURHAM, N.C. -- Once upon a time, if you wanted to tell Kobe Bryant he shoots too much, you had to buy a ticket close to a court, wait for him to get near you, then muster the courage to yell derogatory things at another human. It was a process. But not anymore. And that's one of the fascinating things about social media -- how it gives anybody and everybody access to celebrities and athletes in a way previously unimaginable.
These days, pretty much anybody can tell pretty much anybody whatever they want whenever they want, and the fact that nobody has to look anybody in the eyes while doing it has led to a world where public figures often endure cruel comments from strangers.
From this, Jimmy Kimmel's Mean Tweets were born.
The late-night talk show has created something of a phenomenom by having actors, musicians and professional athletes read actual tweets directed at them, and, beyond being really funny, the whole thing underlines the ugliness of social media. On that note, I can't imagine many current college basketball players understand that ugliness better than Duke point guard Quinn Cook, and that's something I can't imagine for three reasons:
Cook plays at Duke, which provides arguably the sport's biggest stage.
Cook didn't play well down the stretch last season.
Duke, last November, signed an elite point guard named Tyus Jones.
"I saw it all the time on Twitter -- stuff like 'Tyus Jones is coming to take your job,'" Cook said with a smile. "But, you know, it wasn't like Ty was tweeting those things."
***
College basketball practice officially starts today on campuses all over America.
Lots of programs have questions to answer.
But among the most interesting ones, especially as it pertains to the dynamics of team chemistry, is how Quinn Cook and Tyus Jones will coexist at Duke. For those unfamiliar, Cook is a former top-35 national recruit who is now a senior. He has started at point guard each of the past two seasons. And when you're a program's starting point guard as a sophomore and as a junior, almost always, you can count on being a program's starting point guard as a senior ... unless someone really special happens to enroll.
Like Tyus Jones, for instance.
"He's going to have an opportunity, maybe, to have the ball immediately and be the quarterback of our team," Duke assistant Jeff Capel said of Jones, who is widely regarded as the nation's best freshman point guard. "And one of the really cool things for him is the fact that there's been no jealousy. … There has been absolutely no jealousy. And I think that speaks volumes about the older guys on our team."
Truth be told, this was surprising to me.
I talked to all sorts of people connected to the program while on campus this week, and one of the first questions I asked was this: How's Quinn handling everything?
The answers, without exception, were positive ... and I don't mean I got a bunch of manufactured replies designed to present the perception of peace. What I'm telling you, hand-to-heart, is that on the record and off, folks went out of their way to explain in great detail how Cook has embraced the presence of Jones in a way even they weren't certain was possible, and it's among the reasons Cook was elected as a captain for the first time this season despite the likelihood that he'll no longer be Duke's primary ball-handler.
Again, Duke's primary ball-handler will be Tyus Jones.
He's terrific.
The 6-foot-1 McDonald's All-American won't blow anybody away with his speed or athleticism. But he's a pure point guard who possesses all of the intangibles coaches love, and he's forever been penciled-in as Duke's starting point guard for the 2014-15 season.
As previously noted, Quinn Cook realized as much long ago.
Folks just wouldn't stop tweeting him about it.
The entire deal became such a talking point -- "A freshman named Tyus Jones is going to replace a senior named Quinn Cook!" -- that the Duke staff spent countless hours addressing it with both Jones and Cook throughout the recruiting process. Basically, they told Jones (and his family) that he's awesome enough to start and will regardless of who else is on the roster, provided he performs the way they anticipate him performing. And they told Cook to just relax, control the things he can control, focus on getting better and trust that there's no reason in the world he and Jones can't play together even if Jones does serve as the primary point guard.
John Wall and Eric Bledsoe played together at Kentucky.
Peyton Siva and Russ Smith played together at Louisville.
Shabazz Napier and Ryan Boatright played together at Connecticut.
Those schools won lots of games -- and two national titles -- playing two point guards together, and the idea, at least right now, is that Duke can do the same. And the main reason for that, again, is that Cook has embraced the presence of Jones. Those two, I'm told, are always helping each other on the court and typically together away from it.
"Me and Quinn have a great relationship," Jones said. "He's like a big brother to me. He's taken me under his wing and helped me a lot so far, and that's only going to increase."
What's interesting about this development is how it suggests Cook is being totally selfless when, in fact, on some level, it's rooted in selfishness. The good type of selfishness, of course. But it's still selfishness. And now let me explain.
Duke, you see, only hangs championship banners inside Cameron Indoor Stadium.
There are ACC regular-season banners and ACC Tournament banners.
There are Final Four banners and national title banners.
But the school doesn't hang anything for second-place finishes or Elite Eights, and that means Cook hasn't hung a single banner through three years at Duke. He's never won an ACC regular-season title or an ACC Tournament. He has never been to a Final Four and is coming off a loss to Mercer in the Round of 64, all of which led Cook to summarize his college career this way: "I don't feel like I've accomplished anything," he said.
Simply put, he's smart enough to know Jones can help change that.
So his willingness to give up the ball originates there.
Cook genuinely seems way less interested in leading the Blue Devils in points and assists as he is in helping the Blue Devils hang a banner or two or three, and he understands the best way to do that is to help Jones get comfortable and adjusted to the college game.
So you can tweet him about his likely demotion, if you want.
He'll see it.
And he won't like reading it.
But what I concluded this week is that Quinn Cook is probably less concerned than anybody with how the enrollment of Tyus Jones will affect his role. As long as it properly affects his college resume, Cook plans to be cooler with it than most seniors would.
"Quinn let me and Ty know that he's made it to the Elite Eight once and lost in the first round twice, and now he just wants to win a national championship," said Duke freshman big Jahlil Okafor. "And Quinn knows that's our goal, too. So we're making everything work, and he really has been a great leader for us -- especially for Ty."
CBS Sports HQ Daily Newsletter
Get the best highlights and stories - yeah, just the good stuff handpicked by our team to start your day.
Please check the opt-in box to acknowledge that you would like to subscribe.
Thanks for signing up!
Keep an eye on your inbox for the latest sports news.
Sorry!
There was an error processing your subscription.
Gary Parrish and Matt Norlander spend 80 minutes discussing every big headline from the we...

Sister Jean's Loyola-Chicago Ramblers may very well be back in the mix for a spot in this year's...

Commissioner Bernadette McGlade's message to her coaches: Take chances and schedule aggres...
Wade said he's never done business of any kind with Christian Dawkins

Zion Williamson, Duke's versatile 285-pound beast-of-a-specimen, can apparently do it all

It's back! The most definitive list of the top talent in the sport is here