Duke shows improvement on the defensive end and on the glass
If Duke defends and rebounds like it did on Saturday, the Blue Devils could be back in the ACC title hunt.
• 2 min read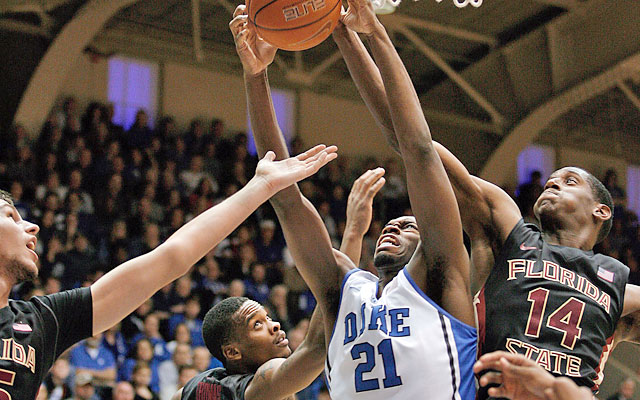 Even when Duke was winning games earlier this season, the defense still wasn't good enough. The Blue Devils allowed 94 points to Kansas, 90 points to Vermont – and let six of their first nine opponents score at least one point per possession.
Despite all their offensive talent, Mike Krzyzewski needed to improve his team's defense if the Blue Devils were going to become a true Final Four threat.
And on Saturday afternoon, we saw what this Duke team has the potential to be by the time the NCAA tournament rolls around. Duke rolled to a 78-56 win over Florida State, in a game where the Blue Devils were rarely threatened after the opening few minutes.
Rodney Hood shook off whatever kept him out of the starting lineup to score 18 points and grab nine rebounds, while Jabari Parker went for 14 points and 14 rebounds.  Okaro White paced Florida State with 14 points and eight boards.
It wasn't the offense and shooting that carried Duke on Saturday. The Blue Devils shot 30.5 percent from the field for the game, making just six field goals in the second half. Parker was 3-for-14 and Hood was 4-for-12. Looking at the numbers, it's a wonder how Duke won so easily.
There's two answers -- and both are a stark contrast to how Duke has played for much of the season.
First, the defensive end. Recently, Krzyzewski made the decision to start making full-on line-change substitutions -- five guys in, five guys out. As a result, his guys have been fresher, and have shown the ability to extend ball-pressure into the opposing backcourt. Quinn Cook and his backcourt mates picked up Florida State's guards as soon as they got the ball in-bounds, and the Seminoles struggled to get into good offense once getting past the half-court line. Too many possessions ended up with disjointed drives in late-clock situations.
Florida State did shoot 50 percent from the field, but only scored 0.86 points per possession. That's the seventh time in the last 10 games that Duke has held a team below 1.00 point possession. Moreover, Duke forced 17 turnovers and turned them into 29 points.
Secondly, Duke attacked the offensive glass with a purpose. The Blue Devils grabbed 27 offensive rebounds, getting 29 second-chance points as a result. Their offensive rebounding percentage was better than 61 percent -- a huge improvement on their season percentage of 31 percent. Parker had 10 offensive rebounds and Marshall Plumlee came out of nowhere to grab seven offensive boards.
Scoring and shooting won't be issues for Duke going forward, especially if Parker is as aggressive offensively as he was on Saturday. They can put up points with anyone in the country. But if they defend and rebound like they did against Florida State, it might be too early to count the Blue Devils out of the ACC title race. 
Andrew Jones is Texas' second leading scorer

Oklahoma's star freshman has a father who has been there and done that

Kentucky now is at risk of slipping out of the Top 25 (and one)
Cherry's commitment gives ASU a top-20 recruiting class and its highest rated pledge since...

Matt Norlander is on a 11-7 run in college basketball picks and shares his best bets for W...

Kentucky losing this game probably cost it a shot at earning a high NCAA Tournament seed