Duke takes Carolina's best shot while it waits on Kelly's return
Just another game. Try telling that to anyone involved in the rivalry. North Carolina came in unranked and on the proverbial NCAA bubble, but the Tar Heels gave Duke everything it could handle on its home floor. The Blue Devils came out on top, but desperately miss senior Ryan Kelly.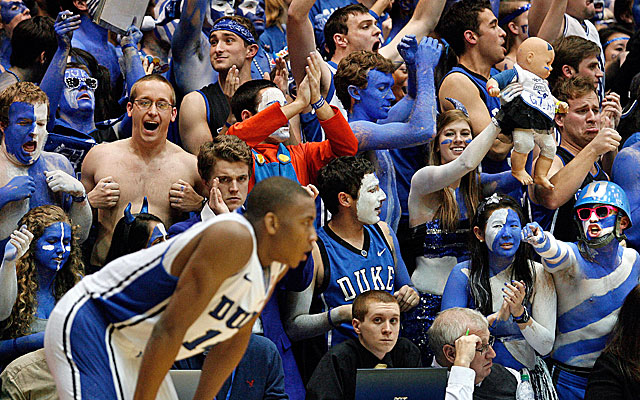 Rasheed Sulaimon and Duke give the Cameron Crazies good reason to cheer in the second half. (US Presswire)
DURHAM, N.C. -- Roy Williams suggested it wasn't a moral victory, yet that's exactly what it wound up becoming for his North Carolina team. The Tar Heels came into Cameron Indoor Stadium on the heels of yet another embarrassing loss -- this time a one-sided, near 30-point shellacking down in Coral Gables against Miami. This had all the makings of a blowout, but let us not forget: This is Duke vs. North Carolina, the greatest rivalry in college basketball and arguably the best in all of sports. 
Just eight miles separate the two schools. We've heard all that before, but it was difficult to imagine this one being anything more than an exhibition for the No. 2 Duke Blue Devils. Even without Ryan Kelly, there was no way Roy's Heels could stay within striking distance. Not the way they were playing -- and certainly not on Duke's home floor. This had a chance to get ugly -- and everyone in Chapel Hill was nervous. 
Yet there we were in crunch time with the outcome in doubt. In fact, Duke didn't even take its first lead until 14 minutes remaining. 
More on college basketball
Related links
Senior star Mason Plumlee was brutal in the first half. The Blue Devils had 11 turnovers and just three assists when they went into the break trailing by four. Williams had finally made the move to insert P.J. Hairston into the starting lineup, and small ball immediately paid dividends as North Carolina was more aggressive and difficult to defend with a quartet of wings and guards and James Michael McAdoo as the lone post player. 
The Cameron Crazies celebrated when the final buzzer sounded. Duke 73, North Carolina 68. It didn't matter that this Tar Heels team lost four first-rounders -- or that they limped in with a 6-5 mark in ACC play. This was still North Carolina. 
"This game is different," said Kelly, who had to sit out as he continues to rest his injured foot. "The record don't matter. This is a whole another level."
Plumlee battled foul trouble but had a few key buckets in the waning minutes and finished with 18 points and 11 boards. Quinn Cook made his share of miscues (five turnovers) but also made enough plays and went for 18 points in the win. Freshman Rasheed Sulaimon, making his debut in the series, added 13, and Seth Curry finished with a quiet 11. 
Duke has now reeled off six straight wins after dropping two of its first three without Kelly in the lineup, but it's still not the same team. The Blue Devils need Kelly back desperately in order to become the elite team again, the one that tore through a loaded Bahamas field and finished its non-conference slate with a 12-0 mark. 
Kelly told CBSSports.com that a realistic target date for his return is the first week of March, which just also happens to be a home date against the ACC-leading Miami Hurricanes on the second of the month. The goal is to get Kelly a few regular-season contests under his belt before the ACC tourney, so he's back in game shape for the NCAA tournament. Kelly said he's doing work in the pool, is hopeful of shedding his crutches in the next week and then will begin the gradual process of getting back onto the court. 
"If I come back," Kelly said. "No, when I come back. I believe I will." 
"Things are moving in the right direction," he added. "I just don't know the exact time frame with an injury like this." 
Amile Jefferson logged 20 minutes against North Carolina and grabbed eight rebounds. He's no longer a deer in headlights, as was the case early in the season. He can now play valuable minutes and give Mike Krzyzewski a different look at the forward spot. If Kelly does return and is anywhere close to 100 percent, the Duke Blue Devils enter the NCAA tournament as the favorites to cut down the nets. 
Why? They have one of the best players in the nation in Plumlee, a quality point guard in Cook and leadership. Oh, by the way, those all happen to be aspects lacking with that team down the road. North Carolina has no low-post presence, a floor leader who isn't quite ready in Marcus Paige and the team lacks someone who can take charge. The Blue Devils will also have three seniors once Kelly comes back -- and then the spacing will return to what it was early in the season, when teams had to pick their poison with Kelly and Seth Curry's ability to stretch the defense. Duke also has the winningest coach in NCAA history pacing the sidelines, and that's usually worth something come the postseason. 
Those trying to parallel Kelly's return to the one a couple years ago with Kyrie Irving need to stop. There's no comparison except for the fact that they are two players who both missed significant time and could return towards the end of the season. Irving was the guy with the ball in his hands, and his return to the lineup altered the entire offense as Nolan Smith was moved back off the ball for the NCAA tournament. Kelly can slide right back into the lineup without any difficulty because it won't change anything except for Jefferson's time on the court. 
"We had played Nolan at the point all year," Plumlee said. "Then Kyrie came back, and it hurt Nolan. With Ryan, we don't have anyone else like him -- and he's not ball-dominant." 
Kelly's return is critical to making a deep run come March -- and everyone around these parts knows it. Without him, every win becomes a challenge. There were times when watching Duke's offense was painful. There was the near loss at Boston College on Sunday and then three nights later, a mediocre North Carolina team delivered an early punch and took Duke to the brink. However, this wasn't the same Tar Heels team that dominated for the first 20 minutes in Raleigh or the same one that was blasted down in Miami. 
But then again, this was Duke vs. Carolina. 
"Even though we lost, I thought we gained something tonight," North Carolina senior Dexter Strickland said. "We showed potential. We played with a sense of urgency." 
"I was extremely disappointed in the loss, but I am not disappointed in the effort of our team," Williams added. "The intensity tonight was better than it's been all year long." 
Yet it still wasn't enough. 
Was there contact? 'Everybody saw it,' UK coach John Calipari said

After losing its second game this week, a deep NCAA Tournament run looks far-fetched for U...

Coach K shows he is on on top of his game by landing the best three prospects in the Class...
The Buckeyes and Boilermakers continue to assert their dominance in the Big Ten

The 5-star phenom was thought to be headed to Clemson, but was swayed to the Blue Devils

The nation's No. 3 player will commit Saturday and here's his impact on each of his finali...