East Region Preview: UVA no gimme pick with Nova, MSU, ISU looming
The East isn't the toughest region, but it could be the toughest to predict. Virginia, Villanova, Iowa State and Michigan State populate the top four seeds. Then you've got teams like North Carolina and Cincinnati -- good in their own right -- still fighting it out.
• 6 min read
More Regional Previews: South | Midwest | West
Of all the regions, this one makes me think the most. It's the one that will have the fewest games feel like upsets, should they come to be, but that makes it tougher to forecast.
It's not the toughest region, but it could be the toughest to predict. I took the longest to get through this one, is what I'm saying. And I hate my picks already. Just sitting here in self-loathing, knowing that this is the region that will do me in. 
There's a lot of newcomers to the national scene in terms of big-time success and expectations. That can be found in Virginia's Tony Bennett, George Washington's Mike Lonergan, Iowa State's Fred Hoiberg and Providence's Ed Cooley.
Kevin Ollie, too, as he and seventh-seeded UConn are involved in this quadrant; it's Ollie's first NCAA Tournament as a head coach. Saint Joe's, which just won the Atlantic 10, will play the Huskies in a 7/10 matchup.
Speaking of Saint Joe's, Phil Martelli joins Tom Izzo, Jay Wright and Roy Williams as guys who've been around a while. That know a thing or two about reaching Elite Eights and Final Fours. A lot of variety to this region. You've even got young coaches that have proven some but still need deep NCAA Tournament runs to enhance their profile, like Memphis' Josh Pastner and Cincinnati's Mick Cronin.
Here's a breakdown of the East Region.
Three initial thoughts on the region
1. Virginia Cavaliers is a worthy No. 1: The Cavaliers (28-6) are going to surprise some casual fans who look at the bracket and see such a name atop the region. It's been a long while since the Wahoos were relevant or dominant in college hoops, but don't let that hiatus fool you. This team won the ACC by three games and just won the ACC tournament. It deserves to be there. It's the weakest of the No. 1s, but it's still worthy company alongside Florida Gators , Wichita State Shockers and Arizona Wildcats .
2. It has the strongest combo of 3 and 4 seeds: Iowa State (26-7), which was second this season in top-50 victories, is the three. Michigan State Spartans (26-8), the four, is a team many believed could win it all -- before the injuries. But the Spartans are getting healthy -- and boy did they look good Sunday in winning the Big Ten title. Four seeds throughout this tournament -- Louisville Cardinals , UCLA Bruins , San Diego State Aztecs -- are going to be popular picks to do some damage. Michigan State has the highest ceiling.
3. Trendy region to pick lower-seeded teams into the Sweet 16/Elite Eight: Between seventh-seeded, 26-8 UConn, No. 6 North Carolina Tar Heels (23-9), No. 8 Memphis Tigers (23-9) possibly going up against No. 1 Virginia -- it's going to be a very different region depending on who's bracket you look at. Providence Friars , which just won the Big East tournament, gets the 11 seed. UNC's shown it can beat really good teams ( Duke Blue Devils , Louisville, Michigan State), but also fall to lousy ones ( UAB Blazers , Wake Forest Demon Deacons ). Harvard Crimson as a No. 12 is going to be a popular pick (but I'm not buying that one).
Also: North Carolina Central Eagles (28-5) is the highest-seeded MEAC team in 26 years. The Eagles beat NC State Wolfpack earlier this year. Iowa State Cyclones is going to be a presumption by many to reach the Sweet 16. Just stop and think about it. And speaking of seeding, Villanova's the quiet No. 2 seed. Wright's arguably done his best coaching job this year. He'll need to win at least three games to prove a lot of people wrong. But the Wildcats have balance above all.
Five best players in the region
1. Sean Kilpatrick, Cincinnati Bearcats The senior Bearcats guard averaged 20.7 points and 4.4 assists. He makes that team go, and he's a tremendously composed and mature player. You'll love watching him play. Cincinnati has an outside shot at an Elite Eight run because of what Kilpatrick does, alongside talented and fierce teammate Justin Jackson.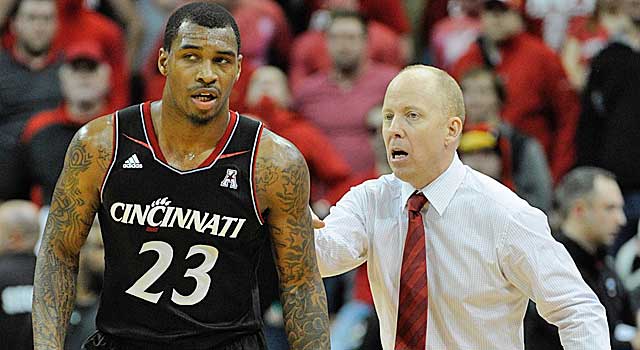 2. DeAndre Kane, Iowa State: Iowa State has a three-headed monster with Kane, Georges Niang and Melvin Ejim, who -- oh, by the way -- won Big 12 player of the year. But I'm going with Kane as the most talented because he put up crazy averages this season: 17.0 points, 6.7 rebounds, 5.8 assists. No one in the country averaged as many each of those categories as Kane.
3. Gary Harris, Michigan State: Michigan State, like Iowa State, has a few really talented players. You could make a case for Adreian Payne here. But Harris has the most pure talent. No guard in college basketball as a better combination of elite ability on offense and defense like Harris. Now, if MSU's going to make that run to the Final Four that a lot of people will pick, Harris is going to have to play like his life depends upon it. He needs to show he can take over.
4. Shabazz Napier,  Connecticut Huskies Napier won the AAC player of the year. He's as responsible for his team's success as anyone. Without him, I honestly believe the Huskies would be in the NIT. UConn's a team that runs its offense through Napier, who's a great combo point guard that averaged 17.4 points, 5.9 rebounds and 4.9 assists. He can take, and make, the big shot.
5. Bryce Cotton, Providence: Giving the Big East tourney Most Oustanding Player his due. Did you know that, because Providence played so many overtime games this season, Cotton averaged more than 40 minutes? Nuts. He seldom comes out because he's that valuable to the Friars. Cotton averages 21.4 points, 3.4 rebounds and 5.8 assists.
Five bold predictions
The biggest Round of 64 upset will be ... No. 11 Providence over No. 6 North Carolina. I don't have the guts to take NCCU over Iowa State in that 3/14 game, but man do I want to. Going with the Friars because they've beaten a really nice team -- Creighton Bluejays -- twice. And Ed Cooley's group is very nice on offense. UNC's defense will have to keep it in the game, I'm thinking.
The lowest-seeded school to make the Sweet 16 will be ... No. 4 Michigan State. Hate to say it, but I actually have chalk making the Sweet 16 here. It's sort of silly, but I actually believe that the Round of 64 and the Sweet 16 will produce more upsets than the Round of 32, which determines Sweet 16 teams.
The player the country the country doesn't know now but will know by Saturday is … Being that I think George Washington Colonials will beat Memphis, I'm taking Maurice Creek. He's a senior, a former Indiana Hoosiers Hoosier who led the Big Ten in scoring as a freshman and has had some terrible injury setbacks. He's flourished in this one season at GW, and he's capable of playing big when the Colonials need him to.
The Elite Eight showdown … No. 4 Michigan State vs. No. 3 Iowa State. The Spartans I explain below. The Cyclones have done plenty this season against really good teams. You could argue ISU should be the No. 2 seed in this region. With 11 wins against the top 50 in the RPI, you know this team is not to be taken lightly. Fred Hoiberg's team isn't deep, but teams don't need to be deep to make the second week of the NCAAs. If Kane has an off night, Niang will step up. If he's not hitting, Ejim will be there. You can't entirely shut Iowa State down.
The champion of the East Region will be … No. 4 Michigan State. First off, Tom Izzo has a very famous March factoid tied to his legacy: No player who has gone to Michigan State and played four seasons has ever missed a Final Four under Izzo. This year's senior group has not reached a Final Four. So there's that. But I like MSU because of the natural talent, Izzo's history in performing well in March and the team's secret weapon, Denzel Valentine. No team in the country has a diverse big-small man like Valentine, who can rebound, distribute, lead like hell and create for his opponents. Sparty's going to North Texas.
Arizona, for no good reason, doesn't have to play at USC or UCLA this season

We look at the 'Major 7' leagues and give you the best of what's to come in conference play...

Louisville's coach predicts a change is coming to the NBA's one-and-done rule by 2019
Multiple former players of Lonergan's alleged verbal abuse and inappropriate remarks

When Miller left for Indiana, there was cause for concern in Flyerland; a top-100 signee says...

The Hoyas will spend their non-league schedule playing mostly nobodies -- as will most big...