Easy to understand why USA Basketball loves Marcus Smart
It shouldn't be a big surprise that USA Basketball loves Marcus Smart. I mean, everybody loves Marcus Smart.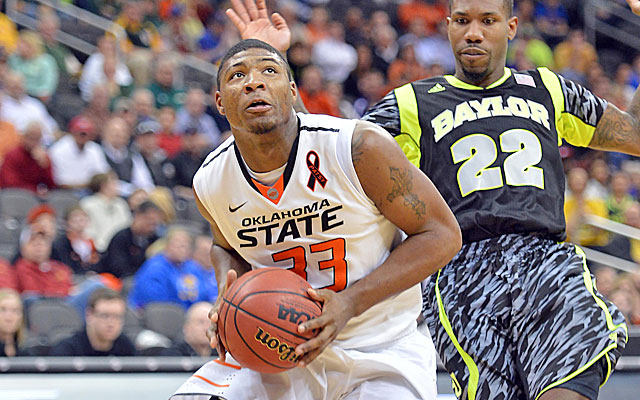 One of the great things about the Nike Peach Jam event held each July in South Carolina, especially for folks in my profession, is how the setup allows you to end up in random and casual conversations with countless coaches.
Everybody is in the same gym.
Most everybody is at the same hotel.
So one day you bump into Duke coach Mike Krzyzewski in the Marriott lobby. The next you see Notre Dame coach Mike Brey at the pool. The next you find Ohio State assistant Greg Paulus in the exercise room. The next you're talking to Rick Pitino about Pitbull. It really is a cool deal. And it's precisely how I found myself, at some point Saturday, standing next to Oklahoma State coach Travis Ford at the Riverview Parks Activities Center. We talked about schedules and how I want to make my second trip to Gallagher-Iba Arena this season. Just small talk, really. But the conversation eventually turned toward Oklahoma State All-American Marcus Smart, at which point I asked Ford where Smart would've been selected in last month's NBA Draft if he'd entered it.
"Two," Ford answered quickly. "Orlando was picking him no matter what."
So there you have it.
Marcus Smart would've been the second overall pick of the 2013 NBA Draft if he'd made himself available, according to his coach. And I felt like this was something worth mentioning this morning in light of Smart accepting an invitation to the U.S. men's national team minicamp that'll be held next week in Las Vegas. Smart and Creighton's Doug McDermott are the only college players to get an invitation. It should also be noted that no player who was just drafted got an invitation, and that only a handful of players selected in the 2012 NBA Draft were invited.
Put simply, Smart is in elite company, and it's all a testament to the impression he's made on USA Basketball the past two summers while winning championships at the U-18 and U-19 levels. Even when Smart doesn't play well, he still leads and competes intensely and consistently in a way that impresses everybody, Ford included.
"I've never been around another player in my whole life -- not when I was a player and not since I've been a coach -- that is able to bring it EVERY SINGLE DAY," Ford said. "I don't care if it's two-a-days, three-a-days or five-a-days. I don't care if it's 6 a.m. I don't care if it's the day after a big win. It's ridiculous. I knew he was a great leader, but it's even been a shock to me. Everybody, at some point, has a bad day in terms of coming ready to play. But he never takes a day off. He comes everyday to win every drill. Everyday. Every drill. I don't care when it is or what it is. Everyday he's ready. It's ridiculous."
That's a strong quote. And, I can tell you, it's not an opinion unique to Ford. Over the past year, I've talked with nearly everybody connected to USA Basketball who has worked with Smart -- from Florida's Billy Donovan to Gonzaga's Mark Few to VCU's Shaka Smart. They all absolutely love him, even admire him, as a leader and competitor, and that's also almost certainly why, according to Ford, the Magic deemed him worthy of being selected second overall last month, which is what made Smart's return to Oklahoma State the biggest surprise of all underclassmen decisions.
So why did Smart return to school?
I asked Ford that question, too.
"He just enjoys college," Ford answered. "[If Smart would've entered the draft], he knew he would've still only been 19-years old, and the NBA is not his personality right now, and he knows that. He said, 'So what if I get picked eighth next year?' He knows he's gonna be in the league no matter what. Honestly, he made so many good points to me. I wasn't trying to talk him into leaving, but I wanted to make sure he knew what he was leaving on the table [if he returned to OSU], and he was just like, 'Hey, it's not going anywhere. I can always go to the NBA, but I can't always come back and do this.' So he's a unique kid. Very unique."
It appears he's more than happy to pay up, given the circumstances

Lithuania seems ready for the Ball era to begin

The Sun Devils make a big jump and the Jayhawks slide after ASU pulls the big upset
Arizona's big man from the Bahamas balled out against two talented teams

Coach Shaka Smart doesn't expect him to be out for an extended period of time

Jackson isn't showing the Sun Devils much respect after beating KU