Eligibility questions remain for two incoming UConn freshmen
Connecticut was expecting reinforcement from incoming freshmen Terrence Samuel and Kentan Facey. As of now, though, neither has been cleared to play.
• 2 min read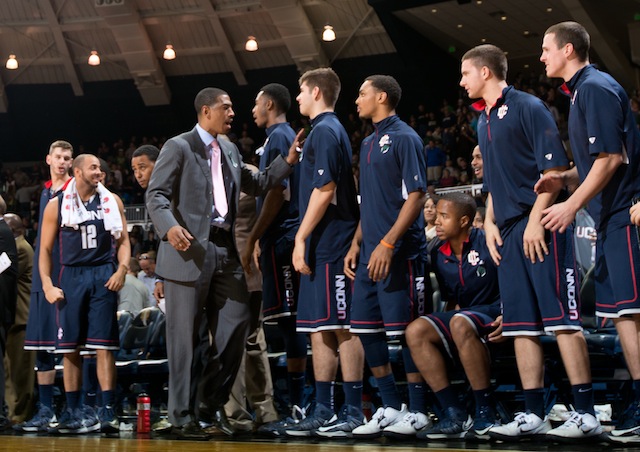 After being ineligible for the postseason last season, Connecticut has the pieces this year to get back in the mix for the NCAA tournament. In fact, many think the Huskies could be in the top 25 heading into the campaign.
However, two of its incoming freshmen are still waiting to be cleared by the NCAA. New York native Terrence Samuel needs to finish some high school classes, but head coach Kevin Ollie thinks Samuel will be fine for the fall.
The more confusing situation is that of Kentan Facey, a Jamaica native who played at Long Island Lutheran (N.Y.) the past three seasons.
According to Dom Amore of the Hartford Courant, Facey "passed a standardized test [back in Jamaica] that could be considered the equivalent of graduating from high school." Essentially, that means Facey's college eligibility, in the NCAA's eyes, could have started before he even got to Long Island Lutheran three years ago. 
John Infante of the Bylaw Blog writes that Facey could be looked at under the NCAA's "delayed enrollment rule."
"Athletes are given a one-year grace period after their actual or expected graduation to continue competing without penalty. After that they are charged one season of competition for each year they competed, plus they must serve a year in residence, i.e. a mandatory redshirt as freshmen.

Because Facey played three years are leaving Jamaica, the worst-case scenario is that he loses two seasons of eligibility and must sit out the 2013-14 season."
Like with Samuel, Ollie seems optimistic about Facey's short-term future with the Huskies.
"There are some eligibility issues with his coming over from Jamaica and going to Long Island," Ollie told Amore. "We've got to discuss that with NCAA. I don't see it being a problem, once he is able to tell his side and why he decided to come over when he did and what was the formality of him being placed in a certain grade. I think we got a great case on our side and I think we'll see him with a UConn jersey on in the fall, also. But if we don't, we've got to move on like we always do. Take the good with the bad and learn from it, rally around him and rally around our team."
Shabazz Napier and Ryan Boatright are among five starters returning from last season's 20-win team. Sophomore guard Omar Calhoun and breakout candidate DeAndre Daniels also averaged double-figures for the Huskies.
These teams went to The Big Dance in March, but could take a step back this season

The success of Chris Chiozza and KeVaughn Allen have the Gators ready to compete for SEC t...

FBI investigation suggests Quinerly received improper benefits from a Wildcats assistant c...
Meet the mid-major coach who refused to vote for the teams involved in the recruiting scan...

The player, now at the University of Portland, says he was injured during a workout which broke...